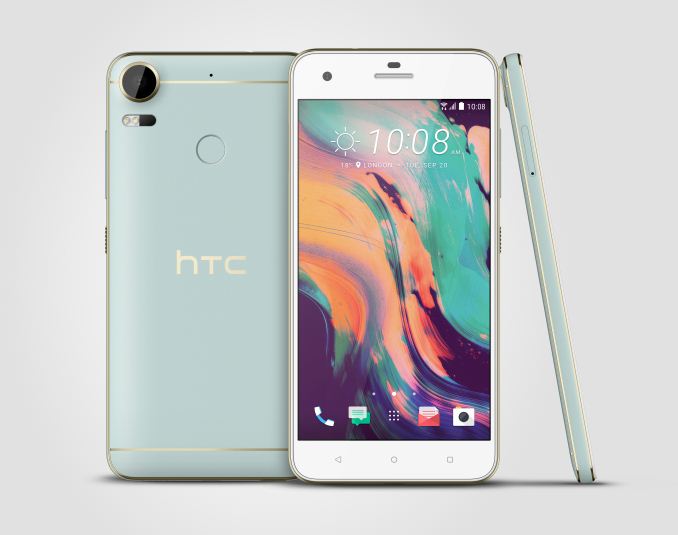 As the holidays approach, OEMs often refresh their device portfolio to make sure that they put their best foot forward as a significant proportion of sales occur towards the end of the year. Today HTC is refreshing their mid-range with the Desire 10. The Desire 10 Pro is the higher-end variant and fits somewhere around the Desire 830, while the Desire 10 Lifestyle is closer to something like the Desire 826. To see what I mean we can take a look at the specs below.
HTC Desire 10 Lifestyle
HTC Desire 10 Pro
SoC
Qualcomm Snapdragon 400
4x A7 1.6 GHz
MediaTek Helio P10
8x A53
RAM
2/3GB
3/4GB
NAND
16/32GB NAND + microSD
32/64GB NAND + microSD
Display
5.5" 720p
Super LCD
5.5" 1080p
IPS
Network
2G / 3G / 4G LTE (Category 4 LTE)
2G / 3G / 4G LTE (Category 6 LTE)
Dimensions
156.9 x 76.9 x 7.7mm, 155g
156.5 x 76 x 7.86mm, 165g
Camera
13MP Rear Facing f/2.2
20MP Rear Facing f/2.2, 1.12µm, 1/2.4" (Toshiba T4KA7)
5MP Front Facing, f/2.2
13MP Front Facing, f/2.2
Battery
2700 mAh (10.4 Whr)
3000 mAh (11.55 Whr)
OS
Android 6 w/ HTC Sense
(At Launch)
Android 6 w/ HTC Sense
(At Launch)
Connectivity
802.11b/g/n
BT 4.1
USB2.0, GPS/GLONASS
802.11a/b/g/n,
BT 4.2,
USB2.0, GPS/GLONASS
Fingerprint Sensor
N/A
Capacitive
For the most part the Desire 10s are both mainly interesting due to the use of stereo external speakers similar to the HTC 10. HTC is also claiming similar levels of sound quality on the 3.5mm output which is likely to differentiate it from competitors on the market. The Desire 10 Pro uses a MediaTek Helio P10 SoC which should be ok if it's below 300 USD, but the Desire 10 Lifestyle is targeted to be somewhere around 250 GBP with a Snapdragon 400 which doesn't really seem to be enough SoC for the target price. The Desire 10 Pro is going to be more expensive than that, which suggests that the value proposition is not necessarily there.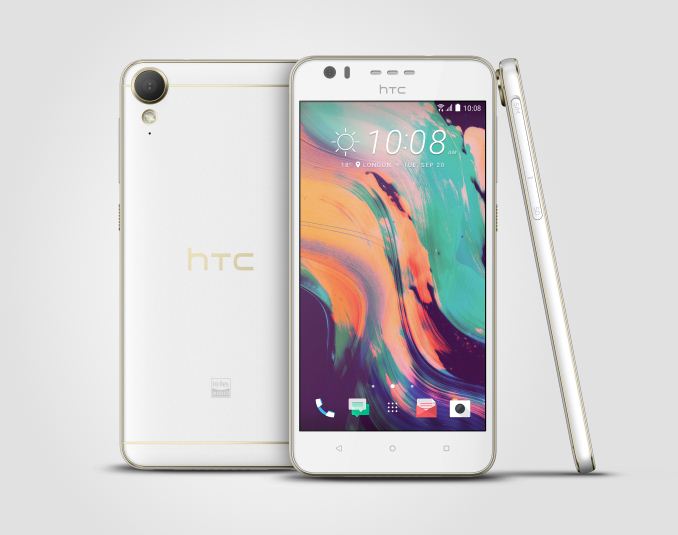 Putting aside value for SoC, HTC is attempting to differentiate with the use of better audio, better design, and things like laser autofocus for the camera. With the audio experience, design, and AF system of the HTC 10 put in this mid-range device HTC is hoping to remain competitive against stiff competition from OEMs like Huawei and Xiaomi. The Desire 10 Lifestyle will be available by the end of September, and the Desire 10 Pro will be available in October. They will be available in Stone Black, Polar White, Royal Blue, and Valentine Lux.