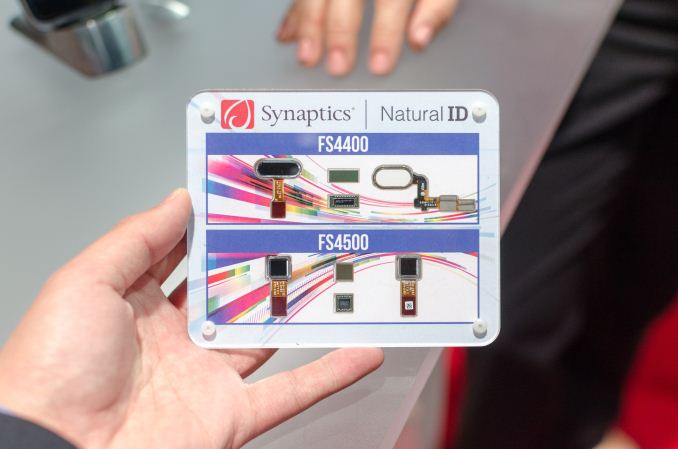 To some extent, Synaptics is not nearly as visible to consumers as a company like Intel or Qualcomm, but their role in touch interfaces and display driver ICs is a critical part of the user experience. A touchscreen with low processing latency, truly invisible touch sensing, and excellent noise rejection isn't really what you'll see on billboards, but if these things aren't done properly just about anyone will notice the results. Similarly, if a fingerprint scanner has high processing latency and doesn't have features like learning from a partial match and noise rejection, it'll be very noticeable if you try a device that has all of these features. Probably the best example of this was the difference in TouchID quality from the iPhone 5s and iPhone 6 to the iPhone 6s and iPhone 7.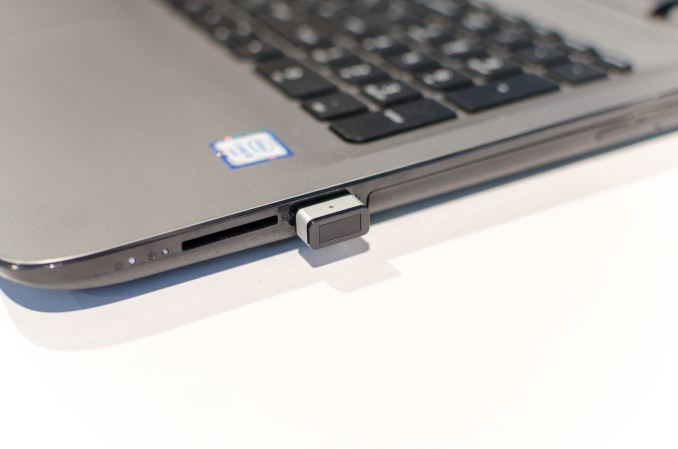 At CES they had a number of new things to show off. The first was a 30 dollar low profile USB fingerprint scanner, which was designed to retrofit laptops and similar devices without a fingerprint scanner in order to enable the use of Windows Hello. I went ahead and tried it and it works flawlessly from what I can see.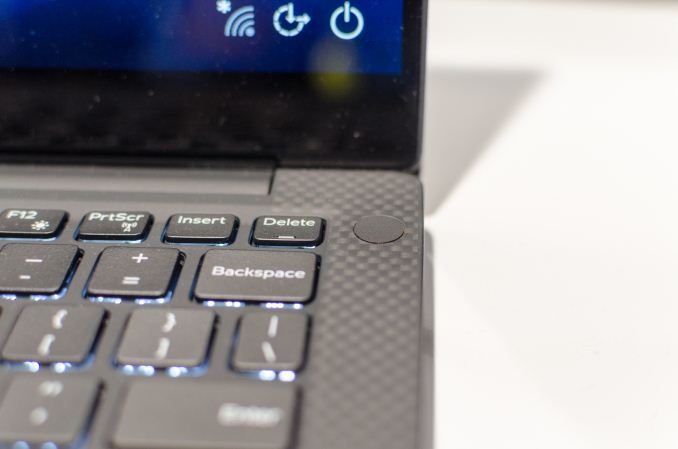 Synaptics is also working on integrating a fingerprint scanner into trackpads and power buttons to enable more seamless designs instead of having a random sensor on the palmrest or somewhere similarly obvious. We also saw their FS4400 and FS4500 fingerprint scanners, which have entered mass production. These sensors enable fingerprint scanning under the glass bezel of a smartphone. There were also prototypes of fingerprint scanners on smart watches, although these prototypes are at an early stage and are more a proof of concept than anything else.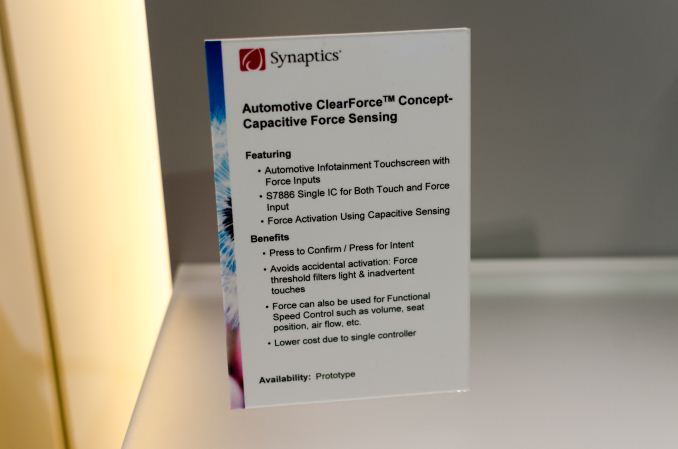 On the automotive side, Synaptics also showed off a neat prototype that enabled force sensing with only four force sensors at the corners of the display. Judging by the state of the prototype this is only for engineering samples at this point, but may have interesting applications.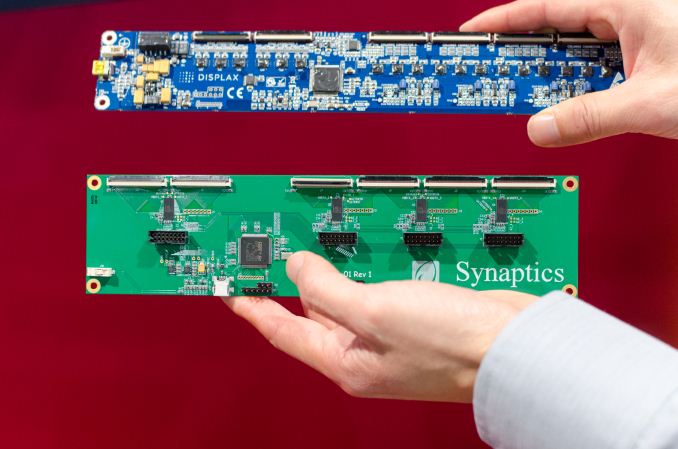 On the DDIC side of things, Synaptics has been working on new solutions for things like large touchscreens. Using technology borrowed from their smartphone designs, they have been able to reduce the number of components and board area needed to enable large touchscreens in applications like mall kiosks.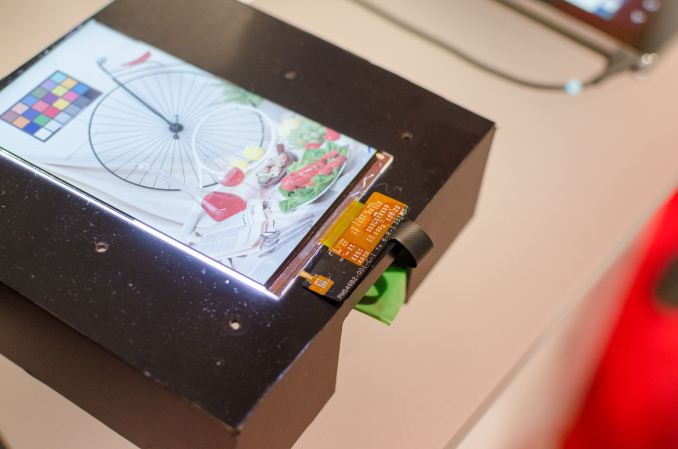 On the mobile side of things, the ClearView R63353 is a DDIC on glass that reduces the amount of bezel that it takes compared to previous display drivers and is currently available for sampling. The Synaptics engineers on site to discuss the issue of bezels did mention that it would be possible to drive down the amount of bezel used by moving to a chip on flex arrangement. However, I suspect that there are other engineering considerations at play as most devices, even those with thin bezels, continue to use a CoG packaging for the DDIC.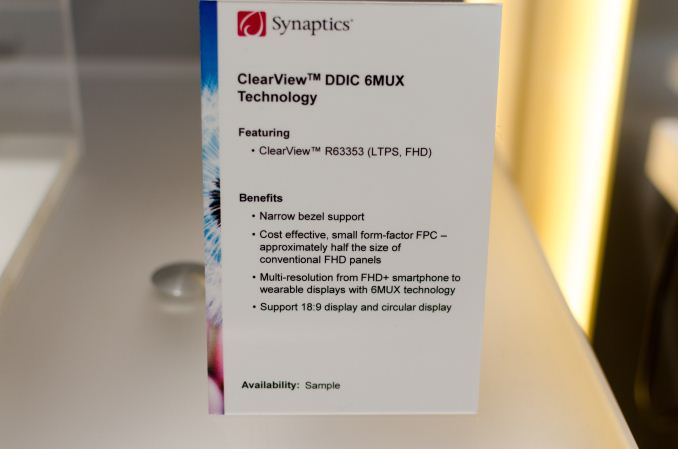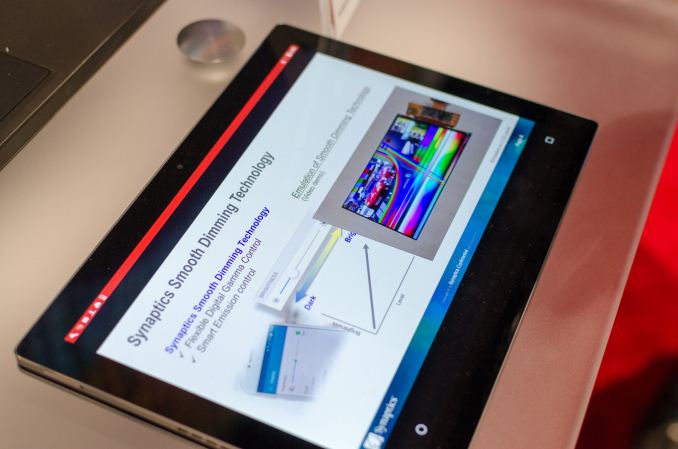 In addition to smaller DDICs, Synaptics has also been working on enabling better OLED displays through new features like smoother dimming and software tools to emulate various subpixel arrangements to determine the best possible subpixel design given design rules. PenTile is mostly here to stay for OLED, but choosing something other than diamond subpixel arrangements can significantly reduce the amount of color shifting when changing viewing angles.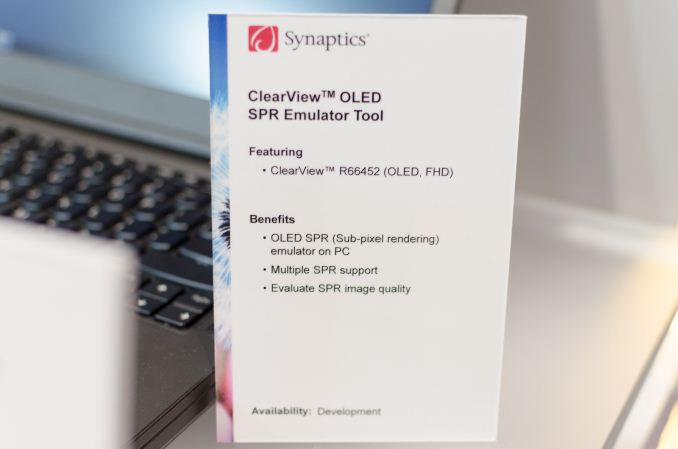 Overall, while Synaptics doesn't necessarily have the flashiest technologies, the kinds of things that they're working on remain critical to the end user experience and it's impressive to see that they continue to iterate and improve upon their products to enable a better user experience.