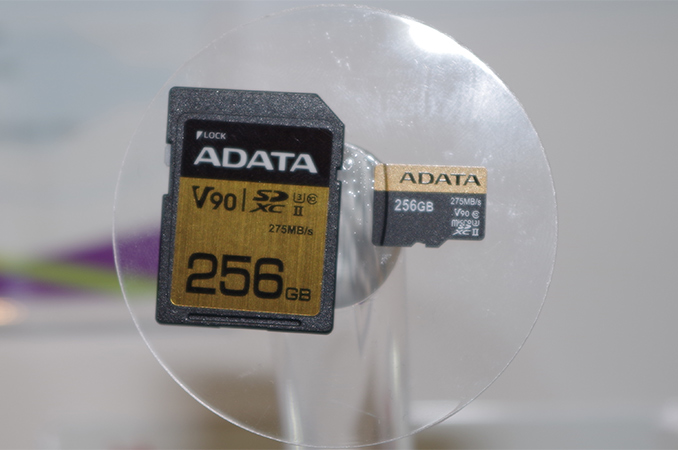 At CES, ADATA showcased its first microSDXC memory card with 256 GB capacity. The card is qualified for up to 275 MB/s transfer speed and can be used to record UHD and 360° videos. The manufacturer did not formally announce the product, but the product on display should indicate that the company plans to release it in the foreseeable future.
The ADATA microSDXC 256 GB memory card is based on 3D MLC NAND flash memory from SK Hynix, uses the UHS-II bus as well as is rated for up to 275 MB/s maximum read speed and up to 260 MB/s write speed when installed into an appropriate device. The new card carries Class 10, U3 and V90 labels meaning that its performance does not drop below 90 MB/s and it is suitable for recording 2Kp120, 4Kp120 and 8Kp120 videos.
ADATA is the second independent supplier of NAND flash-based devices to introduce a microSDXC card with 256 GB capacity after Patriot. Moreover, ADATA is also among the first to introduce a 3D NAND-based memory card with the UHS-II bus that is designed for the high end of the market.
ADATA micro SDXC 256 GB Card Specifications
Write Speed
260 MB/s
Read Speed
275 MB/s
NAND Type
3D NAND
SDA Labels
UHS-II, U3, Class 10, V90
In fact, use of 3D MLC NAND flash memory for memory cards is important in general because it demonstrates that IC makers are ramping up production of 3D NAND and supply such memory to third parties. One of the advantages that 3D MLC NAND has over TLC NAND made using a thin planar process technology is higher endurance and potentially higher reliability. In addition to the 256 GB microSDXC, ADATA also uses 3D NAND for other SD cards as well as for lower-capacity cards.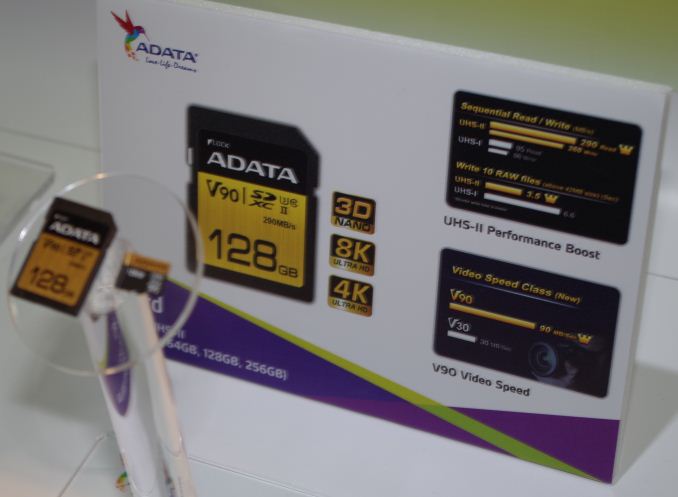 ADATA did not announce pricing of its 256 GB microSDXC card, but given performance and positioning, we expect the device to have a professional-grade price tag.
Related Reading:
Source: ADATA