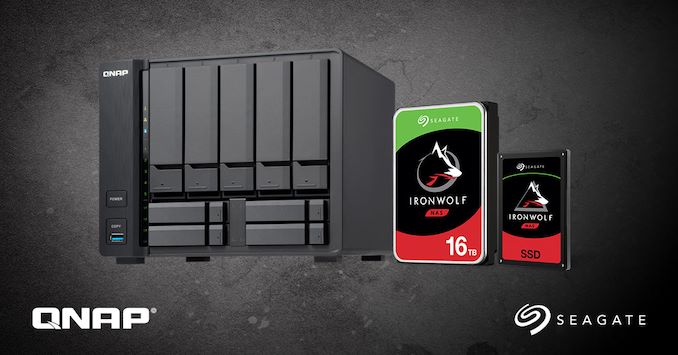 We're back this week with another giveaway, this time courtesy of Seagate. After giving away some of their new Ironwolf 110 SSDs a couple of months back, this month the company has decided to up the ante. Rather than just giving away the SSDs, this time the company will be giving away a complete NAS setup, comprised of QNAP TS-932X-2G 9 bay NAS, as well as one of each of Seagate's IronWolf Pro 16TB HDD and Ironwolf 110 240GB SSD.
Starting things off, we have QNAP's TS-932X-2G, a business-class NAS. This is one of the company's compact 9 bay NASes, sporting 5 3.5-inch SATA drive bays along with another 4 2.5-inch SATA bays. The NAS is designed particularly for tiered storage, with the 3.5-inch bays being ideal for HDDs, while the 2.5-inch bays can hold SSDs (or in a pinch, 2.5-inch HDDs). Under the hood, the 932X is based on a quad core ARM Cortex A57-based SoC, the Alpine AL-324, which runs at 1.7GHz. This specific model comes with 2GB of DDR4 pre-installed in the single SO-DIMM slot, though it can be upgraded.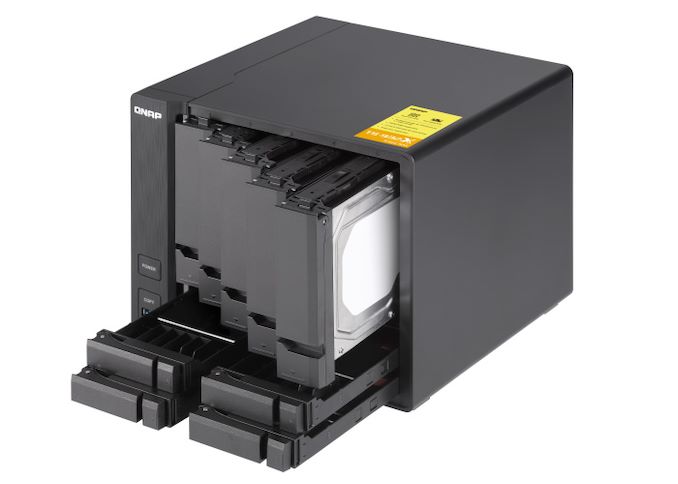 In terms of I/O, the NAS comes with a trio of USB 3.0 Type-A ports, among other things. But perhaps the most interesting feature here is the NAS's Ethernet support: a pair of GigE RJ45 ports, along with a pair of 10GigE SFP+ ports. Owing to its business-focused design, QNAP has opted for SFP+ ports, which means that the NAS can be equipped with any of several different flavors of 10GigE depending on what kind of cabling you'd like to use. The one downside to this is that it means the ports aren't actually usable without buying a transceiver, so there's an additional cost (10GBASE-T transceivers are ~$50) before 10GigE is actual usable.
QNAP TS-932X NAS
TS-932X-2G
CPU
Model
Alpine AL-324 (Cortex-A57)
Cores
4C
Freq.
1.7 GHz
Encryption Acceleration
256-bit AES
Memory
Speed
DDR4, one SO-DIMM slot
Capacity
2 GB, single-channel
Bays
5 × 3.5"
4 × 2.5"
Storage interface
SATA 6 Gbps
Ethernet
2 × GbE
2 × 10 GbE SFP+
Audio
1 speaker
1 × 3.5mm audio out
USB
3 × USB 3.0 Type-A
Other I/O
Copy button, buzzer, LED notifications, etc.
Dimensions
Height
183 mm | 7.19"
Width
225 mm | 8.85"
Depth
224 mm | 8.8"
Power Consumption
Standby
21.66 W
Operating
42.15 W
OS
QNAP QTS 4.3
MSRP
$599
Seagate IronWolf HDD & SSD
Meanwhile from Seagate, we have a pair of IronWolf drives from them. For mass storage, the company is including their top capacity 16TB IronWolf HDD. A recently launched product from the company, the 16TB IronWolf is a helium-based 7200 RPM drive, and the highest capacity IronWolf drive from the company to date. As part of the IronWolf family it's specifically designed for use in NASes, incorporating the necessary sensors and low-vibrational design to best handle being packed in tight with a number of other actively running HDDs.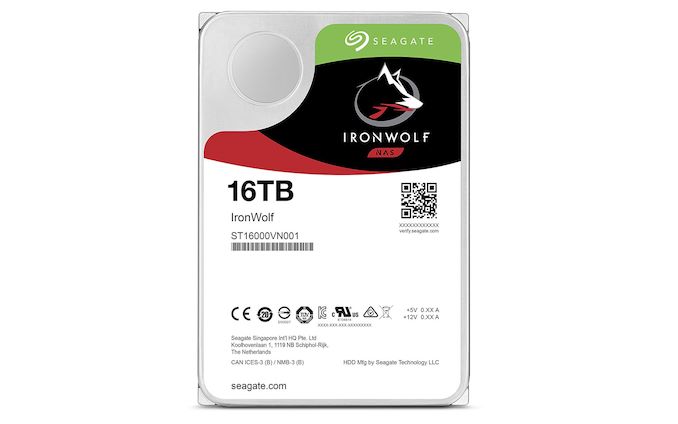 Seagate is also including one of their IronWolf SSDs as well, the 240GB version of the IronWolf 110. The drives, based on 3D TLC NAND with sustained performance numbers of 560 / 535 MBps sequential reads / writes, support a relatively hearty 1 DWPD endurance, despite the usual read-heavy scenarios that NASes drive. This makes them well suited for use as cache drives, which is exactly what Seagate is going for in this giveaway with the QNAP NAS.
Seagate Ironwolf 110 Series Specifications
Capacity
240 GB
480 GB
960 GB
1920 GB
3840 GB
Form Factor
2.5" 7mm SATA
NAND Flash
3D TLC
Sequential Read
560 MB/s
Sequential
Write
345 MB/s
535 MB/s
Random Read
55k IOPS
75k IOPS
90k IOPS
90k IOPS
85k IOPS
Random
Write
30k IOPS
50k IOPS
55k IOPS
50k IOPS
45k IOPS
Idle Power
1.2 W
Active Power
2.3 W
2.7 W
3.2 W
3.4 W
3.5 W
Warranty
5 years
Write
Endurance
435 TB
1 DWPD
875 TB
1 DWPD
1750 TB
1 DWPD
3500 TB
1 DWPD
7000 TB
1 DWPD
The giveaway is running through September 27th and is open to all US residents (sorry, ROW!). You can enter below, and you can find more details (and the full discussion) about the giveaway over on the AnandTech Forums.
Source: AnandTech Forums