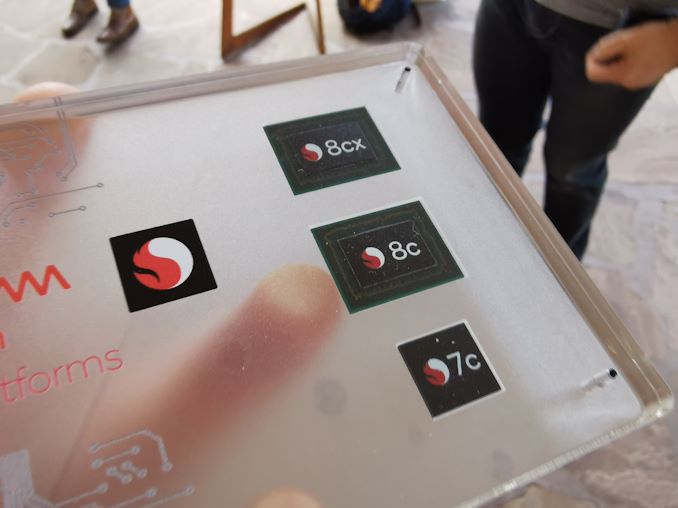 Last year Qualcomm introduced its flagship Snapdragon 8cx platform for premium always-connected PCs (ACPCs) that packed the best technologies that the company had to offer at the time. Being a no-compromise solution, the Snapdragon 8cx was not meant for every ACPC out there, so this week the company expanded the lineup of its SoCs for laptops with the Snapdragon 7c for entry-level machines and the Snapdragon 8c for mainstream always-connected notebooks.
Qualcomm aimed its Snapdragon 8cx primarily at flagship devices ACPCs and therefore maxed out its performance and capabilities, as well as offering the ability to add a 5G modem inside. To day the SoC has won only three designs: the Lenovo 5G laptop (which is yet to ship), the Microsoft Surface Pro X (which uses a semi-custom version called SQ1), and the Samsung Galaxy Book S — all of which are going to cost well over $1000.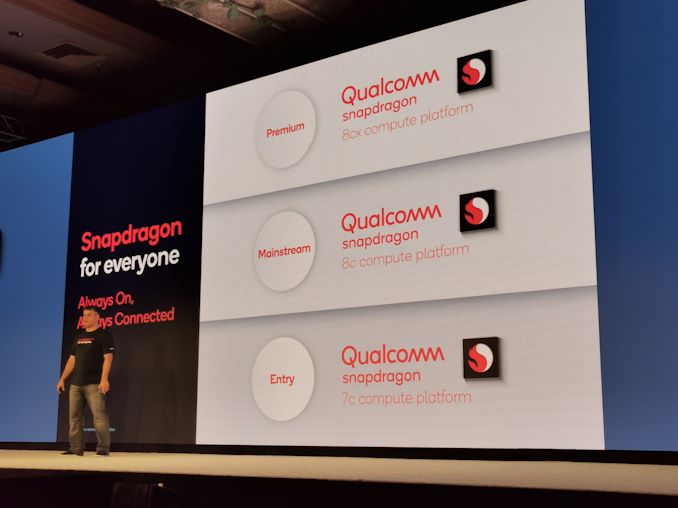 In a bid to address more affordable machines, Qualcomm will roll-out its slightly cheaper Snapdragon 8c SoC that is the same silicon as the 8cx, but will feature a tad lower performance. The 7c by comparison is a new chip that will also have a smartphone counterpart, and is aimed at sub-$400 devices, according to analyst Patrick Moorehead. Qualcomm even stated that the 7c is going to target Chromebook equivalents, if not ChromeOS itself.
Qualcomm Snapdragon Flagship SoCs 2019-2020
SoC
Snapdragon 8cx
Snapdragon 8c
Snapdragon 7c
CPU
4x Kryo 495 Gold
4x Kryo 495 Silver
Up to 2.84 GHz
4x Kryo 490 Gold
4x Kryo 490 Silver
Up to 2.45 GHz
8x Kryo 468
Up to 2.40 GHz
GPU
Adreno 680
Adreno 675
Adreno 618
DSP / NPU
Hexagon 690
Hexagon 690
Hexagon ?
AI Perf Combined
7 TOPs
6 TOPs
5 TOPs
Memory
Controller
8x 16-bit CH
LPDDR4X-4266
63.58 GB/s
4x 16-bit CH
LPDDR4X-4266
31.79 GB/s
2 x 16-bit CH
LPDDR4-4266
15.90 GB/s
ISP/Camera
Dual 14-bit Spectra 390 ISP
1x 32MP or 2x 16MP
14-bit Spectra 255
1x 32MP or 2x 16MP
Decode
Encode
4K120 10-bit H.265
720p480
HDR Support
4Kp60
?
HDR Support
Wi-Fi
Wi-Fi 5
Wi-Fi 6
Integrated Modem
Snapdragon X24 LTE
(Category 20)

DL = 2000 Mbps
7x20MHz CA, 256-QAM, 4x4

UL = 316 Mbps
3x20MHz CA, 256-QAM
Snapdragon X15 LTE
(Category 15/13)

DL: 800 Mbps
3x20MHz CA, 256-QAM, 4x4

UL: 150 Mbps
2x20MHz CA, 64-QAM
External Modem
Snapdragon X55

(LTE Category 24/22)
DL = 2500 Mbps
7x20MHz CA, 1024-QAM
UL = 316 Mbps
3x20MHz CA, 256-QAM

(5G NR Sub-6 + mmWave)
DL = 7000 Mbps
UL = 3000 Mbps

-
Mfc. Process
TSMC
7nm (N7)
7nm
Samsung
8nm
The 8c is the same chip as the 8cx, but clocked slightly lower. The 7c by contrast is built on Samsung's 8nm process, and will mirror the specifications of a mid-range mobile chip in 2020. We were told that the 7c chip isn't exactly ready yet, although other press were told that demos that were supposedly on 7c devices in our briefing were actually running 7c silicon.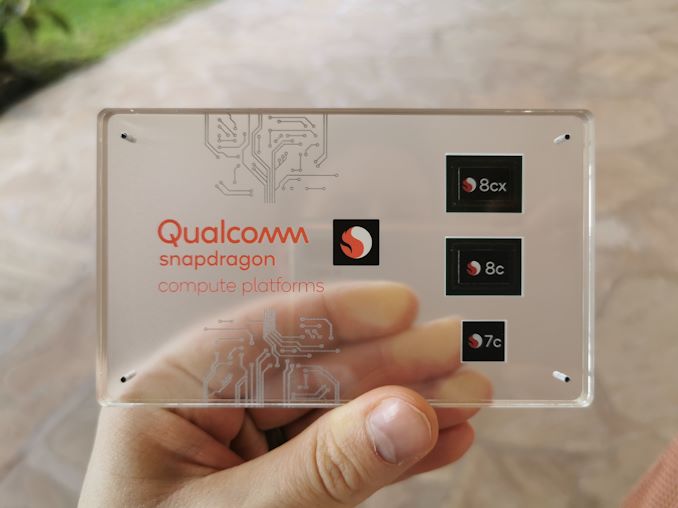 The 8c, being an 8cx variant, can be paired with Qualcomm's X55 modem to enable 5G connectivity, although it will be up to the OEM in order to determine if the device will have both Sub 6 GHz and mmWave support.
Devices featuring the 8c and 7c should come to market in 2020.
Alex Katouzian, senior vice president and general manager of mobile at Qualcomm Technologies, said the following:
"The mobile-first consumer wants an experience on par with a smartphone, and we have the innovation, the inventions and the technology to enable this experience for customers across price points."
Related Reading
Source: Qualcomm