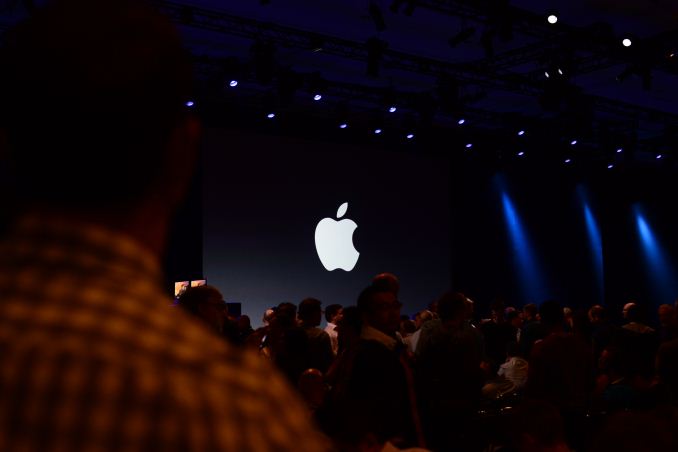 Recently, Apple launched the latest iteration of iOS for its devices such as the iPhone, iPad, and iPod Touch. No hardware was announced but there's still a great deal to talk about. While iOS 7 brought major, sweeping changes in the UI side of things, iOS 8 is very much targeted at refining the operating system and adding new features. The first and possibly most emphasized point throughout the presentation was continuity. Apple continues to emphasize the importance of their ecosystem advantage, and it's especially clear here with the amount of integration that iOS has with OS X. Key features include Handoff, SMS and calls through iPad/Mac, along with automatic WiFi hotspot creation and connection.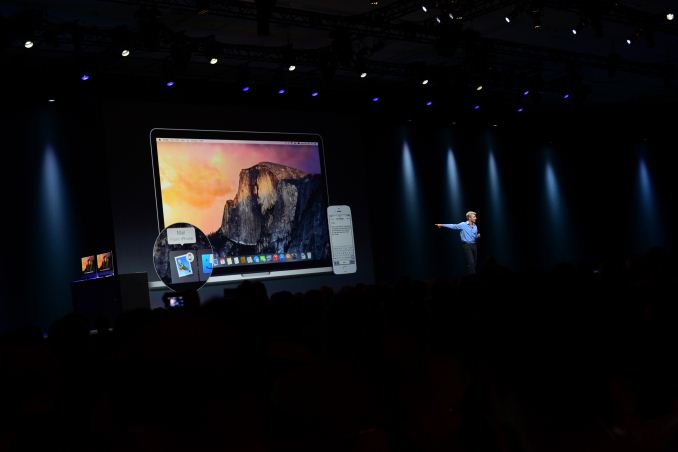 To break things down in this area, we'll start with Handoff. In short, this feature is designed to make it possible to start writing an email, calendar event, or message on a Mac or iPad, and then continue writing without interruption on an iPhone or the other way around. This is definitely a useful feature, and while there are some potential concerns with battery life this is avoids some of the friction involved with transitioning from one device to another. However, to my understanding this requires all of the devices to be on iOS 8 and OS X Yosemite in order to work properly.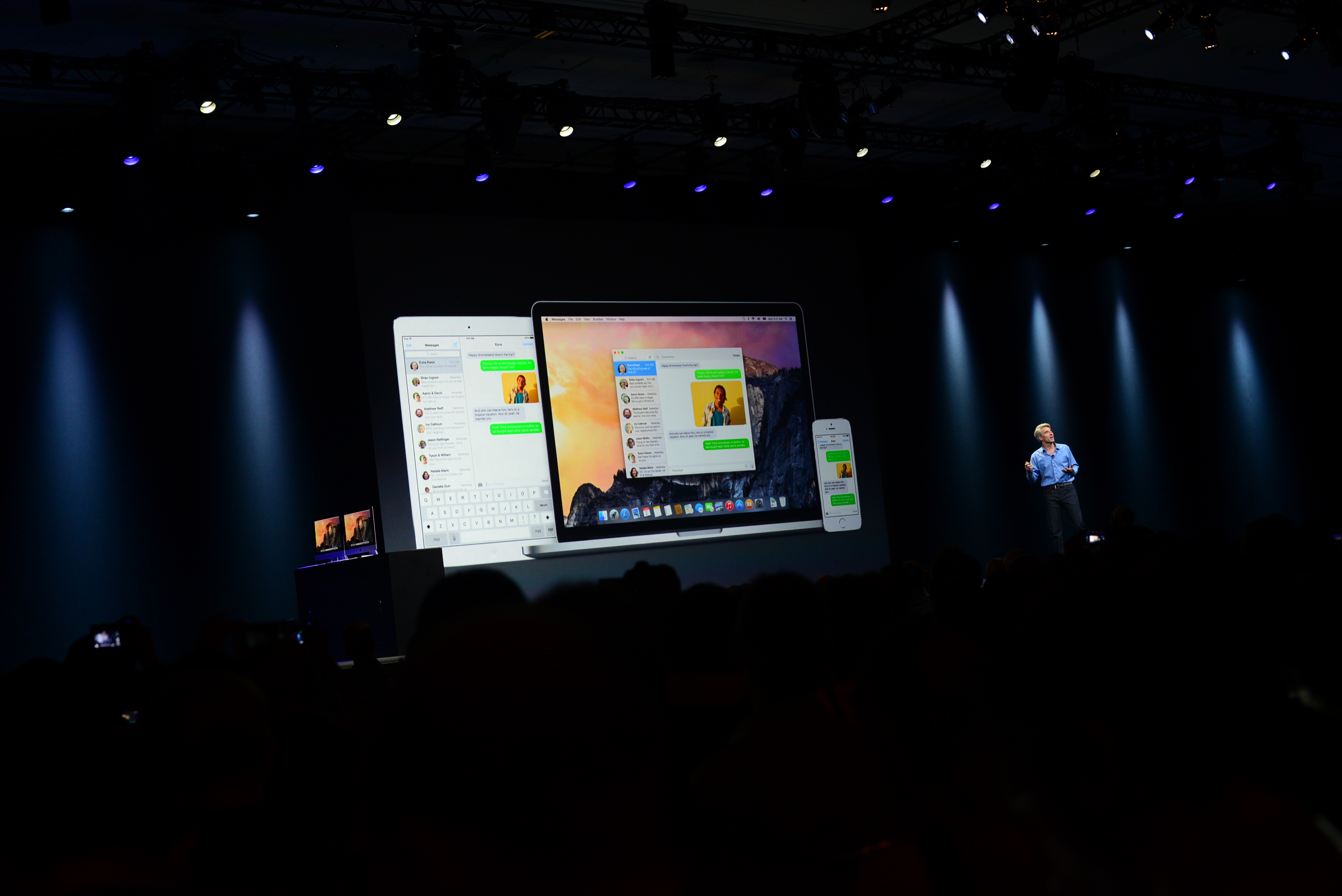 The next part of the puzzle is SMS and calls through iPad/Mac. While a similar feature has existed on Android in the form of Airdroid, it was never a natively integrated feature that way that this is. While they didn't provide specifics on how the feature works and what the limitations are, it's reasonable to infer that this works over WiFi and therefore is limited by the range of an AP or a direct connection. In short, by communicating to the iPhone or another voice-enabled cellular device on iOS 8, it's now possible to send and receive text messages with seamless integration of chat history, and the same also applies to voice calls as well. This is a solid extension upon iMessage for both iPad and Mac that was first introduced with iOS 5 and Mavericks.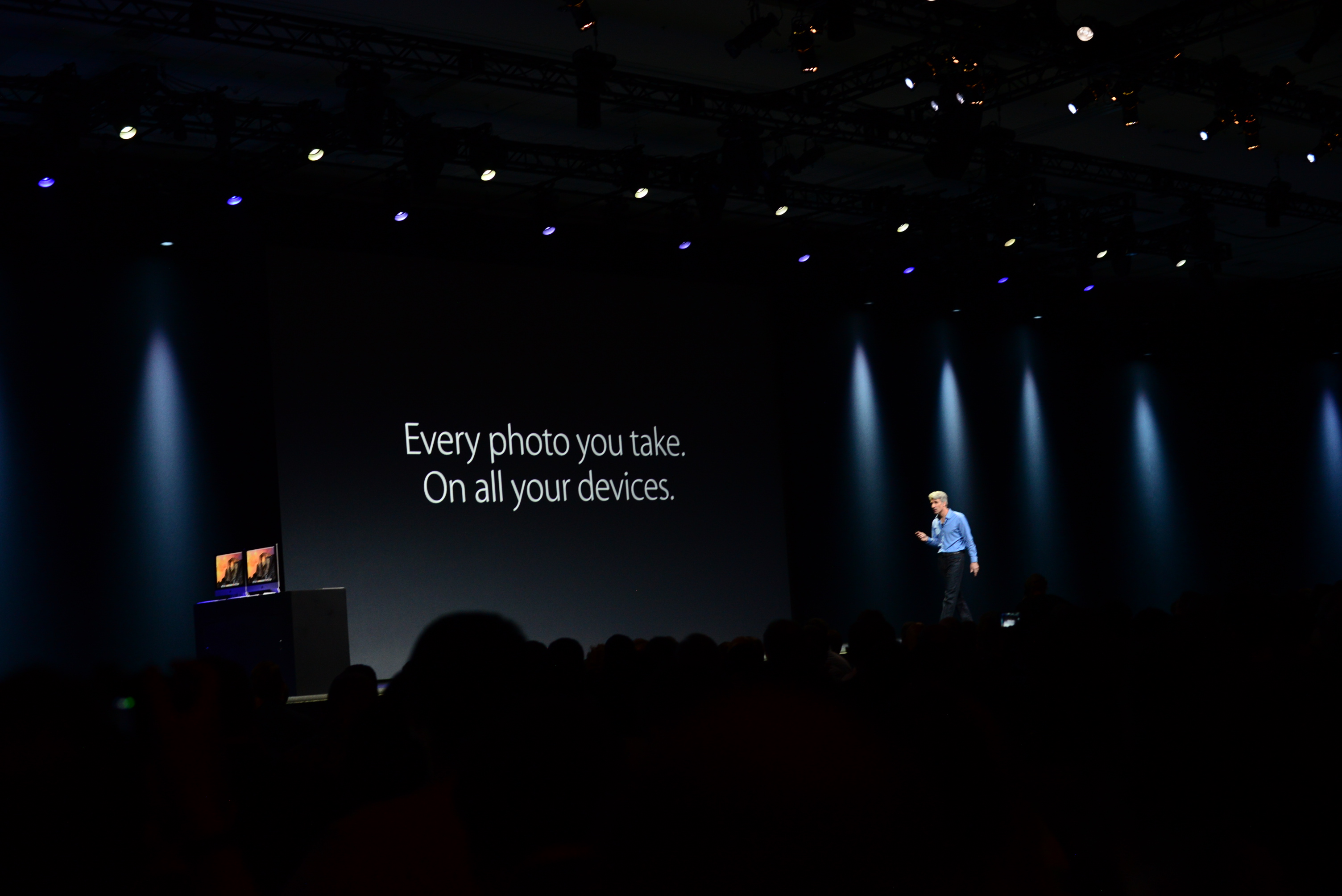 Many applications also fall into the continuity theme. For example, Photos and iCloud have been integrated in order to allow seamless syncing of photos across devices, whether Mac or iOS. While much of the iCloud syncing is made to work with Windows devices as well it isn't clear whether these more seamless integration features will happen for those on Windows.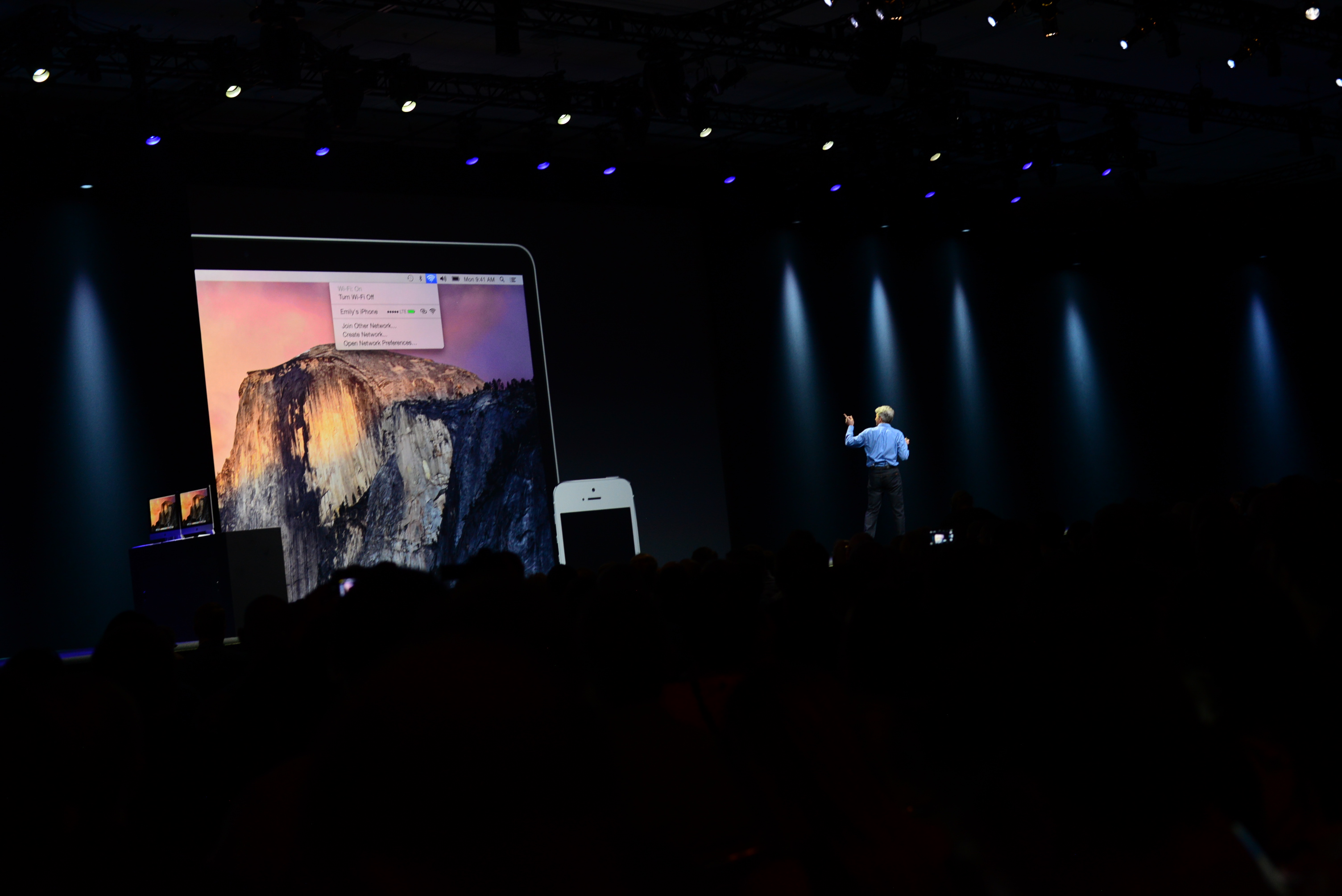 Finally, WiFi hostpot creation and connection is pretty simple in this case. If your iPhone and iPad/Mac are all linked together, you no longer have to manually create a hotspot on the iPhone or type in a password on the iPad/Mac to gain access to the personal hotspot. Instead, you can connect by simply tapping on your phone in the WiFi menu of an iOS 8 iPad or Yosemite Mac, and all of the other steps are skipped automatically.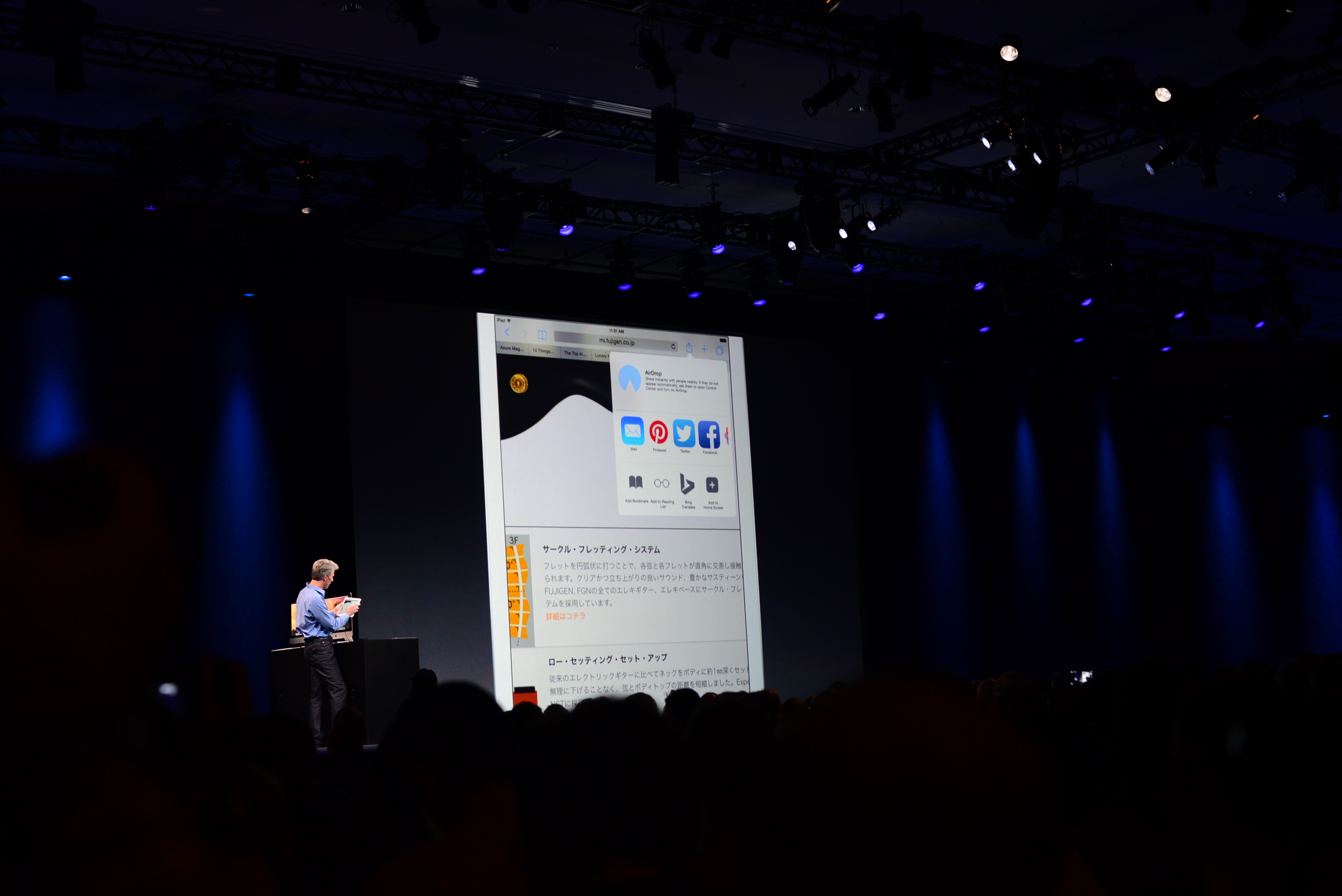 Possibly the second most important emphasis this time around was extensibility. For a while now, Apple has been criticized by some for the sandboxed nature of applications. This sandboxed system means that it's difficult for one application to pull data from another. Apple has introduced a host of new features that will solve this problem. First, iOS 8 will introduce a new API that allows one application to use data from another. There's no specifics on this aspect, but it sounds very much like the intents system in Android from a user perspective. However, it's likely that Apple's implementation isn't quite the same. Apple showed off these features in first party applications, which included demos of third party photo editors in Apple's Photos application. Another demo featured Bing in Safari doing a live translation of the webpage without losing focus in the application. Overall, there's a great deal of promise in this move, and it'll be interesting to know how Apple did this while maintaining the sandboxed security system.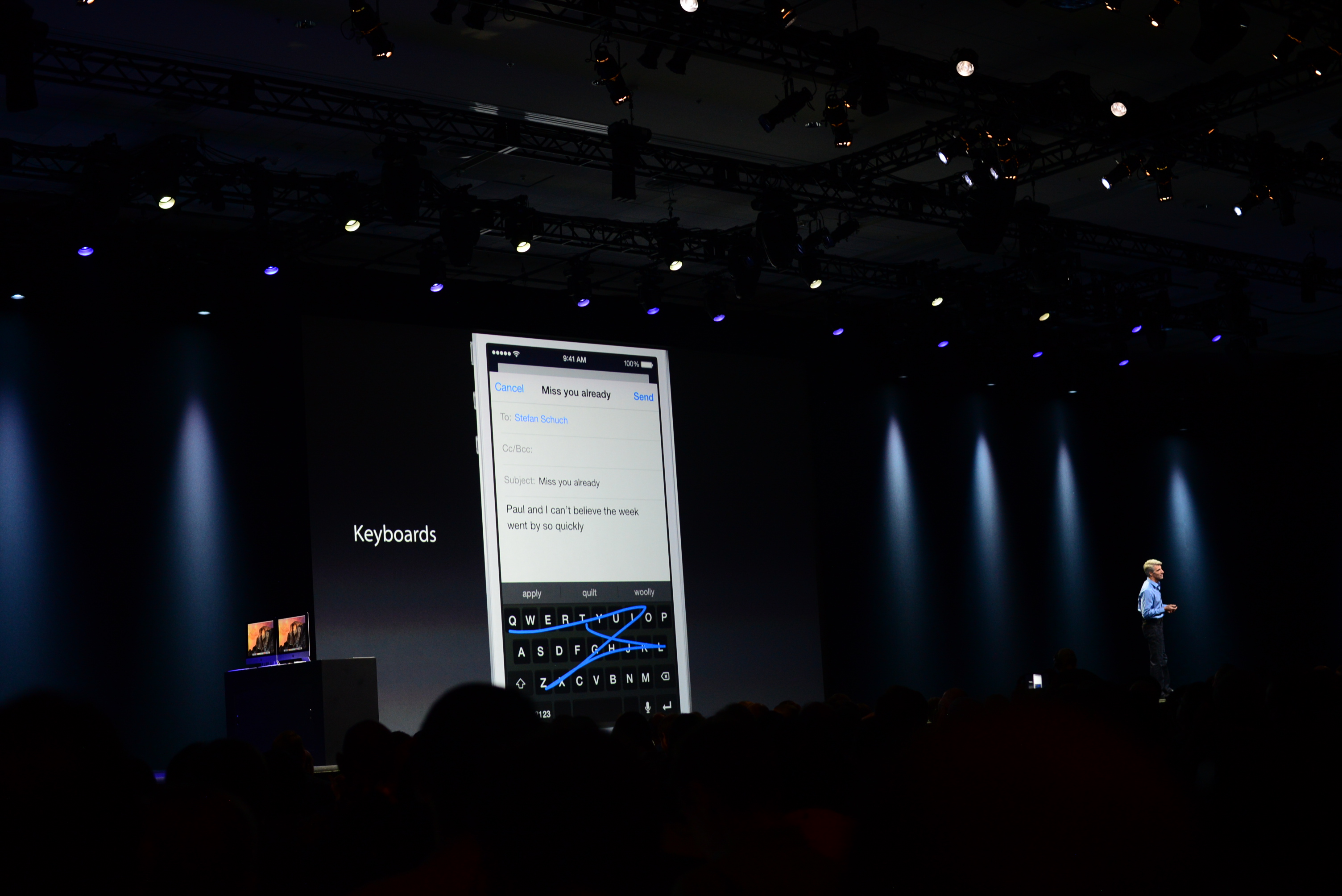 Within that same thought, extensibility also means that third party keyboards can be fully functional on iOS. In short, applications like SwiftKey and Swype can now replace the stock iOS keyboard although there's a disclaimer that keyboards with internet access could track keystrokes and upload them to another location over the internet.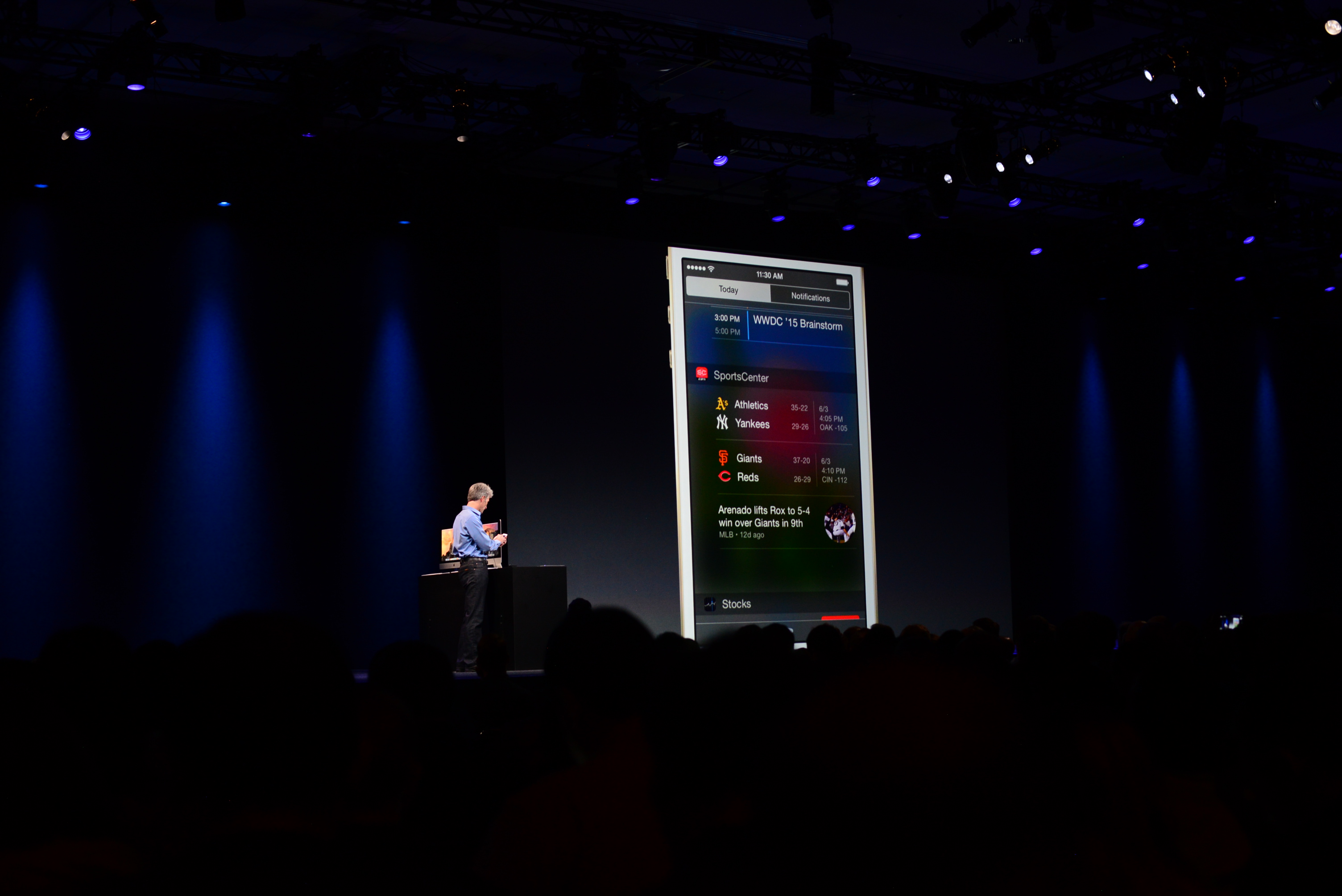 Apple has also tried to integrate widgets into iOS 8 without fundamentally reworking how the UX works. In short, there are third party widgets now, but they are integrated into the Today page of the notification drawer, rather than on SpringBoard. Apple showed off some interesting possibilities for this, such as an Ebay widget that allowed bidding straight for the widget and live updates to scoreboards for sports.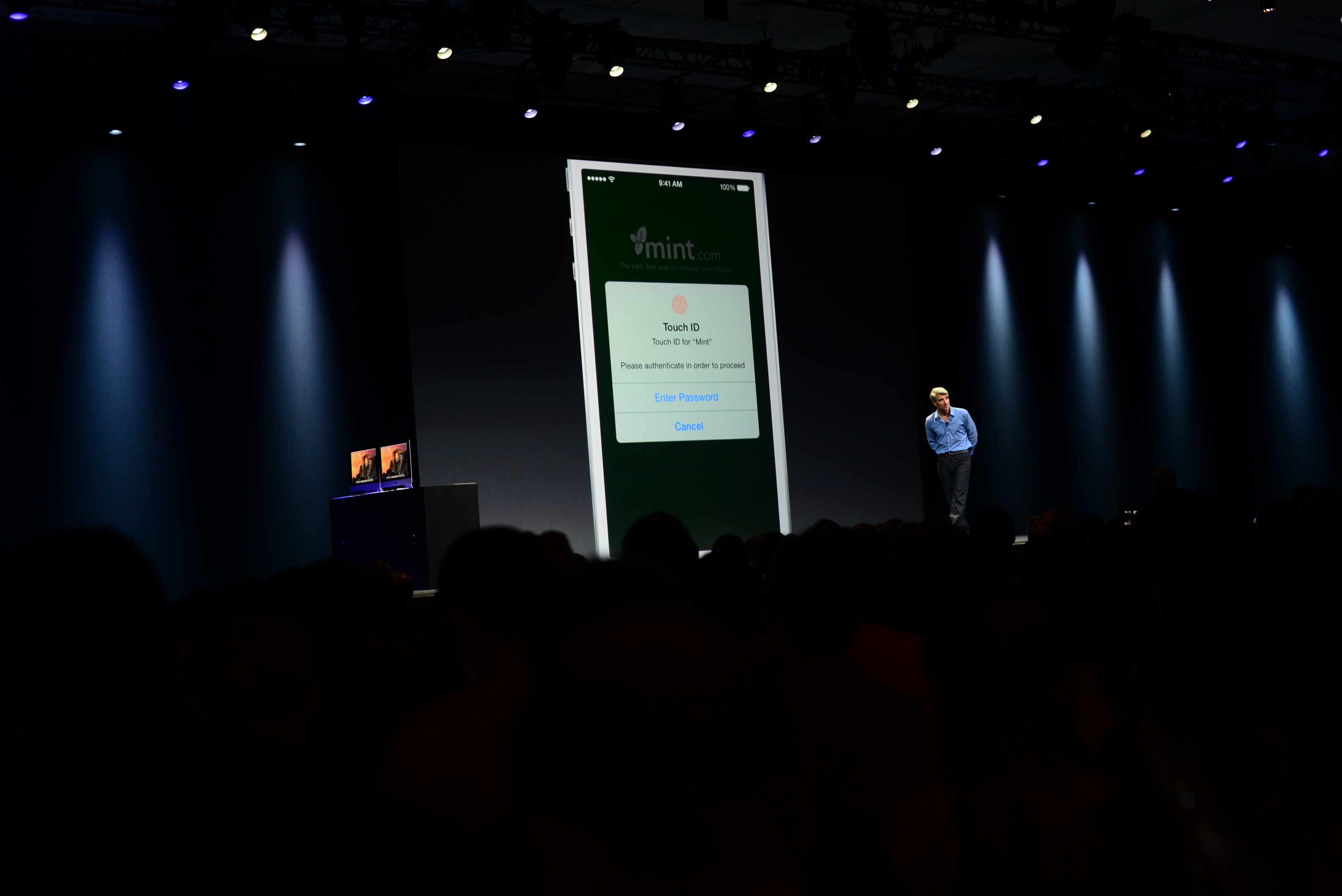 Apple has also opened up TouchID to third party developers. This means that TouchID can be used in place of a password in just about any situation. Apple stressed that no data is ever exposed to third party applications so it's not possible to view stored features through this API.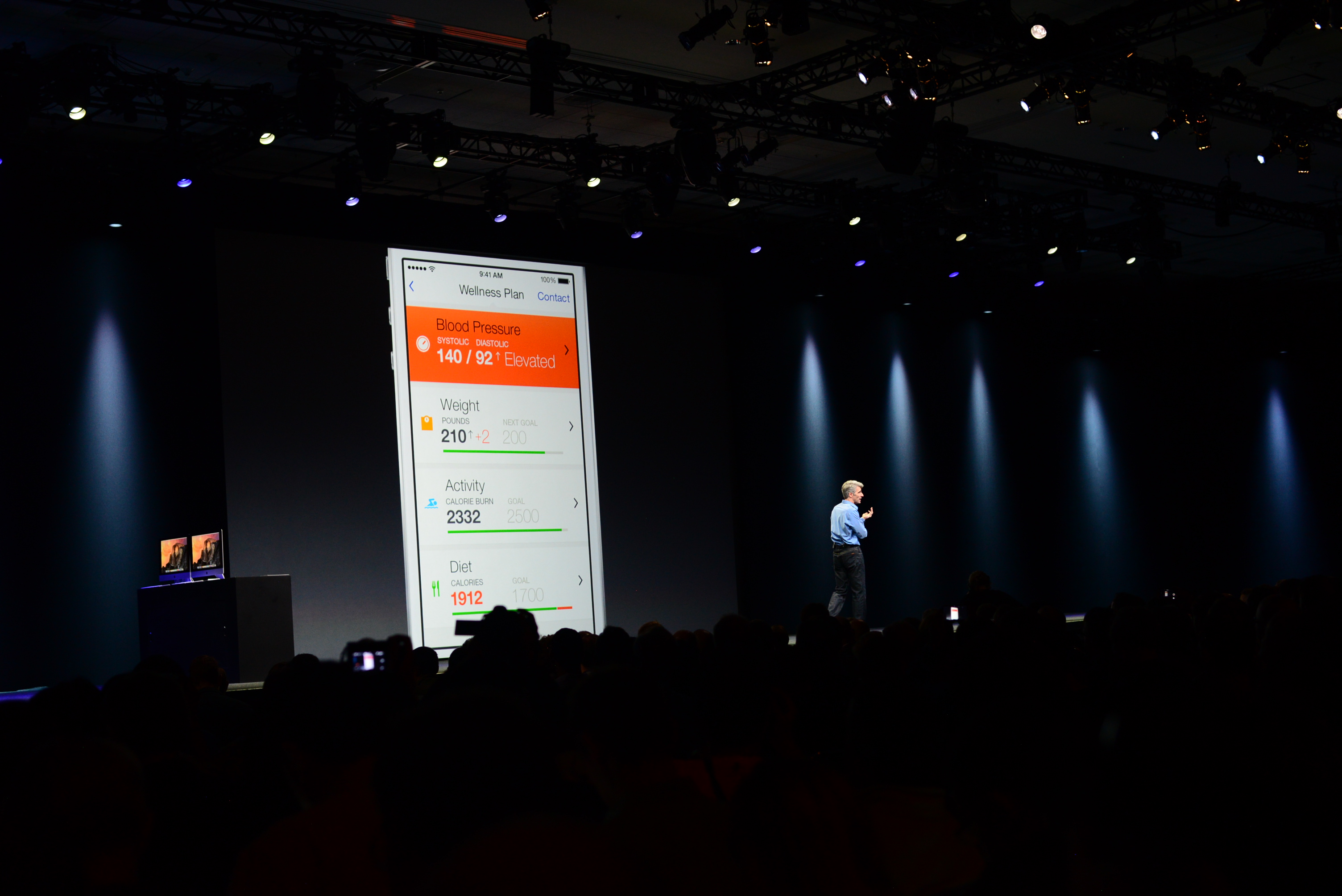 While Samsung was first to announce their health platform, it seems that Apple is the first to truly implement that vision. HealthKit also fell under the theme of extensibility. This is because its key feature set was focused upon allowing multiple health applications to all place their data into a single application that can present all recorded health measures at once. Apple emphasized the value that this application would provide to doctors, and by partnering with Epic Systems and Mayo Clinic, they've created systems that can automatically inform a doctor when various measures of health go out of specification for a specific person. This allows for faster response to potentially unhealthy situations. This will all be accessed through the Health application, which will first appear in iOS 8.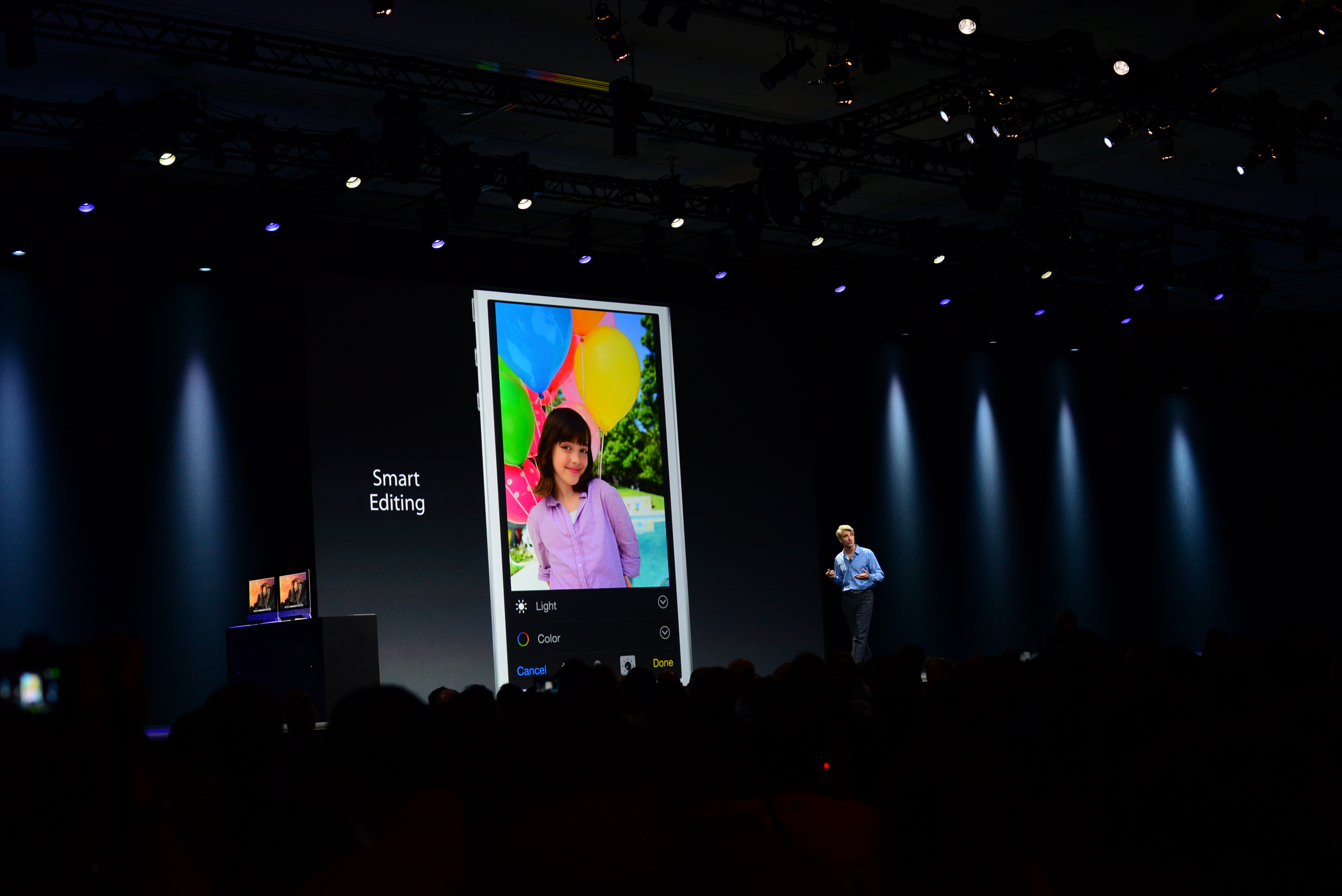 Outside of the themes of continuity and extensibility, Apple has also iterated on other parts of the iOS 8 platform. The new Photos application adds automatic image interpretation for more seamless editing, so editing levels is now a simple slider that simultaneously adjusts settings such as exposure, brightness, contrast, shadows, highlights, midtones, etc. This is definitely a great way to bring photo editing to the masses, as while such options are still accessible the vast majority aren't particularly interested in learning how to adjust multiple sliders to achieve a desired effect. Apple also emphasized that all edited photos can be instantly viewed on all other iOS and Mac devices through their respective Photos applications, using iCloud integration as previously mentioned.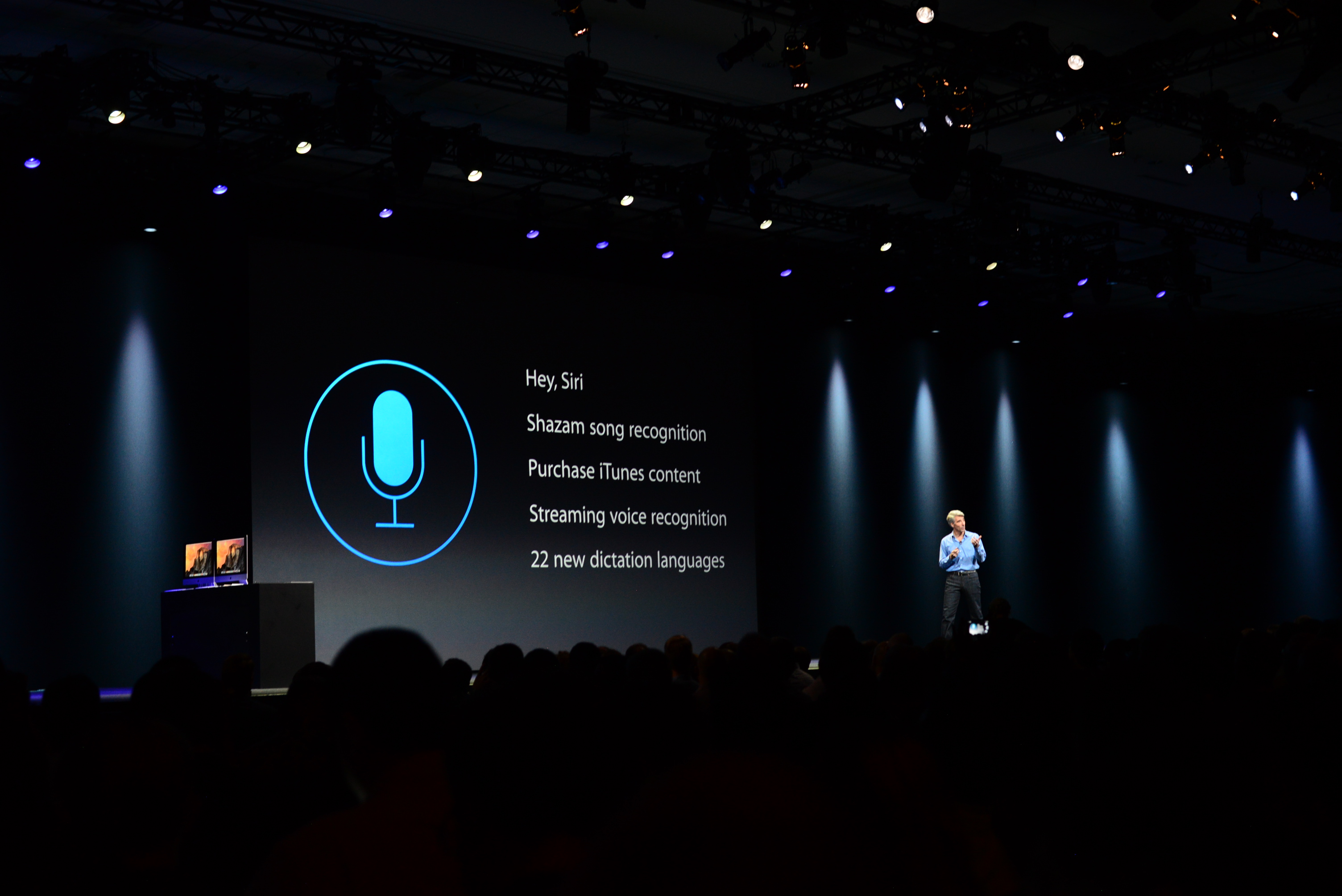 Siri has also been upgraded, and with iOS 8 it will support Shazam song recognition features, along with iTunes purchases. Apple cited the example of buying a song that was recognized through Shazam on Siri as a key use case for this feature. It's also possible to do live dictation of text through Siri, and with 22 new languages available for dictation. Hotword detection is also introduced here, although it doesn't appear that Siri can be activated with the screen off. Apple may add screen-off hotword detection in a future product, although I wouldn't hold my breath.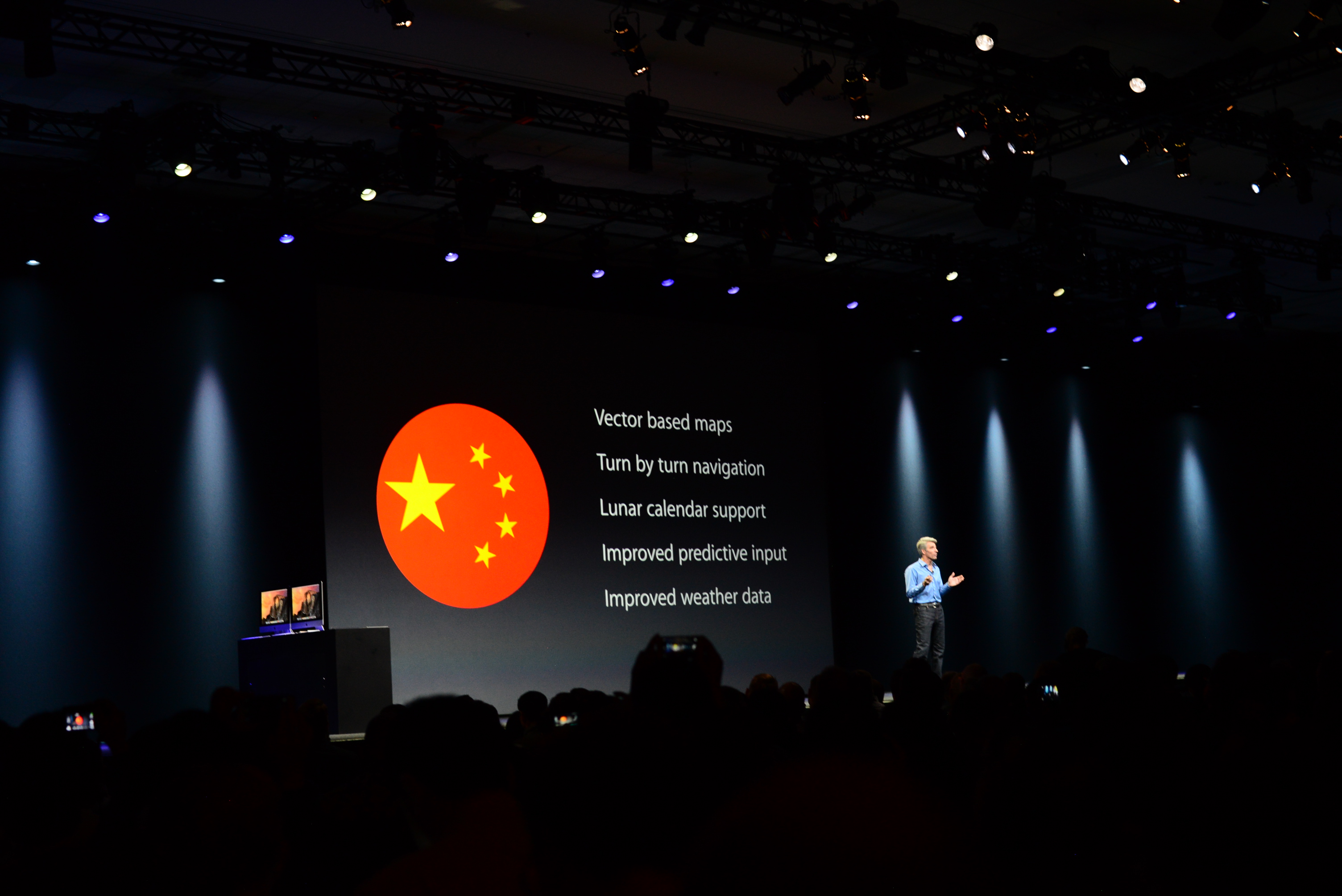 China also received a special section, with new vector maps and turn by turn navigation in Apple Maps for China. There's also support for the lunar calendar, and improved predictive input for the Apple default keyboard, along with better weather data in the Apple application.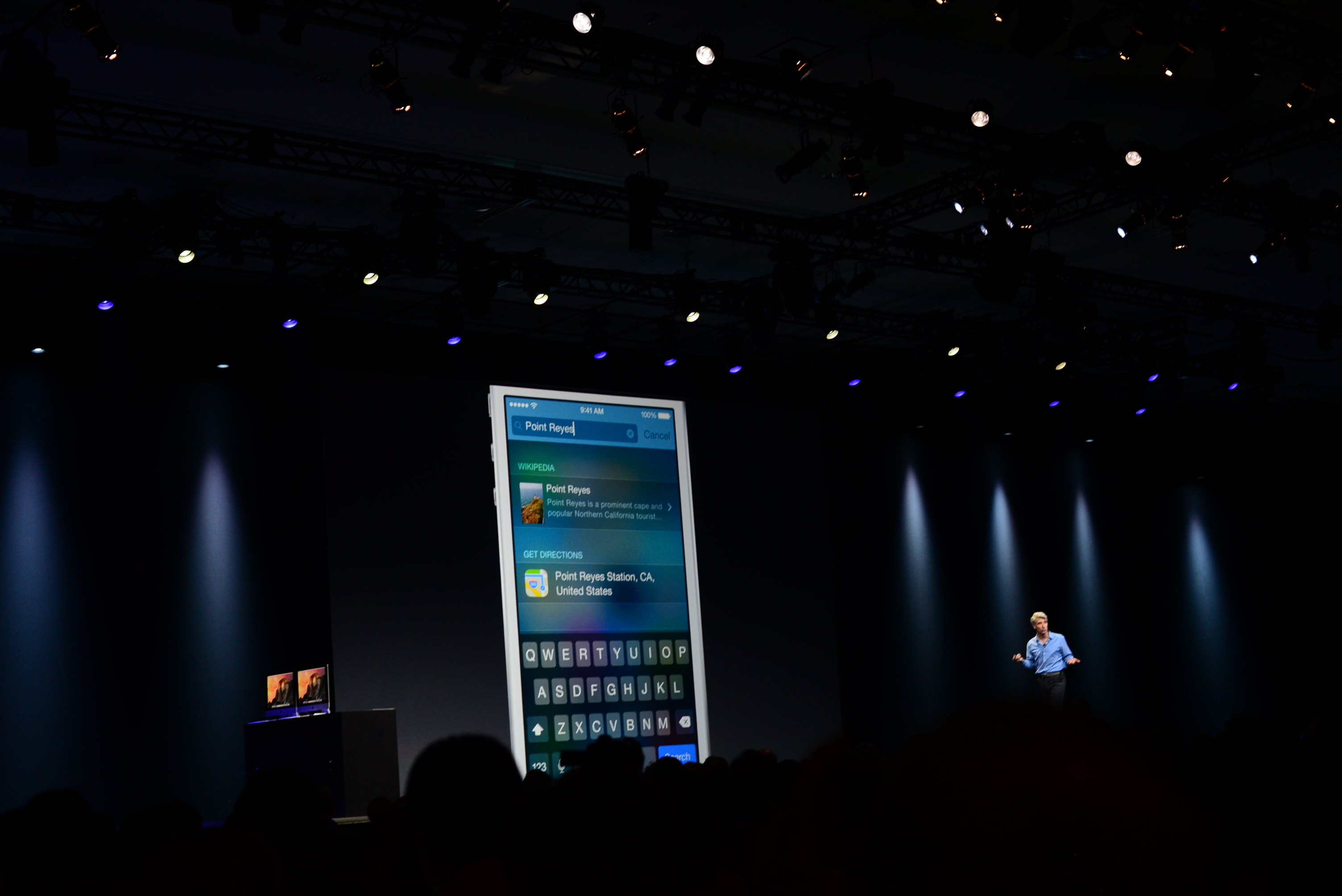 Spotlight search is also updated with new information provided with searches. Spotlight now presents results from both internet and local sources, and there are a lot more features for specific use cases. If this sounds like the result cards from Google Search, this is effectively a feature with similar intent. However, Apple has done more to integrate the results into the search application rather than a web view, and third party application data can be pulled into the search results to present more actionable information.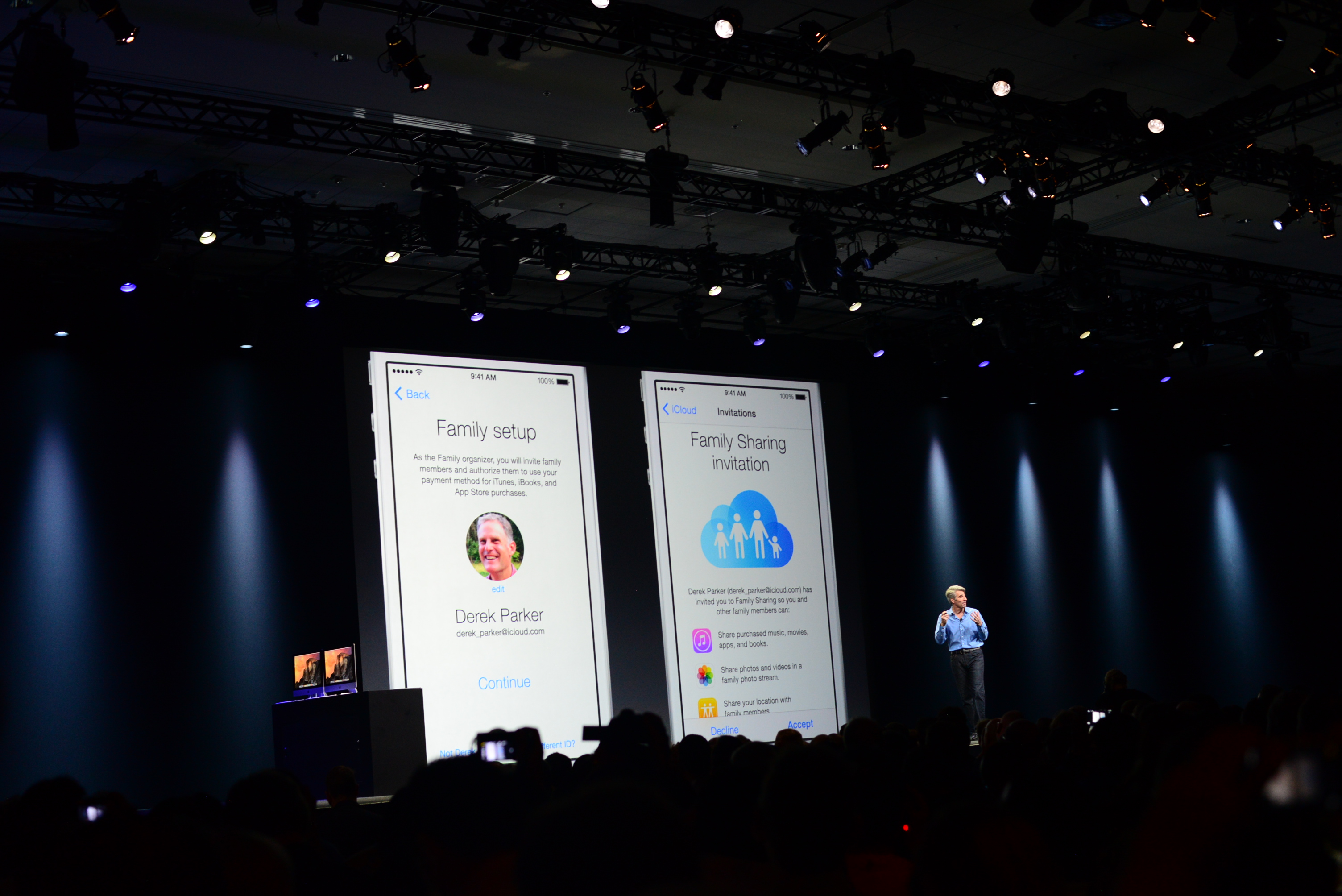 Outside of these smaller changes, Apple also announced Family Sharing, a system that allows up to six people to share applications, books, music, movies, and other media without an additional charge. The key requirement here is that all of the devices have to share the same credit card on file to avoid abuse. Apple also went further with the family theme, and added in a feature that requires purchases from a "child" device to be approved by a "parent" device to avoid a situation where a child spends large sums of money on in app purchases without prior approval.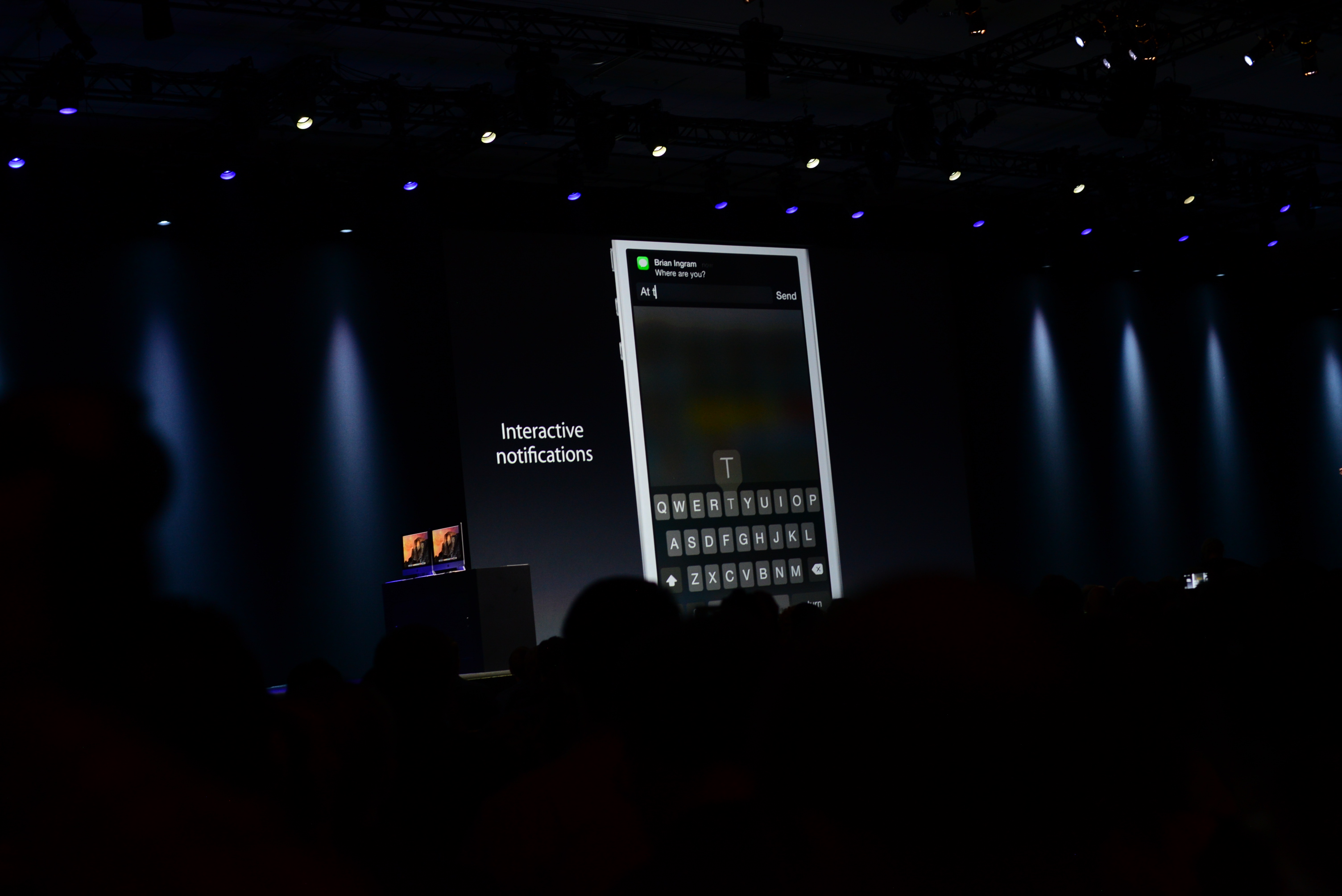 Apple has also introduced actionable notifications to improve the current system. While a minor feature, it's very much a useful touch and sorely needed. This means that it's now possible to respond to incoming messages without leaving the application in use. The multitasking menu has also added new recent contacts on top of the list of active applications to allow fast access to certain contacts for phone, texts, and video calls.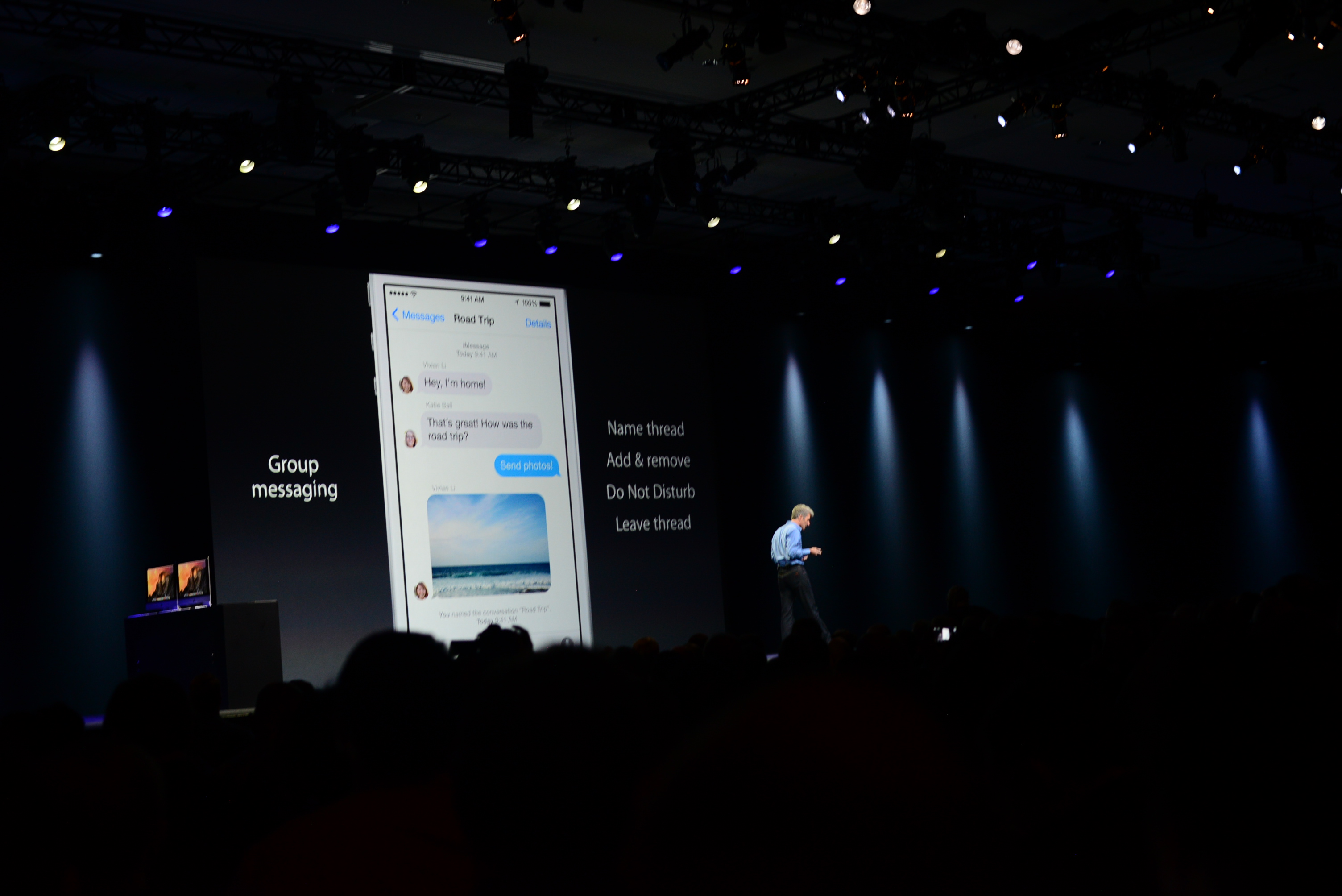 Messaging also improves, with a new details section that allows you to share your location for certain amounts of time, leave group threads as desired, and also set turn off certain threads from notifications for a designated amount of time. There's also a new attachment view that lets you see all the photos and similar attachments in one view instead of scrolling through a thread, and voice messages/video messages are seamlessly integrated with automatic deletion to save space, although it's still possible to save it if desired.
Overall, Apple has definitely done a great job with iOS 8. We're excited to see how well this update plays out in the coming months in the context of the broader mobile OS landscape, and also to see what else will be discovered from beta to public availability. While hardware wasn't talked about at all for this presentation, it doesn't seem as necessary as some make it out to be.