General Performance: Better than the Original ION
As we concluded in our original Pine Trial article, the new platform (at least for nettops) is faster than the older Atom. The same is true for next-generation ION. We saw around a 10% increase in general purpose performance, which was noticeable in real world use. The system felt a bit snappier than our comparison point: a Zotac ZBOX HD-ND02 based on the original ION.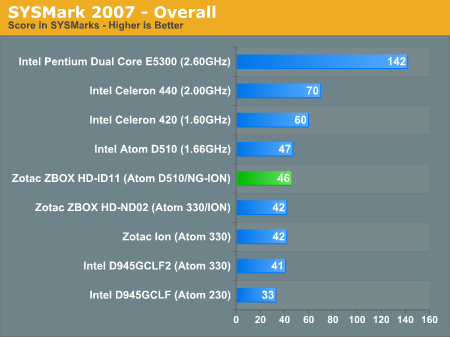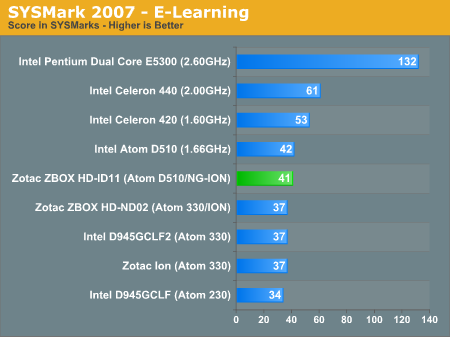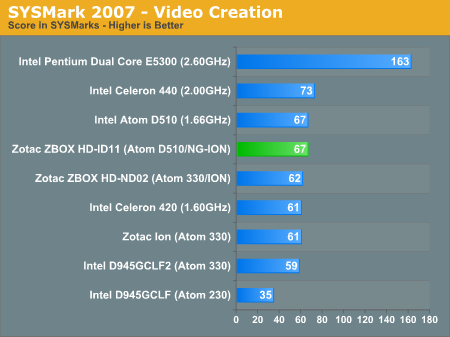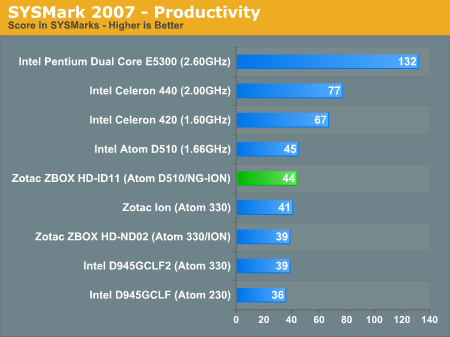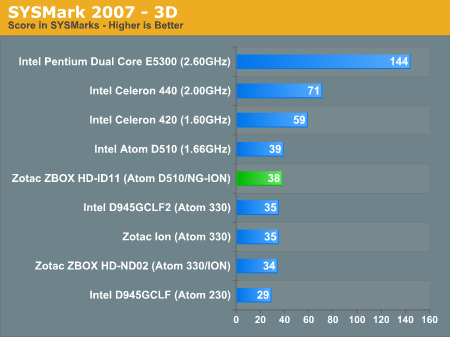 In the grand scheme of things any Atom based system isn't going to be very quick. Multithreaded performance is better than an old Pentium 4, but worse than anything based on the Core 2 architecture. Single threaded performance is actually worse than the old Pentium 4.
Of course our recommendation still stands, an SSD is key to making these systems feel fast enough. Luckily there are a handful of value SSD options that deliver good performance without breaking the bank.
PCMark Vantage showed closer performance between the two systems. The gaming performance advantage was all NG-ION, while the older ION1 actually boasted better performance in the HDD test. It's possible that NVIDIA's SATA controller is actually a bit faster than whatever made it into the NM10 Express. While Intel is known for its potent SATA controllers, in an Atom system all bets are off as to what generation of tech you're getting. Either way, the 10% difference in pure disk performance isn't going to manifest itself as more than a couple of percentage points in a real world use case.
PCMark Vantage Performance: NG-ION vs. ION
Zotac ZBOX HD-ID11 (NG-ION)
Zotac ZBOX HD-ND02
PCMark Vantage Overall
3310
3386
Memories Suite
2951
2460
TV & Movies
1635
1715
Gaming
3929
3355
Music
4259
4819
Communication
2176
2110
Productivity
5393
5311
HDD
28570
31834
For overall system performance, the edge goes to the next-generation ION, at least compared to the old one. Compared to your standard Pine Trail system, there's no advantage.