Meet the Asus ENGT430
For our look today at the GT 430, Asus graciously provided us with their GT 430 card, the ENGT430. As with all the other cards being released it's a custom design, featuring the usual Asus design elements: a double-sealed fan, fuse protection, and - while we have a hard time believing this is an issue on such a small card – GPU guard PCB reinforcement.
For this card Asus is very specifically going after the HTPC market. The ENGT430 is a half-height card with a low-profile bracket included, and for cooling it uses a decently sized heatsink with a particularly tiny fan we measure at 36mm. The heatsink does stick up some, so the card is explicitly a double-slot card and you'll want to make sure you have space for it.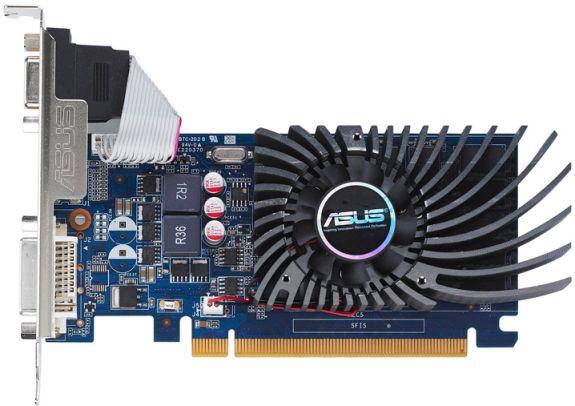 As is the case with low-end cards, reference clocks don't tend to mean much. While the GT 430 has a reference speed of 700MHz for the core and 1.8GHz effective for the DDR3 memory, Asus has gone ahead and clocked the card at 1.6GHz for the memory. The card is equipped with 8 800MHz (1.6GHz effective) Hynix DDR3 memory modules running in 16bit mode, which is why the card is clocked below NVIDIA's reference clocks. We expect to see memory clocks all over the place with the launch cards, depending particularly on who could get the best deal on what speed grade of DDR3 RAM for these cards. Given that GT 430 is likely already a memory bandwidth challenged card, this will have an impact, although we don't have the means to measure it (our card would only go to 1.75GHz on the RAM).

For ports Asus is going with what's undoubtedly going to be the universal configuration for low-profile GT430 cards: 1x DVI, 1x HDMI, and 1 VGA port. The DVI port is necessary for monitors (without resorting to a dongle), the HDMI port is necessary for HTPC roles, and the VGA port being an easy addition as an optional 3rd port due to its analog nature. GF108 can only drive 2 monitors at once, so the usual restrictions apply.
As is common for budget cards, there's little else besides the card in the box. Asus includes the low-profile bracket, a multilingual quick installation guide, and a driver CD. This is the first Asus card we've reviewed for some time without voltage tweaking capabilities, so even NVIDIA's integrated overclocking utility is enough for the task.