Random Read/Write Speed
The four corners of SSD performance are as follows: random read, random write, sequential read and sequential write speed. Random accesses are generally small in size, while sequential accesses tend to be larger and thus we have the four Iometer tests we use in all of our reviews. Our first test writes 4KB in a completely random pattern over an 8GB space of the drive to simulate the sort of random access that you'd see on an OS drive (even this is more stressful than a normal desktop user would see).
We perform three concurrent IOs and run the test for 3 minutes. The results reported are in average MB/s over the entire time. We use both standard pseudo randomly generated data for each write as well as fully random data to show you both the maximum and minimum performance offered by SandForce based drives in these tests. The average performance of SF drives will likely be somewhere in between the two values for each drive you see in the graphs. For an understanding of why this matters, read our original SandForce article.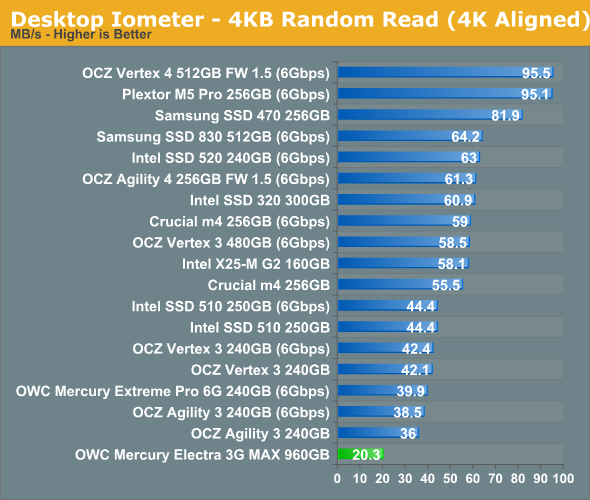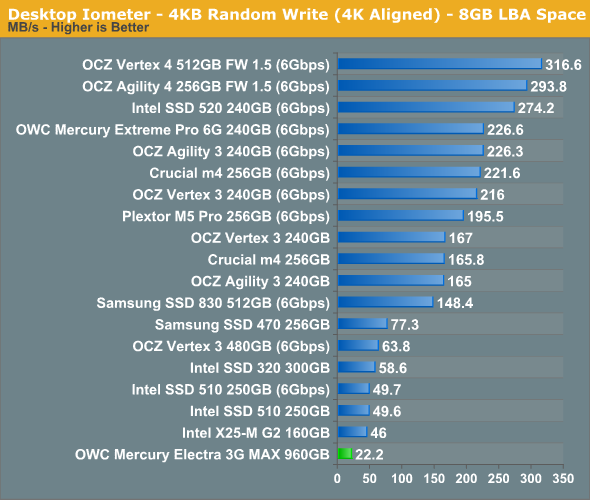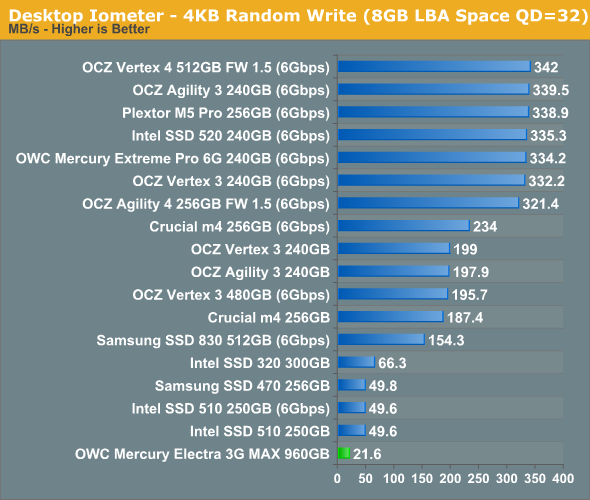 To be straight, random performance is horrible. Regardless of the queue depth and IO type (read/write), random performance tops out at around 22MB/s. I ran each test a few times to double-check but performance didn't get any better. I asked OWC if this is normal and they said it is, which also explains why OWC isn't reporting any random read/write speed figures. Ouch.
The SF-2181 controller is good for up to 60K 4KB random read/write IOPS, so that's definitely not the bottleneck. With two controllers in RAID 0, we should get random performance of over 100K IOPS at higher queue depths, although SATA 3Gbps would limit us to around 70K IOPS max. If the SSD controller is not the bottleneck, it leaves us with only one option: the RAID controller. Like I said, Siicon Image's RAID controller is not a very high-end one and the product page says it's actually a SATA to dual-eSATA controller, meaning that it's mainly aimed to be used with external hard drives, which don't offer great random IO performance to begin with. It definitely wasn't designed with SSDs in mind and I'm starting to think that OWC opted for it because there simply wasn't another viable option.
Sequential Read/Write Speed
To measure sequential performance we ran a one minute long 128KB sequential test over the entire span of the drive at a queue depth of 1. The results reported are in average MB/s over the entire test length.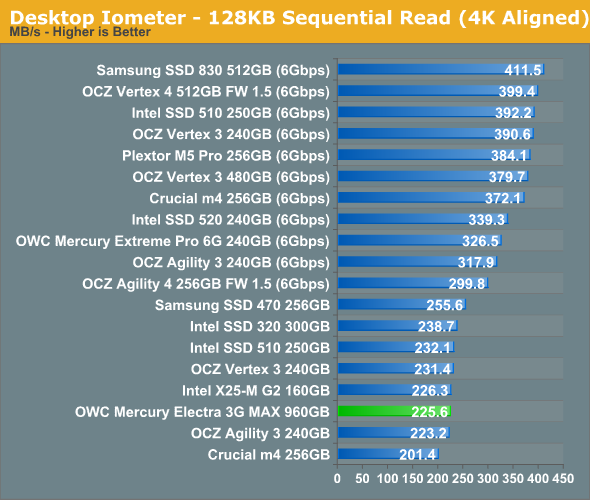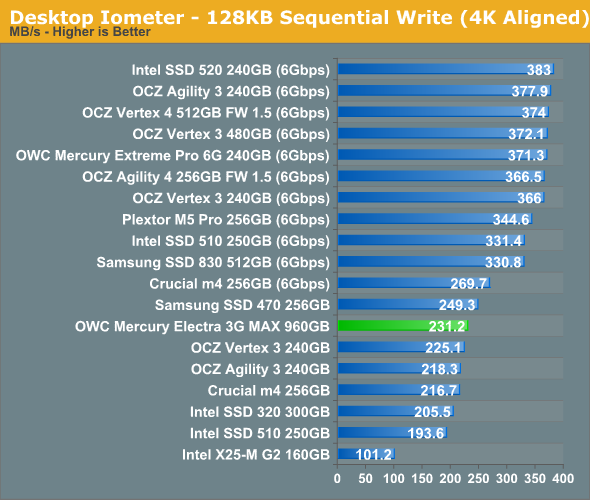 Sequential performance is much better than random speeds and now we're seeing figures typical for SATA 3Gbps SSDs. In terms of performance, there doesn't seem to be much gain from RAID 0 as for example OCZ Vertex 3 performs similarly when used in a SATA 3Gbps environment.