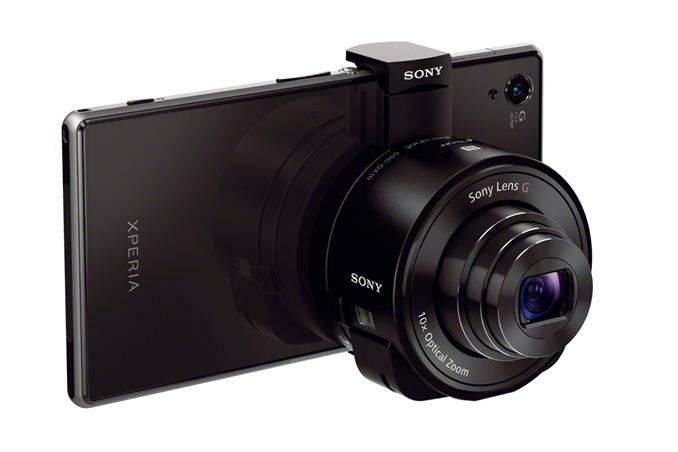 The connected camera space is going through an interesting period, we've seen a few device makers take steps towards building cameras that run Android (Nikon's S800C, Galaxy Camera, Galaxy S4 Zoom, Galaxy NX, PureView 808 and Lumia 1020 all arguably sit in this category), and the notion that the best camera is the one you have on you at all times seems almost universal at this point. The problem is that while mobile devices continue including better and better cameras, there's still a size and thickness tradeoff that device makers have to make when crafting handsets. There's now recognition that being able to instantly share and do something with photos makes them valuable almost regardless of the photo's technical quality, now it's just a matter of increasing that technical quality.

Sony is taking an interesting approach with their newest connected camera accessory. I say accessory since Sony's vision is really that the camera ends up being a modular component that attaches and detaches from a mobile device, and uses the smartphone as a viewport for live preview and sharing. The ISP and camera processing is all done on the camera accessory, the smartphone becomes the interface for it. Sony is dubbing this form factor a "lens-style camera" as it looks literally like a lens barrel you'd find on a point and shoot camera with nothing more. Pair the camera to your phone using NFC if it has it, and then the smartphone works with the camera over WiFi like a remote. Sony's PlayMemories Mobile application (essentially the remote for the QX series) works with iOS and Android.
The camera has its own memory card slot (microSDXC and Memory Stick Micro), shutter release and controls, and rechargeable battery, so they can be operated handheld, standalone, on a tripod screw mount, or clipped to a smartphone. Photos get stored on the camera, and also on the smartphone when paired.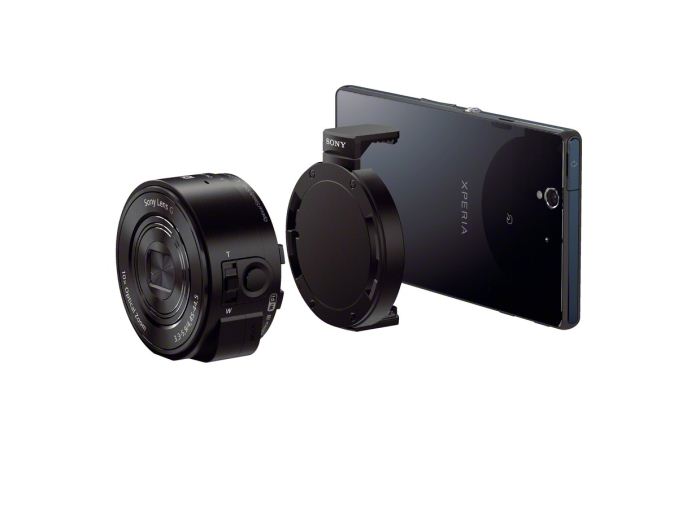 The spring loaded clip allows the module to be attached to the smartphone and basically emulate a point and shoot form factor, or at leas that's the goal. There's also a case for the Xperia Z designed to accommodate the module.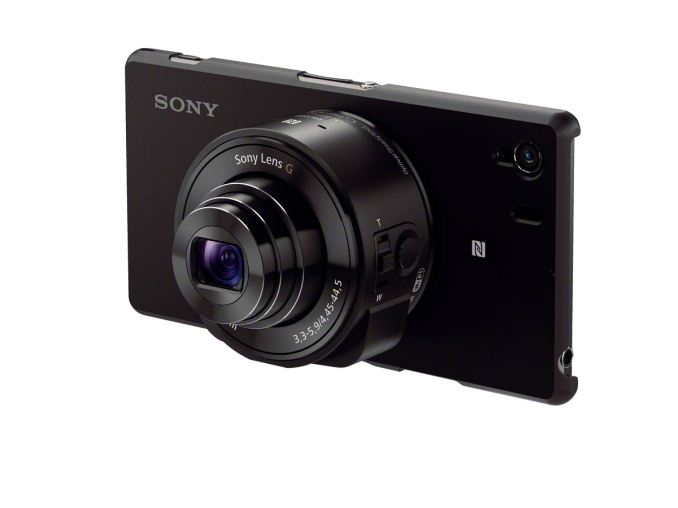 There are two different modules in Sony's new Cyber-shot QX series, the DSC-QX100 and DSC-QX10. The QX100 includes a larger 1/1.0" Exmor R CMOS sensor with 20 MP resolution and carl zeiss branded optical system with 35mm effective focal length from 30–108mm aperture from F/1.8 to 4.9 over that range. The QX100 is the decidedly higher end model. The QX10 includes a smaller 1/2.3" Exmor R CMOS sensor with 19 MP and Sony G optics with effective focal length between 25–250mm and F/3.3 to 5.9 over that range, although this is clearly the lower end model it does stretch out a bit further with that longer focal length. Both devices include optical image stabilization as well. The QX100 will be available late September for $500 and the QX10 will come in at the same time at $250.
Camera Emphasized Smartphone Comparison
Nikon Coolpix S800c
Samsung Galaxy S4 Zoom
Samsung Galaxy NX Camera
Sony DSC-QX100
Sony DSC-QX10
CMOS Resolution
16.0 MP
16.3 MP
20.3 MP
20.2 MP
18.2 MP
CMOS Format
1/2.3", 1.34µm pixels
1/2.3", 1.34µm pixels
APS-C, 4.25µm pixels
1/1.0", 2.4µm
1/2.3", 1.3µm
CMOS Size
6.17mm x 4.55mm
6.17mm x 4.55mm
23.5mm x 15.7mm
13.2mm x 8.8mm
6.2 x 4.6 mm (approx)
Lens Details
4.5 - 45.0mm (25-250 35mm equiv)
F/3.2-5.8
4.3 - 43mm (24-240 mm 35mm equiv)
F/3.1-F/6.3
OIS
NX Mount ILC, shown with 18-55mm F/3.5-5.6
10.4-37.1 mm
(30-108mm equiv),
F/1.8-4.9
4.45-44.5 mm
(25-250 mm equiv)
F/3.3-5.9
Display
854 x 480 (3.5" diagonal)
960 x 540 (4.3-inch)
1280 x 720 (4.8-inch) LCD
N/A
N/A
SoC
ARM Cortex A5(?)
1.5 GHz Exynos 4212
1.6 GHz Quad Core (Exynos 4412?)
Bionz ISP
Bionz ISP
Storage
1.7 GB + microSDHC
8 GB + microSDHC
16 GB + microSDXC
microSDXC, Memory Stick Micro
microSDXC, Memory Stick Micro
Video Recording
1080p30
1080p30
1080p25
1440x1080p30
1440x1080p30
OS
Android 2.3.6
Android 4.2
Android 4.2.2
iOS/Android
iOS/Android
Connectivity
No cellular, WiFi 802.11b/g/n(?), GPS
Quad band WCDMA 21.1, 4G LTE SKUs, 802.11a/b/g/n with 40 MHz channels, BT 4.0, GNSS
Quad band WCDMA 42
4G LTE SKUs,
802.11a/b/g/n,
BT 4.0, GNSS
NFC, WiFi(?)+BT(?)
NFC, WiFi(?)+BT(?)
I haven't had a chance to play with either cameras or the interface, but the form factor is unique enough to be interesting, and if nothing else it's fascinating watching everyone come up with their own way around the mobile device problem. Like Samsung, Sony having a P&S business makes their mobile approach interesting, and they also have considerable CMOS sensor leadership to take advantage of. Sony's approach seems to be this accessory model, which although unique still means you'll need another pocket or pouch to hold the camera when not using it. I'm not sure that the long term solution for the camera bump problem is to make the bump discrete and pocketable, but the higher end QX100's specs might make it worth carrying around.