Setup
Out of the box, the TSS-1 comes almost completely assembled.  A few minutes with a screw driver is necessary for completing the process, though far less assembly is necessary than an average toy for a six year old.  The package consists of five satellite speakers, the amplifier unit and stand, the subwoofer unit, and a couple of audio cables.  Over half of the system is prewired, cutting down on the number of connections.
Once the pieces are unpacked, placement decisions must be made.  The amplifier/decoder unit is designed to stand vertically on the desktop, after attaching its base with the enclosed screws.  As all of the controls for the system are on the front of this unit, it is not very viable to place it under a desk.  The important thing to keep in mind during placement of the unit is that all of the speaker and audio cables will run to this unit, which can get a little cluttered.
The satellites are the next units to be placed.  The recommended speaker placement information included in the manual offers no new insights that are specific to these speakers.  However, there is a lovely diagram to reinforce the common sense of symmetry in placement in case any questions arise.
The layout for satellites remains consistent with a standard 5.1 surround system.  Place the front satellites so that while sitting at the computer, the user will be centered between them.  Then place the center satellite on top of or below the visual source, which should be centered between the front speakers.  Finally, the rear surrounds will again be placed symmetrically about the user.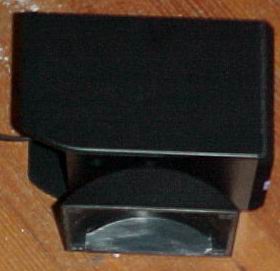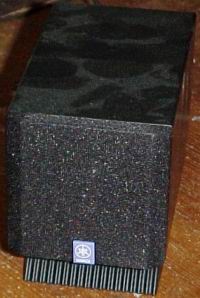 Each satellite includes a desktop stand for adjusting the height of the sound field.  Preassembled out of the box, they default to level (no angle).  Adjusting the angle on the speakers will raise the sound field to where the listener needs it - ear level.  Unfortunately, the stands aren't well marked for making even adjustments on both sides, which can make creating an even sound field difficult.  Adjustments do require a screwdriver.  For the center speaker, the stand can be completely removed so that the unit may be placed on top of a monitor or TV.  For this setup, there is also a piece of double sided Velcro for attaching the speaker more securely.  Also included are rubber feet for the desktop stands. 
The satellites come prewired with speaker cable.  The front and center unit all have 3 meter cables, while the rear speakers offer 7 meter wires.  The cables are sufficient for installing the system in a small to medium sized room, depending on how the wires are run.  As they are hardwired into the speakers and are also terminated in RCA cables, it is more difficult to substitute longer cabling in the system.  The speaker wire is rather small gauge, but the system is not high powered, so this is acceptable.