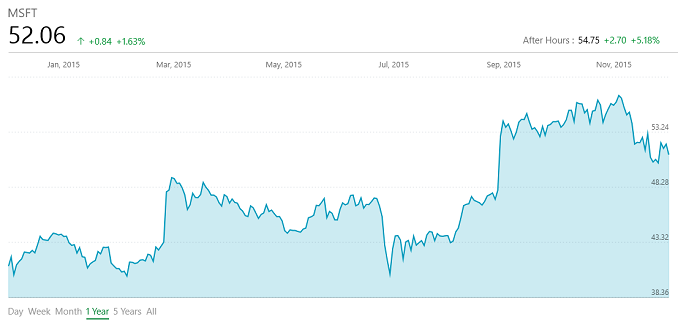 Today Microsoft released their earnings for quarter two of fiscal year 2016, which ended on December 31. Despite solid growth in their cloud platforms, the PC slowdown and world currencies have impacted Microsoft's numbers. Revenue for the quarter was $23.8 billion, down from $26.5 billion a year ago. Gross margin was 58.5%, down from 61.7% a year ago, and net income was down 14.7% to $4.998 billion. Basic earnings per share was $0.63, down from $0.71 at the same time last year.
Microsoft Q2 2016 Financial Results (GAAP)
Q2'2016

Q1'2016

Q2'2015
Revenue (in Billions USD)
$23.796

$20.379

$26.470
Operating Income (in Billions USD)
$6.026

$5.793

$7.776
Gross Margin (in Billions USD)
$13.924
$14.712
$16.334
Margins
58.5%

64.6%

61.7%
Net Income (in Billions USD)
$4.998

$4.620

$5.863
Basic Earnings per Share (in USD)
$0.63

$0.57

$0.71
A big chunk of the difference this year has to do with currency rates, and Microsoft has released Non-GAAP measures as well to exclude these factors, along with restructuring charges. $1.2 billion of revenue was affected by currency rates. On a Non-GAAP basis, revenue was down only 2% to $25.693 billion, with gross margin of 61.6%. Non-GAAP operating income was up 3% to $7.9 billion, net income was up 8% to $6.3 billion, and earnings per share were up 11% to $0.78.
Microsoft Q2 2016 Financial Results (Non-GAAP)
Q2'2016
Q1'2016
Q2'2015
Revenue (in Billions USD)
$25.693
$21.660
$24.994
Operating Income (in Billions USD)
$7.923
$7.074
$7.011
Net Income (in Billions USD)
$6.275
$5.380
$5.229
Basic Earnings per Share (in USD)
$0.78
$0.67
$0.63
Microsoft's largest segment is the More Personal Computing group, which includes Windows, Surface, Xbox, Search, and Phone. Revenue for this group was down 5% to $12.66 billion, however operating income was up 35% to $2.04 billion. Operating expenses were down 14%, in part due to the change in phone strategy that was announced in July of last year, so clearly the phone business was a major burden on the company. Windows OEM Pro revenue declined 6% for the quarter compared to Q2 2015, and non-Pro declined 3%, which is actually fairly strong considering the decline in PC sales. Microsoft attributes this to higher premium and mid-range devices, which means that they are having to give away discount or free versions of Windows 10 on fewer devices. Once again the major cuts to Lumia have driven device revenue down 22% (CC) and this was mostly driven by phone revenue which was down 49% (CC). Lumia sales were 4.5 million for the quarter. Surface, on the other hand, has grown 29% (CC) thanks in no small part to the launch of the Surface Pro 4 and Surface Book. Gaming revenue was up 9% (CC) but Microsoft no longer breaks out Xbox sales numbers. They did state that Xbox Live now has 48 million monthly active users, which is a 30% gain year-over-year. Game revenue was up 57% (CC) with the launch of Halo 5, as well as Minecraft. Xbox hardware revenue was down due to lower Xbox 360 console sales. The final part of More Personal Computing is search, and search revenue grew 21% (CC) year-over-year, with gains in both search volume, and higher revenue per search.
Productivity and Business Processes, which is the financial group responsible for Office, Office 365, and Dynamics CRM had revenues of $6.69 billion for the quarter, down 2% compared to the same point last year. Operating income was down 8% year-over-year to $3.31 billion. Office commercial and cloud services revenue was up 5% (CC), with big gains in Office 365 commercial, which had its revenue grow 70% (CC) since last year. Standalone Office commercial products revenue fell 8% (CC). Office 365 commercial seats grew 59%. On the consumer side of Office, Office consumer revenue fell 8% (CC) which Microsoft states outperformed the PC market. Office 365 consumer continues to do well though, and Microsoft now has 20.6 million users of Office 365 consumer. A stat in their notes, although not directly relevant to their earnings, is that Outlook has been installed on over 30 million active iOS and Android devices.
Finally, the Intelligent Cloud segment, which includes Server, Azure, and Enterprise services, continued outperforming the rest of the company, with revenue up 5% (11% CC) to $6.34 billion, although operating income was down 1% to $2.58 billion. Server products and cloud services revenue grew 10% (CC), but Azure revenue grew 140% (CC). Azure compute usage is up almost 100% year-over-year, and Azure SQL database usage has increased more than 500% since Q2 2015. The move to the cloud was slow to get started, but certainly appears to be ramping up. Enterprise Services revenue was up 16% (CC) for the quarter.
Microsoft Q2 2016 Financial Results (GAAP)
Productivity and Business Processes
Intelligent Cloud
More Personal Computing
Revenue (in Billions USD)
$6.69
$6.34
$12.66
Operating Income (in Billions USD)
$3.31
$2.58
$2.04
Revenue Change YoY
-2%, +5% CC
+5%, +11% CC
-5%, -2% CC
Operating Income Change YoY
-8%
-1%
+35%
Overall, the quarter was pretty steady for the Redmond company. The decline in the PC market has certainly hit them, like it has hit most PC companies, but despite this Windows revenue outperformed the drop in PC sales. Microsoft's phone strategy took a big shift last July, with the layoff of most of the remaining Nokia people, and that continues to affect their results, with a decline in revenue, but also a decline in expenses. The cloud side has been growing at a very sold rate though. It is a long way from overtaking the PC side of Microsoft, but the diversification is helping them weather rough days in the PC space. The free upgrade to Windows 10 will continue for the rest of this fiscal year, and we'll have to watch and see if that continues to make an impact on revenues or not.
Source: Microsoft Investor Relations