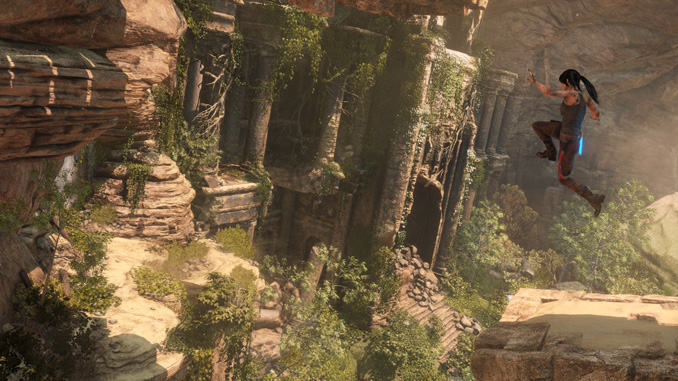 After a bit of a break we're back with another giveaway for everyone to enjoy.
This time the folks over at Square Enix sent over a rather sizable cache of game keys for Rise of the Tomb Raider to promote the recent PC release of the game and its availability on the Windows 10 Store. Rise of the Tomb Raider is the latest game in the long-running action-adventure series, and is the direct sequel to the 2013 reboot, Tomb Raider.
Originally released on the Xbox One last November, Rise of the Tomb Raider was released on the PC last week. Of note, the PC version contains several graphical effects not present in the Xbox One version, including HBAO+ ambient occlusion, more wisely used tessellation, a more impressive sun soft shadow rendering system, and generally higher image quality at the high-end thanks to the greater rendering power of PCs. Meanwhile the fine folks at Eurogamer's Digital Foundry have put together a video showing off the enhancements, which you can see below.
For this giveaway Square Enix has sent over 200 keys for the Windows 10 Store version of the game, and on that note I believe this is the first AAA game to get a simultaneous release through the Windows Store. Please note that Square Enix has confirmed that these keys don't work on Steam, so you'll need to be on Windows 10 in order to redeem and play the game.
Finally, so that we can give out the keys and let the winners start playing ASAP, we'll be running a shorter than usual entry period on this contest. Our Rise of the Tomb Raider giveaway will only be open for 24 hours, from 8am ET today (February 3rd) to 8am ET on February 4th. Please note that standard AnandTech rules apply, so we're only able to open up this contest to legal residents of the United States who are 18 years or older. You can read the full terms and conditions below.
Good luck to everyone, and an extra thank you to Square Enix for sending over so many keys.
Update 02/04: All of the winners have been contacted and keys distributed. Congrats to our winners, and thanks again everyone for entering.