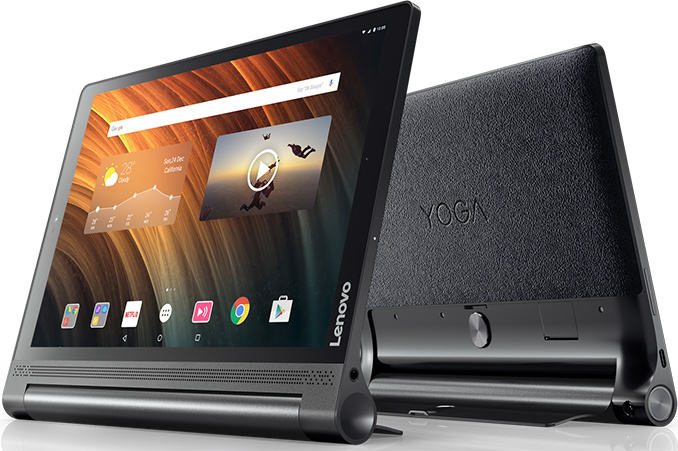 Lenovo has introduced a new member to its Yoga Tab 3 product family this week at IFA. The new Yoga Tab 3 Plus tablet runs Google Android 6.0 and is aimed at demanding consumers. The novelty comes with a number of features previously only available on the Yoga Tab 3 Pro, including a higher-end octa-core SoC, a 2K 10" display, a lot of RAM, plenty of storage as well as Wi-Fi 802.11 ac connectivity. Surprisingly, the Yoga Tab 3 Plus will not be too expensive and will be available starting from $299.
When Lenovo introduced its Yoga Tab 3 family of products last year, the company drew a clear line between its mainstream Yoga Tab and considerably more advanced Yoga Tab 3 Pro tablets. The former were based on entry-level SoCs and were equipped with relatively low-res screens and limited amount of DRAM/NAND, whereas the latter were powered by Intel's Atom SoC, were equipped with 2560×1600 displays and featured considerably better specs in general, but at a much higher price ($499/$599 for Wi-Fi/Wi-Fi+LTE model). Today, the Yoga Tab 3 closes the gap between the two product lines and attempts to wed the best of both: affordable price and high-end specs.
The Yoga Tab 3 Plus is based on the Qualcomm Snapdragon 652 SoC (4×A72 1.8 GHz, 4×A53 1.4 GHz, Qualcomm Adreno 510 graphics) and comes equipped with 3 GB of LPDDR3 DRAM as well as 32 GB of NAND flash storage (it also has a microSD card slot). The tablet uses USB Type-C (operates in USB 2.0 mode) connector for charging and connectivity and also supports WiFi 802.11 a/b/g/n/ac, Bluetooth 4.0 and LTE (optional) wireless technologies.
Lenovo Yoga Tab 3 Family
Model
Yoga Tab 3 8"
Yoga Tab 3 10"
Yoga Tab 3 Pro 10"
Yoga Tab 3 Plus 10"
SoC
Snapdragon 212
4×Cortex-A7 at 1.3GHz
Adreno 304 graphics
Intel Atom x5-Z8500
Quad core, 2.24GHz
Snapdragon 652
4×Cortex-A72 at 1.8GHz
4×Cortex-A53 at 1.4 GHz
Adreno 510 graphics
RAM, NAND
1GB, 16GB NAND + MicroSD
2GB RAM, 16/32GB
NAND + MicroSD
3GB RAM, 32GB
NAND + MicroSD
Display
8" 1280x800 IPS LCD
10.1" 1280x800 IPS LCD
10.1" 2560x1600 IPS LCD
299 ppi, 70% Color Gamut
Dimensions
210 x 146 x 3 to 7mm
253 x 185 x 3.5 to 9.5mm
655g
179 x 247 x 4.6mm at thinnest point, 665g
179 x 247 x 4.68mm at thinnest point, 637-644g
Camera
8MP Rotatable Camera
13MP Rear-facing
5MP Front-facing
Battery
6200mAh (23.56Wh)
8700mAh (33.06Wh)
10200mAh (38.76Wh)
9300mAh
OS
Android 5.1 Lollipop
Android 5.0 Lollipop
Android 5.1 Lollipop
Android 6.0
Connectivity
802.11b/g/n + BT 4.0, microUSB 2.0, Optional LTE SKU
2x2 802.11a/b/g/n/ac + BT 4.0,
microUSB 2.0, Optional LTE
2x2 802.11a/b/g/n/ac + BT 4.0,
USB-C, Optional LTE
Lenovo positions its Yoga Tab 3 Plus tablet for those, who want to have enhanced multimedia experience on-the-go, which is why its 10-point multitouch 10.1" WQXGA (2560×1600) IPS display comes with Technicolor's color enhance software technology. In addition, the device is equipped with four front-facing speakers (made by JBL) and supports Dolby's Atmos 3D surround sound processing. Now, unlike the Yoga Tab 3 Pro, the Tab 3 Plus does not feature a pico projector, but just like the aforementioned model, it has two cameras.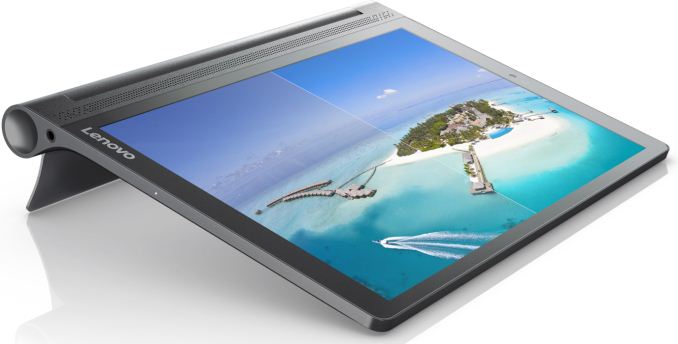 Battery capacity of the novelty is 9300 mAh and Lenovo claims that the Yoga Tab 3 Plus will last up to 18 hours on its battery. As it turns out, slightly lower battery capacity of the Yoga Tab 3 Plus compared to the Yoga Tab 3 Pro is offset by better energy efficiency of its SoC, which is why it promises to deliver similar battery life. Besides long battery life, the Yoga Tab 3 Plus also inherited premium chassis featuring metal, plastic and leather from the Pro model.
Lenovo will start shipments of its Yoga Tab 3 Plus this October. The MSRP for the Wi-Fi-only model will be $299, but the recommended price of the LTE SKU is currently unknown.
Source: Lenovo