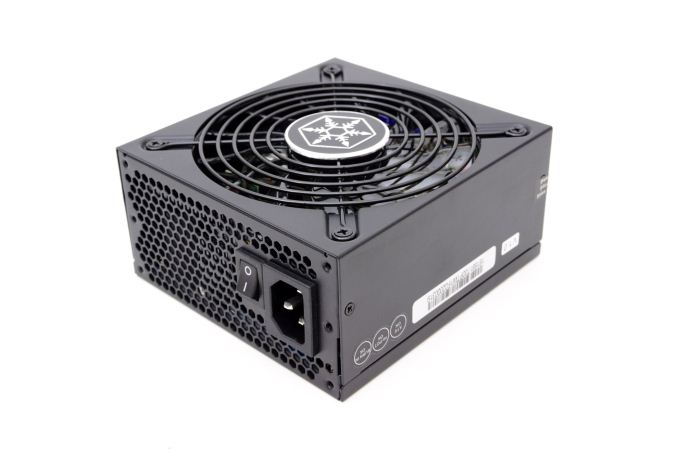 As PC gaming continues to grow, more and more PCs are finding their way into the living room. As such, the demand for small, elegant computers that are powerful enough to be used as gaming machines is constantly on the rise. Several reputable manufacturers have presented products specifically designed for living room PC gaming, from subtle gaming cases to specialized keyboards/mice.
One major challenge with developing these small form factor (SFF) gaming systems is power. A gaming PC can require a lot of power, which can be an issue with cases that only support SFX PSUs. As the market for SFX units is very low and such systems were not expected to have high power requirements to begin with, there are very few designs available with a power output higher than 500 Watts.
SilverStone is a company that is strongly focused on the design and development of SFF cases, with several of their recent products designed to be used primarily as gaming machines. They are one of the very few companies that offer advanced, high performance SFX PSUs. In this review we are having a look at the SX700-LPT, their latest and greatest SFX PSU design. The SX700-LPT is 80Plus Platinum certified and has a maximum power output of 700 Watts, theoretically making it the most advanced consumer SFX PSU available today.
Power specifications ( Rated @ 40 °C )
AC INPUT
100 - 240 VAC, 50 - 60 Hz
RAIL
+3.3V
+5V
+12V
+5Vsb
-12V
MAX OUTPUT
22A
22A
58.4A
3A
0.3A
120W
700W
15W
3.6W
TOTAL
700W
Packaging and Bundle
SilverStone supplies the SX700-LPT SFX PSU into a relatively large cardboard box for an SFX PSU. The box is very sturdy and the PSU is sandwiched between thick polystyrene foam pieces, providing ample shipping protection. The most basic features of the PSU can be read at the front side of the box and more details are printed on the back.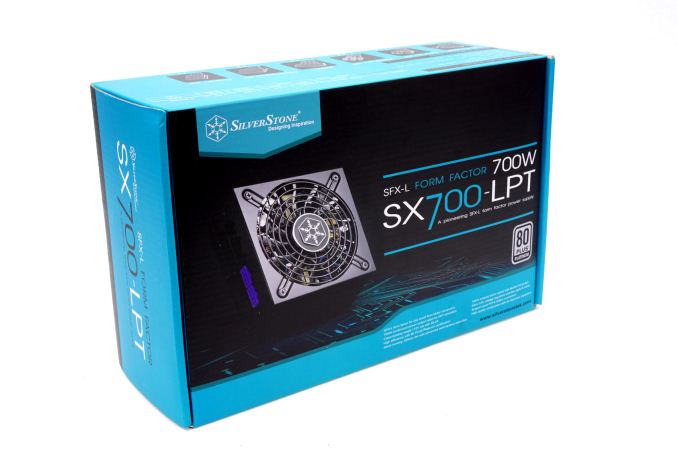 The bundle of the SX700-LPT is spartan, with the company supplying only a manual, an AC power cable and four black mounting screws. The manual is extensive and detailed. SilverStone does not provide a SFX to ATX adapter with the SX700-LPT, which is peculiar considering that they do with less powerful units.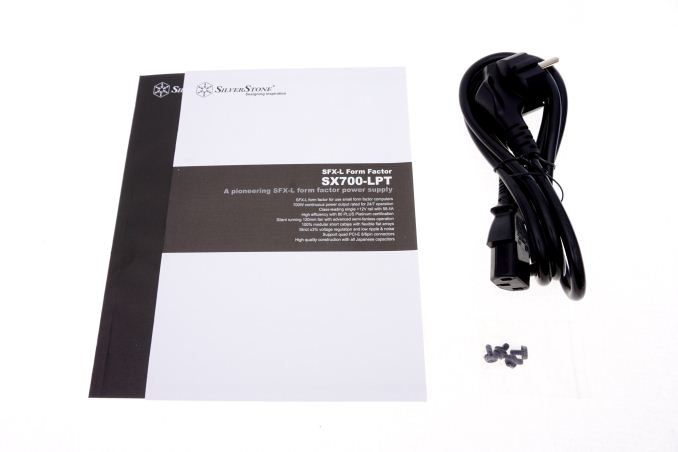 This is a fully modular design so every cable can be detached, including the 24-pin ATX cable. All of the cables are "flat", ribbon-like, including the thick 24-pin ATX cable. Apparently, SilverStone is trying to save as much space as possible. Be warned that these cables are much shorter than those of a regular ATX unit, with the ATX power cable being just 30 cm (11.8") long. Every cable is made by using black wires and black connectors, with the sole exception of the PSU-side connectors of the PCI Express power cables, which are blue.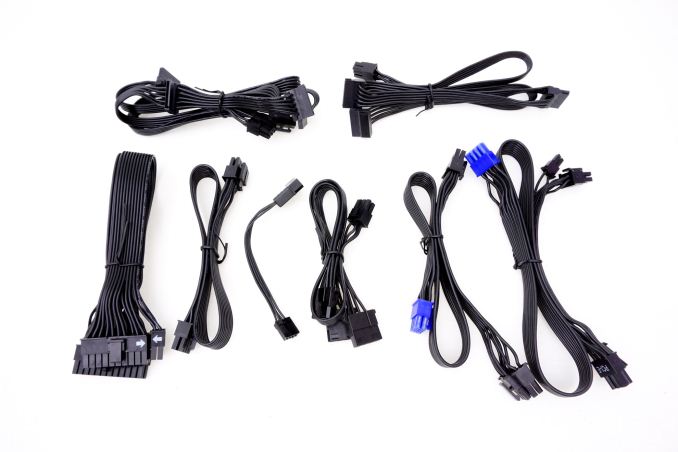 SilverStone SX700-LPT SFX 700W
Connector type
Hardwired
Modular
ATX 24 Pin
-
1
EPS 4+4 Pin
-
1
EPS 8 Pin
-
-
PCI-E 6+2 Pin
-
4
PCI-E 8 Pin
-
-
SATA
-
9
Molex
-
3
Floppy
-
1