Iterating on Crimson ReLive Edition (2016)
Although 17.7.2 is nominally a step up from version 17.7.1 of the same driver branch, AMD has marked the release with a bit of a mid-year report. While the total driver releases are in line with last year, it should be noted that in 2017 AMD has released five WHQL drivers so far: 17.4.4, 17.4.3, 17.2.1, 17.1.2, and 16.12.2. For 2016, AMD released eight WHQL releases, over-fulfilling their promised six WHQL drivers; for 2017, AMD appears to be well on track to deliver again. Once again, AMD touts the same 90% user satisfaction rating reported at the end of 2016.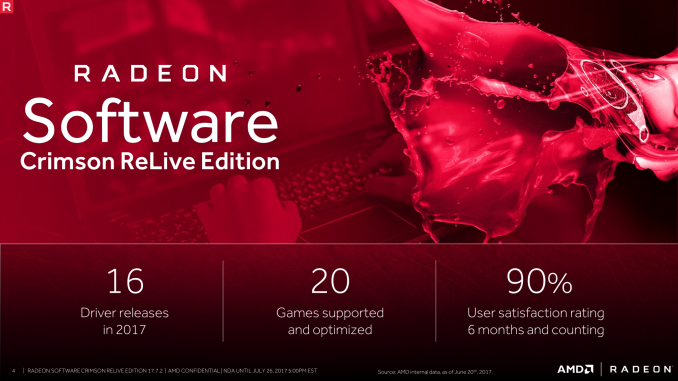 Like last December, AMD points out their top bug fixes, a result of their renewed dynamic update schedule. This has proven important for tools like ReLive, which like most new tools had launched with some teething issues. For gains in gaming performance, AMD points to improvements in RX 480 performance in three 2017 games, although it's not clear if this represents post-day-0 gains since all three games were launched after Crimson ReLive (2016).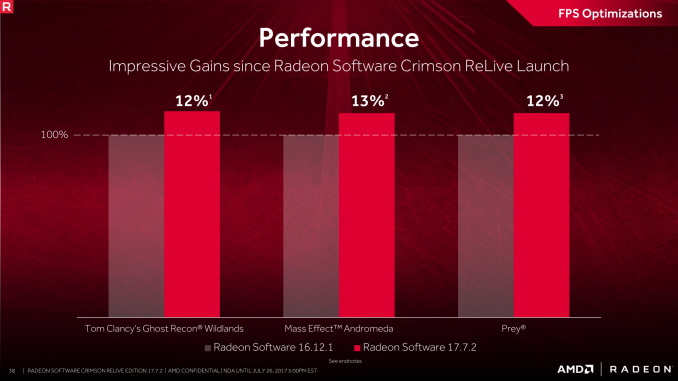 Crimson ReLive (2016) also extended Linux driver support for all GCN discrete graphics cards and additionally brought FreeSync 1.0 support to the OS. Following up on those efforts, AMD cites last month's article from Phoronix for RX 470 game performance gains in Linux.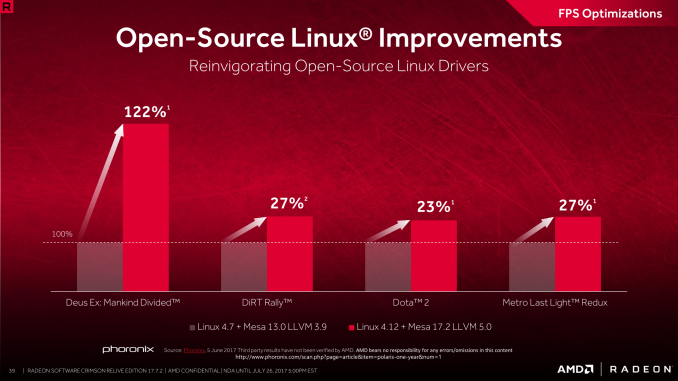 Turning User Feedback into Radeon Software Changes
If you've ever clicked the star icon at the top right of Radeon Settings, then you know about the Radeon Software feedback webpage, a feature introduced in the ReLive Edition. Part of this page is a voting section, where users can upvote items on a given selection of ideas and features. In 17.7.2, AMD has implemented the top two: "Remove Radeon Additional Settings and transfer all functionality into Radeon Settings" and "Bring back advanced Video features options into new Radeon Settings."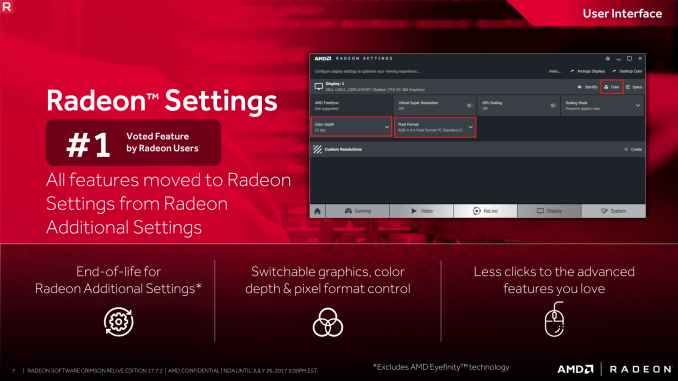 With 17.7.2, the most egregious elements of the old CCC UI are transferred into the Radeon Software QT framework. The custom resolutions option now sits at the bottom of the monitor list. Furthermore, clicking on the "Color" button for a given monitor brings up per-display color controls, essentially bringing back the advanced video options.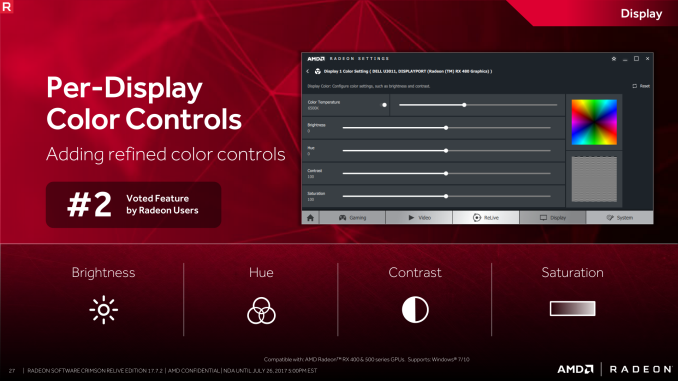 AMD notes that it is now end-of-life for Radeon Additional Settings, with the exception of Eyefinity. For the time being, a remnant of Radeon Additional Settings will continue to live on in Eyefinity Advanced Setup, which still opens up the CCC-based Eyefinity display group configuration. It is likely only a matter of time before this too is incorporated into Radeon Settings.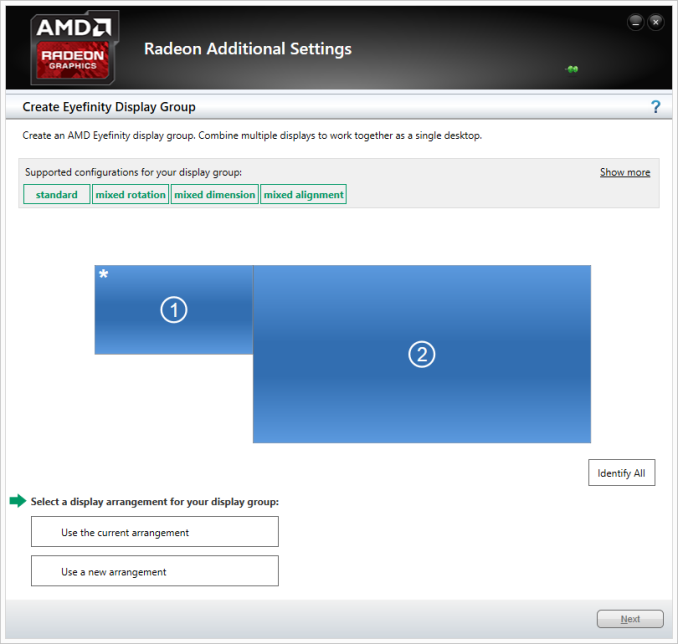 Arguably, these top two requested features are part of the same issue. Nevertheless, implementing those features reflects a direct link between user feedback and subsequent informed changes in Radeon Software. On some level, AMD has put its money where its mouth is in terms of feedback-driven user experience.
Early Access for Drivers: Radeon Software Vanguard Beta Tester Program
Thematically, the story of 17.7.2 is one of refining the Crimson ReLive Edition (2016) user experience, particularly based on user feedback. In looking to the future, AMD is launching the Radeon Software Vanguard Beta Tester Program, providing selected participants with pre-release Radeon Software drivers to play-test and share feedback on.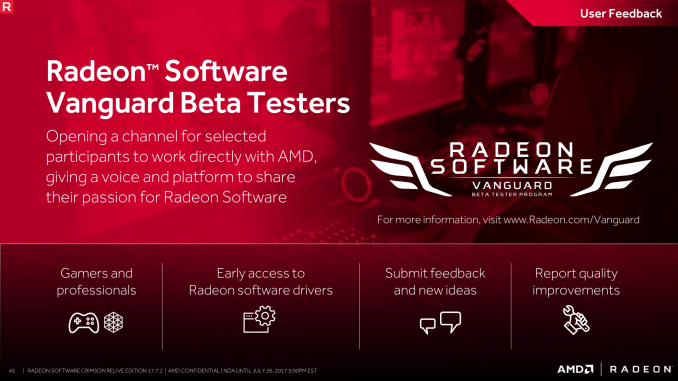 Comprising of both gamers and professionals, the idea behind the program is to have Vanguard Beta testers work directly with AMD representatives on quality issues, while also submitting feedback and new ideas based on their experience with early access Radeon Software. AMD envisages a "like-minded community of gamers, streamers, developers and other industry professionals" that can provide an end user perspective in their quest to make Radeon Software better.
AMD is offering more information and details on their Vanguard Beta Tester page.