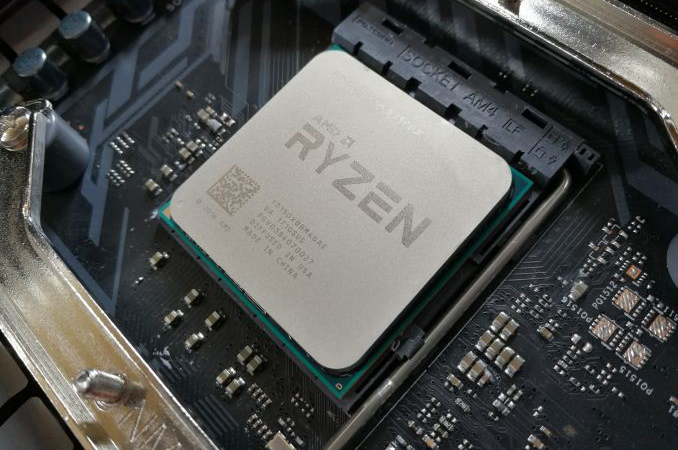 AMD has officially added energy-efficient Ryzen 3 and Ryzen 5 APUs to its product lineup. The new processors with integrated Radeon Vega graphics, have a 35 W TDP, and at this point in time will only be initially available to system integrators enabling the latter to build small form-factor PCs, rather than directly selling at retail.
AMD's Ryzen 3 2200GE and Ryzen 5 2400GE APUs pack four Zen cores running at 3.2 GHz default frequency (with multithreading for the Ryzen 5) and integrated Radeon Vega 8 or Radeon Vega 11 graphics respectively. In a bid to reduce TDP of the APUs to 35 W compared to the 65W vresions, AMD had to reduce clocks of the GE chips by 300-400 MHz as showin in the table below. For the integrated graphics, they remain untouched: the Ryzen 3 2200GE has 512 stream processors at 1100 MHz, whereas the Ryzen 5 2400GE has 704 SPs at 1250 MHz. The supported memory controller also retains parity: two DDR4 memory channels up to DDR4-2933.
The new APUs from AMD featuring a 35 W TDP are designed for the AM4 socket, but need appropriate BIOS support by the motherboards. As the Ryzen 3 2200GE and the Ryzen 5 2400GE are made available to system integrators first, their drop in compatibility with retail motherboards is not a priority for AMD just now. Motherboard makers, namely ASUS, have been adding support for the new APUs to their BIOSes in the last few weeks.
AMD Ryzen 2000-Series APUs
Ryzen 5
2400G
Vega 11
Ryzen 5
2400GE
Vega 11
Ryzen 3
2200G
Vega 8
Ryzen 3
2200GE
Vega 8
Cores
4 / 8
4 / 4
Base CPU Freq
3.6 GHz
3.2 GHz
3.5 GHz
3.2 GHz
Turbo CPU Freq
3.9 GHz
3.8 GHz
3.7 GHz
3.6 GHz
TDP @ Base
65 W
35 W
65 W
35 W
cTDP
46-65 W
35 W
46-65 W
35 W
L2 Cache
512 KB/core
L3 Cache
4 MB
Graphics
Vega 11
Vega 8
Compute Units
11 CUs
8 CUs
Streaming Processors
704 SPs
512 SPs
Turbo GPU Freq
1250 MHz
1100 MHz
DRAM Support
DDR4-2933 Dual Channel
OPN PIB
YD2400C4FBBOX
?
YD2200C5FBBOX
?
OPN Tray
YD2400C5M4MFB
YD2400C6M4MFB
YD2200C4M4MFB
YD2200C6M4MFB
Price
$169
?
$99
?
Bundled Cooler
Wraith Stealth
None w/Tray
Wraith Stealth
None w/Tray
Despite the fact that AMD lists the new 35W APUs on its website, the company has not included the chips into its pricelist and it is unknown how much do they cost. Retail versions of AMD's 65W Ryzen 5 2400G and Ryzen 3 2200G are priced at $169 and $99 respectively and come with coolers - it is likely that the tray prices of the 35W parts will be slightly beneath this.
Related Reading