PMI4200 Gold
PMI provides the Turbo Memory in both Dual-Channel kits and as single-modules. They also provide each speed in Gold and Platinum ratings, much as OCZ uses for their memory modules.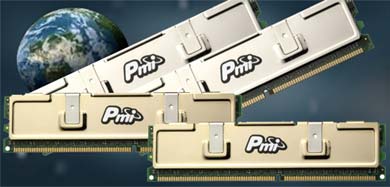 The memory that we are testing is PMI4200-1024DG, or a Dual-Channel Gold kit rated at 3-4-4-8 timings. There is no doubt that PMI has done their homework, providing a very attractive and catchy heatspreader design in either gold or platinum with a raised PMI logo. That attention to detail also shows in the
PMI website
where product lines and compatibility charts are particularly easy to navigate. PMI is also getting their product into some well-known resellers like Atacom and New Egg to make it easier to find.
All of these things make it easier for buyers to find PMI memory, but in the end, any memory that targets the computer enthusiast is all about performance. With that in mind, let's take a closer look at PMI DDR533.
PMI4200 Gold Specifications
PMI4200 Gold Memory Specifications
Number of DIMMs & Banks
2 DS
DIMM Size
Total Memory
512 Mb
1 GB
Rated Timings
3-4-4-8 at DDR533
Rated Voltage
2.7V
PMI provides compatibility testing with many motherboards and provides that information at their website. They also use CTML memory certification testing, at least in their server memory series.