X270W Color Quality
We'll start out with the color quality of the X270W. As per usual, we report two metrics: color gamut and color accuracy (Delta E). Color gamut refers to the range of colors the display is able to represent with respect to some color space. In this case, our reference is the AdobeRGB 1998 color space, which is larger than the sRGB color space. So our percentages are reported with respect to this number, and larger is better.
Color accuracy (Delta E) refers to the display's ability to display the correct color requested by the GPU. The difference between the color represented by the display, and the color requested by the GPU is our Delta E, and lower is better here. In practice, a Delta E under 1.0 is perfect - the chromatic sensitivity of the human eye is not great enough to distinguish a difference. Moving up, a Delta E of 2.0 or less is generally considered fit for use in a professional imaging environment - it isn't perfect, but it's hard to gauge the difference. Finally, Delta E of 4.0 and above is considered visible with the human eye. Of course, the big consideration here is frame of reference; unless you have another monitor or some print samples (color checker card) to compare your display with, you probably won't notice. That is, until you print or view media on another monitor. Then the difference will be very apparent.
As I mentioned in our G2410H review, we've updated our display test bench. We've deprecated the Monaco Optix XR Pro colorimeter in favor of an Xrite i1D2 since there are no longer up-to-date drivers for modern platforms. We've also done testing and verification with a Spyder 3 colorimeter. We're using the latest version of ColorEyes Display Pro - 1.52.0r32, for both color tracking and brightness testing.
We're providing data from other display reviews taken with the Monaco Optix XR alongside new data taken with an Xrite i1D2. They're comparable, but we made a shift in consistency of operator and instrumentation, so the comparison isn't perfect. It's close, though.
For these tests, we calibrate the display and try to obtain the best Delta E we can get at both 200 nits and 100 nits (print brightness). We target 6500K and a gamma of 2.2, but sometimes performance is better using the monitor's native measured whitepoint and gamma. We also take uncalibrated measurements that show performance out of box. For all of these, dynamic contrast is disabled, all the special color modes we can find are set to standard or manual, and tweak accordingly.
So, how does the X270W do? Let's dive into the charts: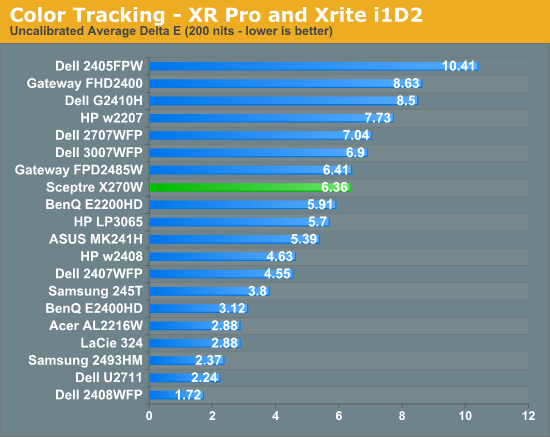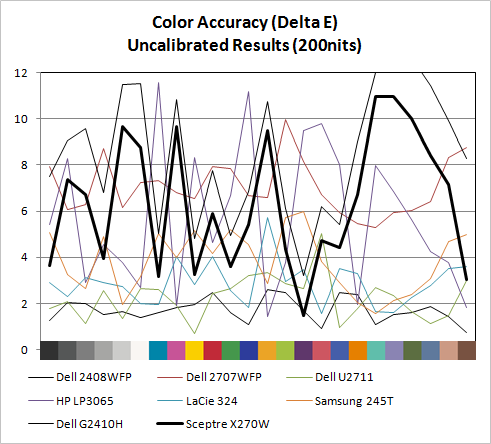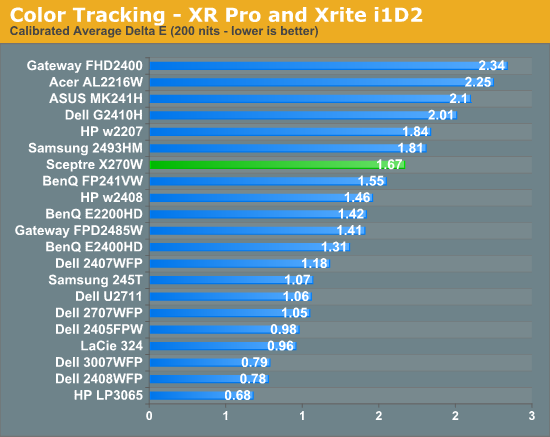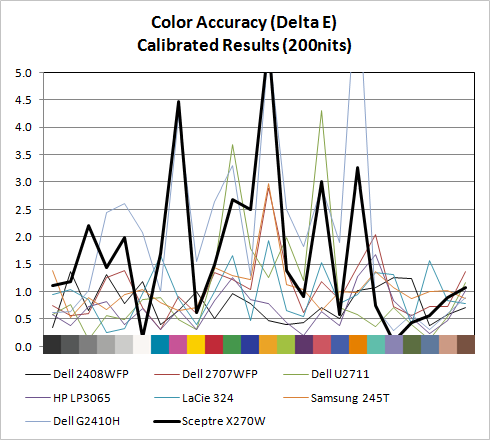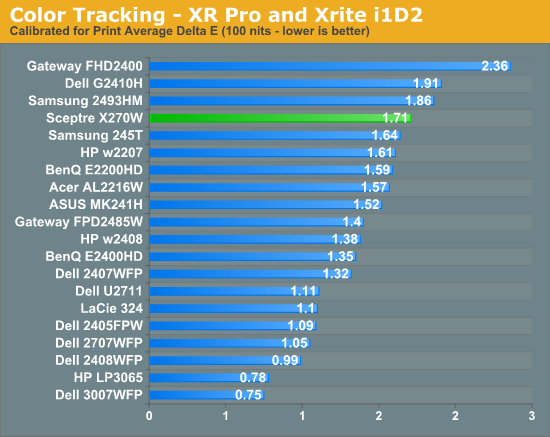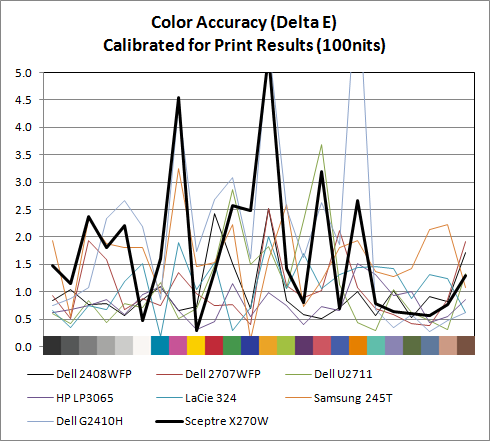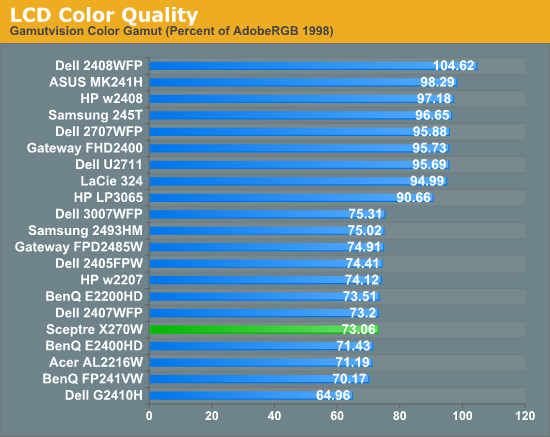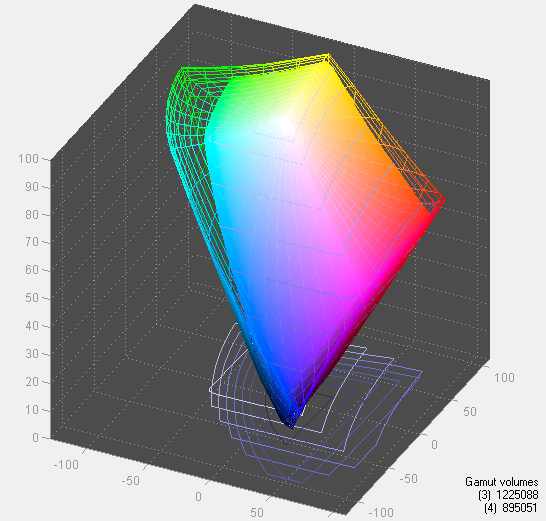 Out of box, the W270W looked a slightly bit blown out and a tiny bit blue next to a few calibrated displays. It isn't bad, but not perfect - but then again few monitors are perfect out of the box. Uncalibrated X270W performance is very reasonable among some pretty stiff competition in our testbench, at 6.36.
Moving to calibrated performance at 200 nits, the Sceptre actually surprises us with Delta E at 1.67, besting a number of TN panels in our test bench. It's actually reasonably impressive to see a Delta E of under 2 for this admittedly inexpensive TN. At 100 nits, surprisingly, Delta E actually gets a bit worse, and moves up to 1.72.
Even though both these tracking averages are under 2.0 - and thus technically still good enough to be considered fit for professional use - we're shooting for perfection here. There are a few notable peaks in Delta E across the color test spectrum that might worry pros. But on the whole, I was pleasantly surprised with how good color tracking is on the X270W.
The X270W has a CCFL backlight, so we get the kind of color gamut volume we'd expect at 73.06%. This is slightly above average performance for a TN panel. For non-image/video editing, a score of 82% equates to the standard Windows sRGB color space and works fine. Overall, for a gaming-focused monitor we're seeing better color tracking than what's really needed - and that's a good thing.