Conclusion
With the Photon 1050W, Rosewill attempts to lure enthusiasts and advanced users with the promise of high quality and performance at an affordable price tag. After all, competitive pricing is the foundation of Rosewill's market strategy. With a retail price of $140 including shipping, the Photon 1050W is one of the cheapest modular 80Plus Gold units with that kind of power output. The target group that the Photon is aiming to however is not easily swayed by a low price tag - most enthusiasts would gladly pay a little more to get something better. So one must consider the true question of where exactly the Photon 1050W stands.
The retail price of the Photon 1050W is competitive but there is a catch - this unit is rated for continuous operation at 40°C. If it were to be rated at 50°C, as most of the competition does with their high-end units, it would most likely end up with a 950W-980W label. Competitive units that boast the same power output at 50°C are, bluntly put, more powerful. The Photon 1050W did reach its specified maximum power output inside our hotbox, yet not without signs of overloading and reaching temperatures that could turn water into vapor.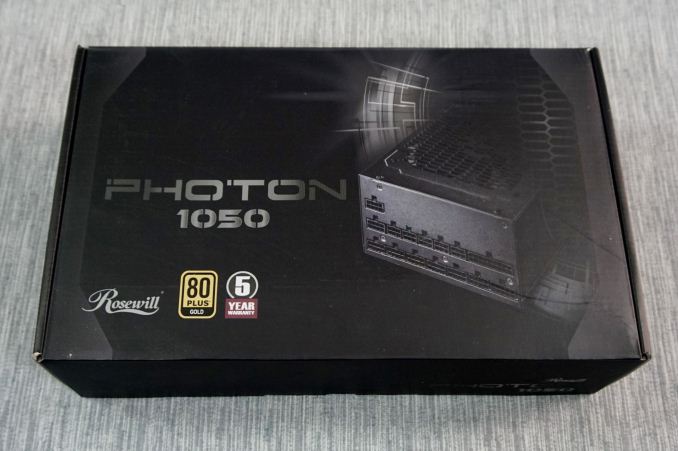 For those seeking quality, the Photon 1050W will not disappoint. We found some of the finest components inside, from all-Japanese capacitors (including the polymers) to the microchips. Sirfa performed a good assembly job, although not the best we have ever seen but surely much better than that of their usual low-cost unit. Even the fan, although it is a simple model, comes from a seasoned and reputable manufacturer.
When it comes to performance, the Photon 1050W left us with mixed feelings. It does perform very well in room temperature, confirming its 80Plus Gold efficiency certification and staying almost inaudible up to 50% load. When the ambient temperature is high however, there is a cascading negative impact on the electrical, thermal and acoustic performance of the unit. Despite the presence of a powerful fan that is trying to catch up, the Photon 1050W does get very hot and that reduces the efficiency of the components, which then produce greater energy losses and make the unit even hotter and louder. Remarkably, even under such conditions the output power quality remains very good, with the Photon 1050W maintaining great voltage regulation and good ripple suppression. These figures are much lower than the ATX design limit and would be very good for a mainstream product; however, this is a PSU trying to entice enthusiasts and other advanced users away from other high end units which can be leagues ahead when it comes to power output quality, especially at high ambient temperatures.
The Photon 1050W is a well-made fully modular PSU, capable of good overall performance and retails at a competitive price ($140 shipped at the time of this review). It is however difficult to find supporters in the user group it is meant to attract. If all someone cares about is to get a good quality 1000-1050W PSU that works well for the lowest possible price, then the Photon 1050W becomes a plausible option. If however a user is looking for class-leading electrical performance and or inaudible/low-noise operation, they will probably have to dig a little deeper into their pockets.