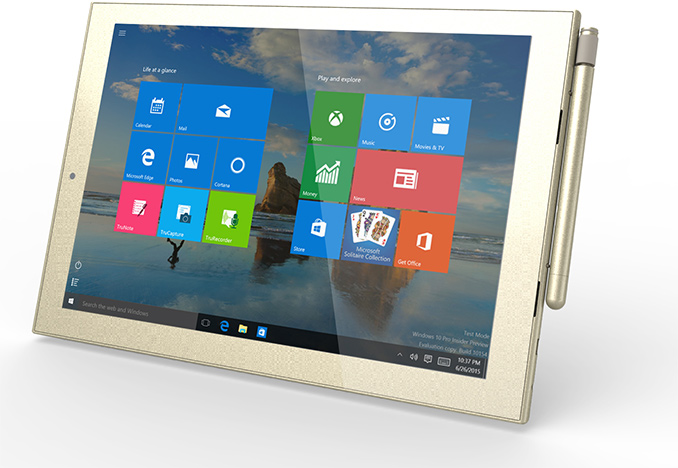 Toshiba showcased its ultra-thin dynaPad tablet in September, 2015, at IFA in Berlin, Germany, and then formally introduced it in mid-October. At the International CES 2016, the company finally revealed that the dynaPad will hit the U.S. market later this month. Toshiba says that its new 12-inch tablet is among the thinnest Windows 10-based devices of such kind.
The Toshiba dynaPad tablet features a 12-inch display with 1920×1280 resolution, which is covered with Corning's Gorilla Glass 3 as well as with a special anti-fingerprint coating. The device is equipped with Toshiba's active electrostatics (ES) stylus with Wacom Feel technology that supports 2048 levels of pressure sensitivity. The digitizer pen can last for more than 1000 hours on one charge and can be used for note taking, sketching and drawing. In addition, Toshiba offers a special keyboard dock for its dynaPad, which can be used to convert the slate into a laptop.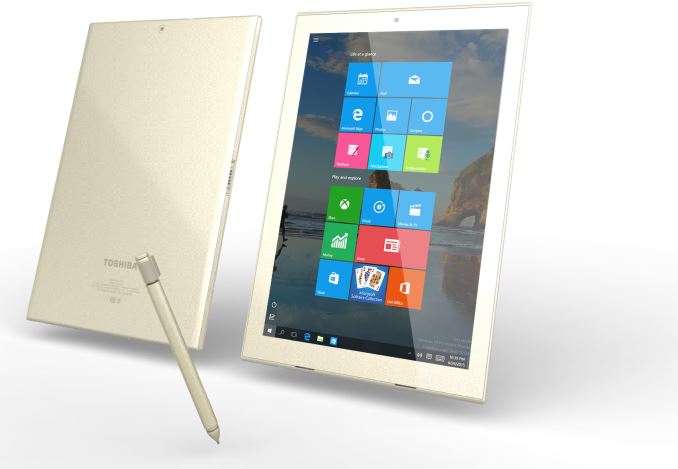 The dynaPad tablet from Toshiba uses Microsoft Windows 10 operating system and is based on the Intel Atom x5 Z8300 system-on-chip (four cores, 2MB cache, 1.44 GHz – 1.84 GHz clock-rate, built-in Intel HD Graphics core with 12 execution units, 2 W thermal design power, 14 nm process technology). The SoC of the dynaPad is similar to that used by Microsoft's Surface 3, but it runs at a lower frequency and thus has lower performance.
Toshiba's dynaPad also comes with up to 4 GB of DDR3L RAM, up to 64 GB of NAND flash storage, Wi-Fi (802.11ac) and Bluetooth 4.0 wireless technologies, a 2 MP front-facing and an 8 MP back-facing cameras, various sensors and so on. The dynaPad sports two micro USB 2.0 ports, a microSD card slot and a micro HDMI port for connecting to external displays. Toshiba yet has to reveal precise specifications and configurations of its dynaPad.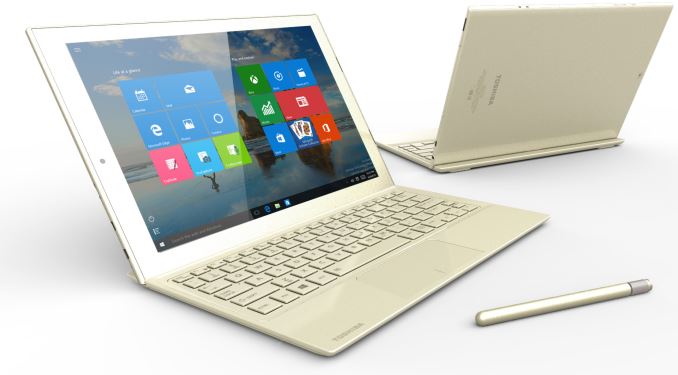 The new tablet from Toshiba weighs 580 grams (1.28 pounds) and measures about 6.9 mm (0.27 inch) thin. When the keyboard is attached, the weight increases to around 1000 grams (2.2 pounds). Toshiba has not released precise details about battery life of its new tablet.
Toshiba plans to start selling its dynaPad online and at Microsoft Stores in late January. The most affordable version will cost $569.99.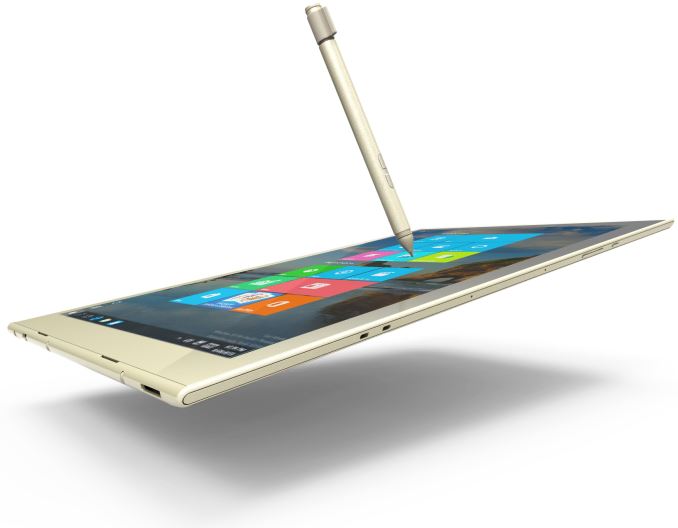 The Toshiba dynaPad looks like a relatively powerful solution for various tasks usually performed on tablets. It has a fine 12-inch display and comes with a digitizer pen. By contrast, Microsoft's Surface 3 sports a 10.1-inch screen and does not come with a stylus (it has to be bought separately). Moreover, Toshiba's tablet is also thinner and lighter than Microsoft's Surface 3. In fact, thickness is the dynaPad is similar to that of Apple's iPad Pro, which also has a 12-inch display, but the latter weighs considerably more (713 grams, 1.572 pounds).
Even though Toshiba has been trying to refocus its PC business and concentrate on business and enterprise customers, it continues to release consumer devices that look very interesting, at least, on paper. The dynaBook with its rather low weight, relatively low price, advanced stylus and decent capabilities looks like a viable rival not only for Microsoft's Surface 3, but also for Apple's iPad Air and iPad Pro.