At E3, Microsoft announced a new feature to bring together their Xbox ecosystem with the much larger, and more diverse, Windows 10 user base. The initiative was called Xbox Play Anywhere, and amazingly the name is quite appropriate. The idea is that you can purchase a supported game on either the Xbox One, or Windows 10 store, and you would get the version for the other platform at no cost. In addition, game saves would be synchronized between the two platforms, making for a seamless experience.
The move makes a lot of sense for the company, especially with the Xbox One sales falling short of their chief rival, Sony's PlayStation 4. This is a way to more closely tie the two previously separate platforms. It's taken a lot of work on the platform side to enable this, because only a couple of years ago Microsoft would have had no way to even distribute the game on Windows.
That has changed with Windows 10's Universal Windows Platform, and the Windows Store, which has opened up this possibility. Changes brought in the Windows 10 Anniversary Update have enabled this game sharing, and tomorrow we will see the first Xbox Play Anywhere title launching with Recore, developed by Comcept and Armature Studio and published by Microsoft Studios. This is certainly not going to be the last title either, with all of the games Microsoft announced at E3 also supporting this.

For those interested in trying out Recore, it's a third person action-adventure game, and I've had a chance to play it over the last couple of days on both the Xbox One and the PC. I'm not going to do any plot reviews or anything, but the core game mechanics are one of the few to pull me in this year, and the inclusion of many puzzles as well as combat make for a pretty fun game. Xbox Play Anywhere has worked as advertised, with game saves quickly syncing between the two platforms, and it truly is a seamless experience quitting the game on one platform and picking it up on the other.
To get the best experience on the PC, a pretty beefy system is needed. The Recore team announced the specifications: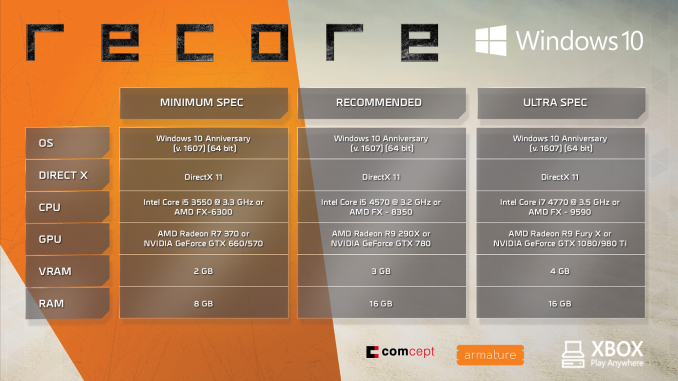 On my desktop system, with a Core i7-6700K and GTX 760, I was able to play with decent framerates on their medium setting, but for better graphics a bigger GPU would be recommended. On the Xbox One, my only issue was very long load times, but I did store the game on an external USB hard drive, which likely didn't help. On my desktop, the same level load times went from minutes to seconds thanks to a Samsung 950 Pro.
I think this is a smart move by Microsoft for a couple of reasons, and in hindsight it's a feature that they likely should have added a long time ago, but they didn't have any sort of distribution system that would have worked for something like a PC game before the Windows 10 Store came along. On the sales side, it not only competes with Sony, but also with Steam, especially since the Steam Machine has yet to make a big impact in the console market. Microsoft has done a nice job bringing the console together with Windows 10, with the Xbox app, game streaming, and now Xbox Play Anywhere. They have a lot of work on the hardware side to catch up to Sony, especially with the new PS4 Pro. On the software side, they have a stronger hand.