Design
The ThinkPad brand is well established, and Lenovo is not making any dramatic changes with aesthetics. They've focused on thin and light, and that is what the X1 Yoga provides. The notebook has a carbon fibre weave in the top lid, but all of the surfaces are the normal matte black finish of ThinkPads. It would be nice to see them offer a model with a metal finish, but the metal is on the inside with a magnesium alloy frame which Lenovo refers to as 'Super Mag'. It makes the laptop plenty sturdy despite the thin nature.

The hinge is a new design, allowing for a thinner and lighter hinge, and the hinge is metal for durability. For flip around convertibles like this, the hinge is very important to get right - too stiff will make for a difficult to open laptop, and too loose will mean that the screen will have excessive bounce when using it in a touch mode. Lenovo has hit a nice balance though, with a sturdy enough hinge for a bit less bounce. Being that it opens 360° degrees, it allows a quick switch between laptop mode, stand mode, tent mode, and tablet mode. The Yoga style hinge makes for a better laptop than the detachable notebooks, with the correct weight balance when using it as a laptop. They are also much quicker to transition into other modes than detachable models, and are my preferable choice for a 2-in-1.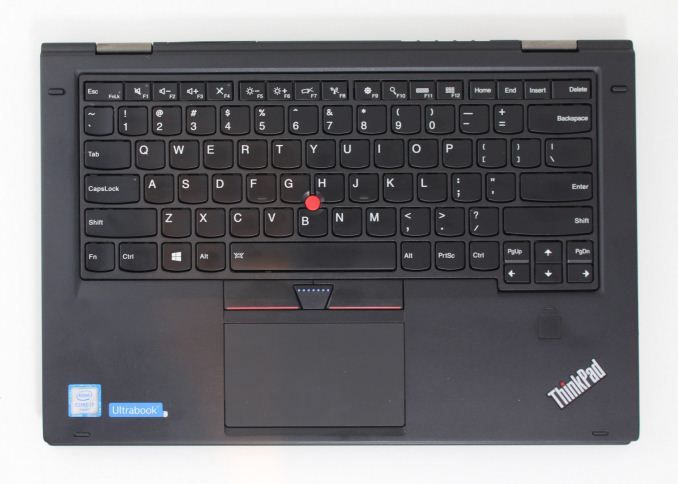 ThinkPads are known for having a positive keyboard user experience, and despite the thin design they've not forgotten about this. Although there is not a lot of travel, the key feel is quite good, and there is nice resistance on the keys. The keyboard itself is a six-row model that is spill-resistant and backlit with white LEDs. As is typical of ThinkPads, the Fn key and Ctrl key are reversed compared to other brands, but they can be switched in the system BIOS if you prefer it the other way. The arrow keys are smaller than the others, but they are all the same size and not as bunched up together as some devices. They also include a Page Up and Page Down with the arrow keys, which is a nice design for a small laptop.
One of the interesting things that the ThinkPad Yogas do, including this new X1 Yoga, is to offer a lift-and-lock keyboard. When using the laptop in any of the touch modes, the keyboard surround lifts around the keys, locking them in place. It makes for a nice feel when using the device with touch, and prevents the floppy keys from distracting you when using it as a tablet. I'm not sure how much weight or cost that adds to the X1 Yoga, but it is completely worth it.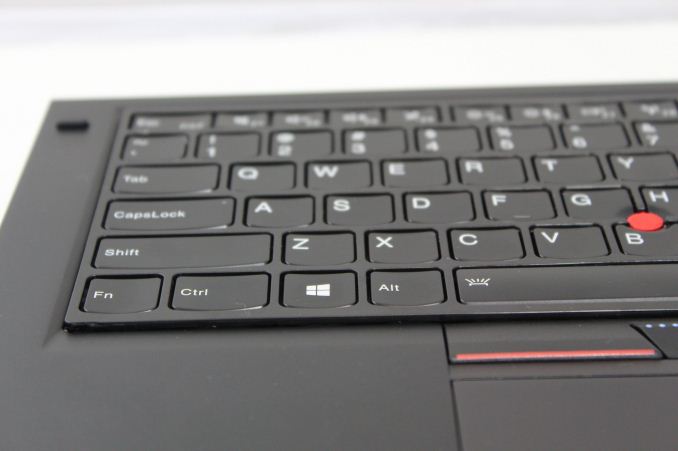 For pointer input, Lenovo keeps the traditional TrackPoint as well as a glass touchpad. The touchpad has a good feel, and works well enough. I prefer the TrackPoint though for extra precision and ease of use. The TrackPoint seems to be a love it or never use it affair, but for long-time customers of ThinkPads, I think it needs to be there so I'm glad they still include it. Although the TrackPoint buttons do limit the touchpad size, the trade-off is still a good one.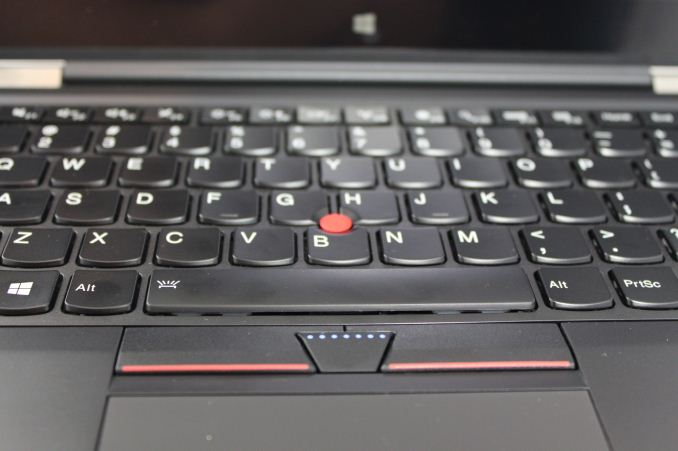 Lenovo has offered fingerprint readers for a long time on ThinkPads, but it's nice to see them move from the swipe model to a capacitive touch version. It's much easier to use, since you just drop your finger on it, and accuracy and speed have been excellent.
The other thing worth discussing is the stylus, called the ThinkPad Pen Pro. Not only does Lenovo offer a stylus which works natively with Windows 10's inking input, they also offer their own WRITEit software which further enhances the stylus support. Windows 10's default inking experience offers a text box at the bottom of the screen which you can use to write in, but the WRITEit software lets you just write directly in any text field. It also offers gestures like delete (by striking through text), insert, tab, and more.

The Stylus hardware is from Wacom, and it's an Active Capacitive technology so it does not require a digitizer. It still offers 2048 levels of pressure sensitivity, and includes two buttons for left and right click, although they are pretty small. The pen is powered by a super-capacitor, and to get 100 minutes of use out of the pen only takes 15 seconds inside the charging dock. Palm rejection seems to work pretty well, and although the stylus is too small to be used for artistry, as a quick writing tool it works well.
The ThinkPad X1 Yoga's design is an evolution of the ThinkPads before it, which seems to be exactly what they were aiming for. The thin and light design is still strong, and they keyboard is very good for such a thin laptop. Lenovo has done a good job of minimizing the display bezels, but keeping enough bezel to make it usable as a tablet, and the Yoga hinge is still one of the best 2-in-1 designs on the market.