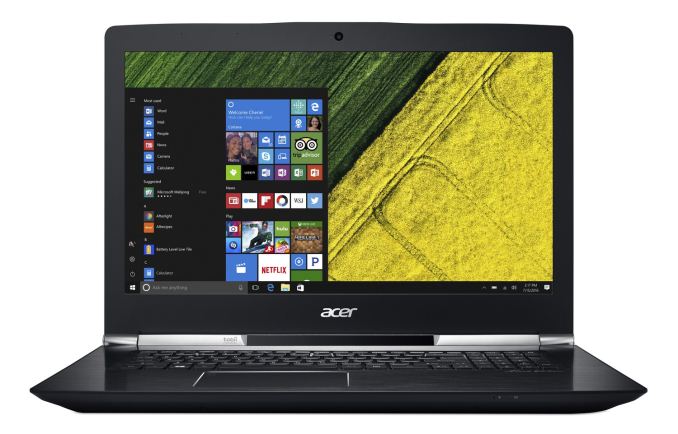 In addition to the new Acer Predator 21 X, Acer has also announced updates for their gaming notebooks that will be in the budget of more of the earth. Acer is announcing a new V Nitro 15 and V Nitro 17, along with an updated Predator 17 X, and a new value line in the VX 15.
V Nitro Black Edition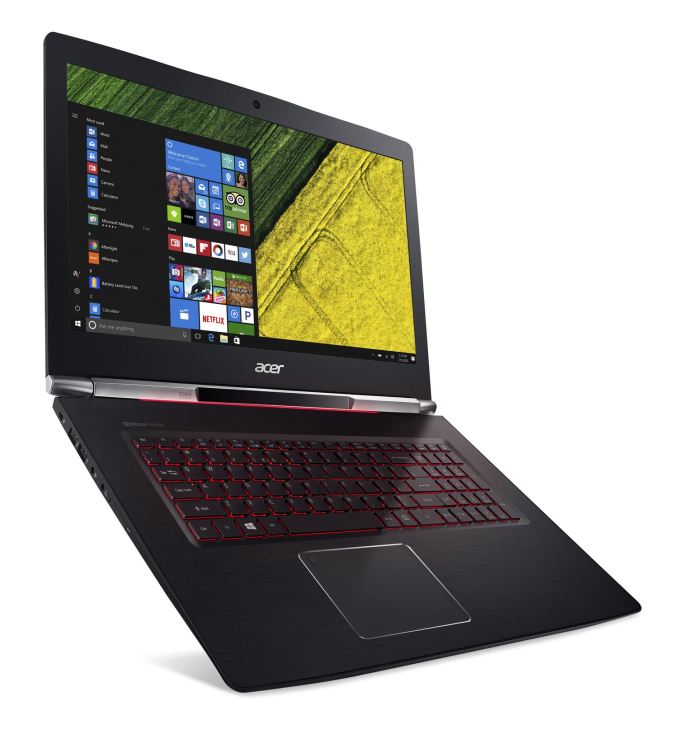 The new V Nitro Black Edition laptops come in two flavors, with both a 15.6 and 17.3-inch model. Both feature IPS displays, with a base offering of 1920x1080 and optional 3840x2160. They have been updated to the latest Intel Core i5-7300HQ or i7-7700HQ 45-Watt quad-core processors, and graphics are either the GTX 1060, or GTX 1050 Ti. There are two SODIMM slots, and Acer offers up to 16 GB of memory which can be expanded to 32 GB if you buy your own RAM.
Storage options include both SSD and HDD options, with the SSD as the boot drive. SSDs are either 256 GB or 512 GB of PCIe NVMe, or 128/256/512 GB SATA SSDs. The 15.6-inch model can be had with 500GB/1TB/2TB 5400 rpm hard drive options, and the 17.3 is just the 1 TB model.
Cooling is provided by two fans, and buyers who purchase the GTX 1060 model will have one of those fans be an AeroBlade metal fan, and Acer has their DustDefender and CoolBoost tech to help keep things clean and cool.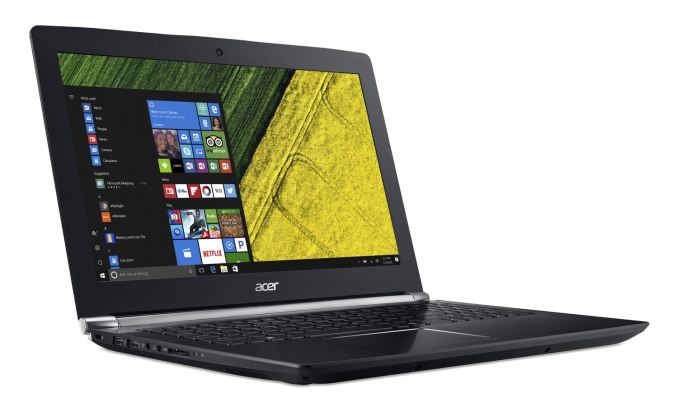 Both models feature a USB 3.1 Gen 2 port with Thunderbolt 3, and DisplayPort over USB-C. There is also two USB 3.0 ports, and two USB 2.0 ports, along with Ethernet and HDMI (which is likely 2.0 but it's not specifically stated). There is also a SD card reader.
Acer includes a fingerprint reader for Windows Hello, and it's built into the track-pad.
Power is provided by either a 135-Watt adapter, or 180-Watt adapter depending on the GPU, and there is a 52.5 Wh battery or 70 Wh battery as well. The V Nitro 15 weighs 2.5 kg with the small battery, or 2.6 kg with the large battery, and the V Nitro 17 weighs 3.1 kg or 3.2 kg.
The V Nitro 15 Black Edition goes on sale in February starting at $1199, and the larger V Nitro 17 Black Edition starts at $1399.
Predator 17 X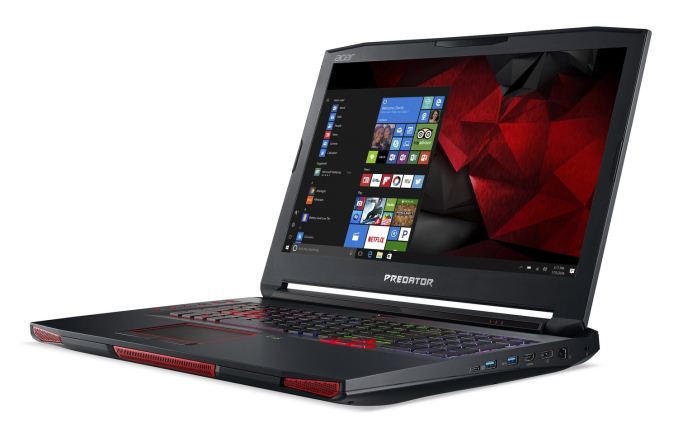 Acer's Predator line is their high-end gaming line, and the 17.3-inch Predator 17 X is near the top of the stack. It's been updated with the latest Intel Core i7-7700HQ, or i7-7820HK CPUs, along with the NVIDIA GeForce GTX 1080 GPU.
This notebook can handle up to 64 GB of DDR4-2400 with four SODIMMS slots, and there is NVMe PCIe storage or SATA SSD in RAID 0, complimented by an optional HDD for bulk storage.
The backlit keyboard offers four zones of color options, and there are four speakers, and two subwoofers.
Thunderbolt 3 is available as well, along with four USB 3.0 ports, DisplayPort, HDMI 2.0 w/HDCP, Ethernet, headset jack, and an 88 Wh battery.
This updated Predator 17 X will be available this month starting at $2599.
Aspire VX 15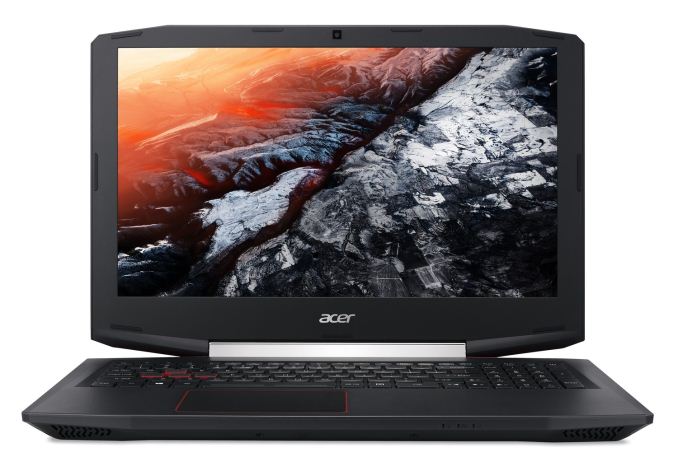 It's difficult to get into a gaming laptop for less than $1000, so when Acer launches a new product into this market, it's great to see. The new VX 15 is a 15.6-inch notebook with a 1920x1080 IPS display, and it doesn't skimp on the gaming power either. The base model offers an Intel Core i5-7300HQ quad-core processor, or you can opt for a Core i7-7700HQ as well. Graphics are provided by either the NVIDIA GeForce GTX 1050, or GTX 1050 Ti, both which offer 4 GB of GDDR5 RAM. Acer will provide up to 16 GB of DDR4, but there are two SODIMM slots so you can upgrade to 32 GB of needed, and storage is 128/256/512 GB SATA SSDs, and a 1 TB HDD.
There is a USB 3.1 port, although it's limited to USB 3.0 speeds, and two more USB 3.0 ports, plus a USB 2.0 port. There's a SD card reader, and HDMI output. The 52.5 Wh battery likely isn't going to get you Ultrabook levels of battery life, but it should get a couple of hours off the mains, and there is an Intel Dual Band Wireless-AC 8265 wireless adapter for solid connections.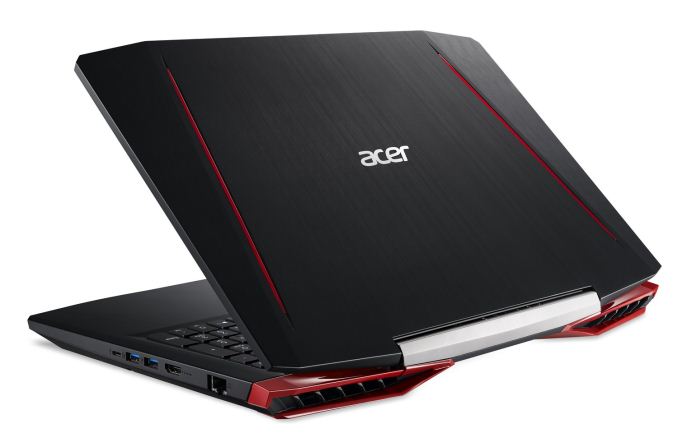 The laptop weighs 5.51 lbs, or 2.5 kg, and measures 1.14 inches thick, or 28.9 mm.
The best part? It starts way under $1000, with a $799 starting price. Availability is January.
Souce: Acer