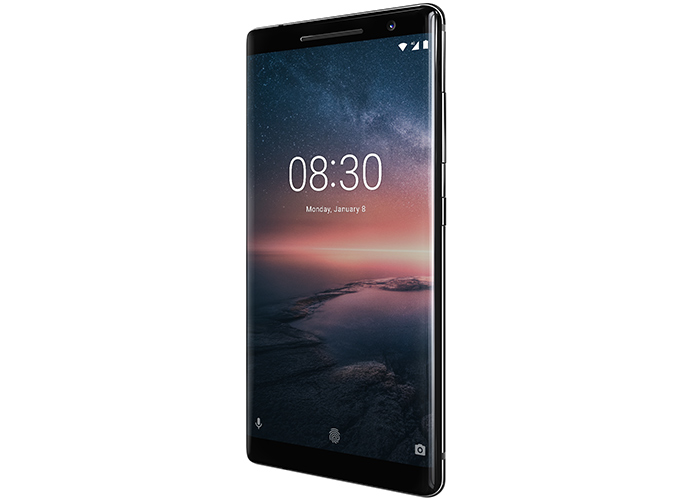 BARCELONA, ESP — Nokia on Sunday introduced a new top-of-the-range, styled 'dream' phone, the Nokia 8 Sirocco. Nokia quoted it as perhaps one of the most awaited addition to its latest lineup of smartphones. The newcomer is based on the Qualcomm Snapdragon 835 SoC, comes with a pOLED display, and features the brand's latest camera, which is also found on the Nokia 7 Plus handset. A key selling point of the new device, besides its performance and feature set, is the fact that it comes in IP67-rated stainless steel body, processed using diamond cut technique.
Display, Chassis
First and foremost, the Nokia 8 Sirocco is a brand-new handset, not a rebadged Nokia 8 in a new chassis. The new flagship phone from Nokia comes in a chassis that is comprised of a stainless-steel frame and two pieces of Corning Gorilla Glass 5 on front and back. The smartphone has a 5.5" pOLED display, featuring a 2560×1440 resolution and a 16:9 aspect ratio. Nokia stated that procuring a pOLED screen and introducing the new stainless-steel frame was crucial in order to reduce thickness of the Nokia 8 Sirocco to 7.5 mm (from 7.9 mm of the Nokia 8) without compromising rigidity of the device. Nokia has also made the 8 Sirocco dust and water-resistant. To make the shape of the N8S feel different when compared to other phones (more on that later), Nokia uses diamond cut to process/polish edges of the stainless-steel frame.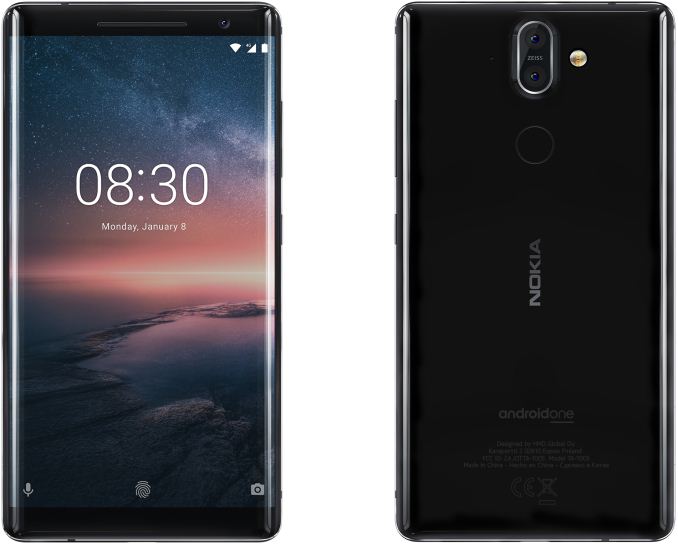 In addition to being thinner, the Nokia 8 Sirocco is also over 10 mm shorter than the Nokia 8 while increasing the amount of display. This is a result of pOLED usage on the 8 Sirocco instead of IPS on the original 8: the display driver for the pOLED is smaller than display driver for the IPS. As the phone is smaller overall, Nokia now uses a different motherboard and a different battery (this one is has 3260mAh of capacity, so it is slightly more capacious). Nokia rates the smartphone for 495 hours of standby time, 22 hours of talk time and 11 hours of video playback time.
Hardware
Just like many contemporary high-end smartphones, the N8S is based on the Qualcomm Snapdragon 835 SoC, the performance of which is well known. The smartphone is outfitted with 6 GB of RAM and 128 GB of UFS 2.1 NAND flash storage (can be expanded using a microSD card).
When it comes to connectivity, the Nokia 8 Sirocco offers even more than its more affordable relative: the new antenna of the N8S enables 4G/LTE modem to support up to 600 Mbps download speeds and up to 150 Mbps upload speeds. For local wireless connections the phone supports 802.11ac Wi-Fi, Bluetooth 5.0 and NFC. In addition, the device has a USB Type-C connector for data, audio, and charging. The phone supports Qualcomm's Quick Charge 4.0. as well as wireless Qi charging. It also has a 3.5mm headphone jack. Update: Unfortunately, unlike its plain counterpart, the Sirocco does not have a headphone jack. So users would need to use the USB-C port or Bluetooth headphones to get audio out.
The Nokia 8 Sirocco Smartphone
Specifications
SoC
Qualcomm Snapdragon 835
4x Kryo 280 @ 2.45 GHz
4x Kryo 280 @ 1.90 GHz
Adreno 540 @ 710 MHz
RAM
6 GB LPDDR4X
Storage
128 GB + microSD
Display
5.5" pOLED 2560×1440
Corning Gorilla Glass 5
Network
GSM: 850/900/1800/1900
CDMA One: BC (800)
CDMA 2000: BC0 (800)
WCDMA: 1,2,5,8,
TDS CDMA: 34,39
FDD-LTE: 1, 2, 3, 4, 5, 7, 8, 20, 28
TDD-LTE: 34, 38, 39, 40, 41
LTE
Down: 600 Mb/s
Up: 150 Mb/s
Sensors
Fingerprint sensor
ALS/PS
g-sensor
e-compass
gyro
hall sensor
barometer
Dimensions
140.9 × 73 × 7.5 mm
5.55" × 2.87" × 0.3"
Weight
? grams
Ingress Protection
IP67: Sand, dust and dirt resistant, waterproof
Rear Camera
1st sensor: 12MP wide, 2L7, 1.4um, 2PD, f/1.75, FOV 78º
2nd sensor: 13MP tele, 3M3, 1.0um, f/2.6, FOV 47.3º
Dual-tone flash
Front Camera
5MP, 4E8, 1.4um, F/2.0, FF, display flash
Battery
3260 mAh
OS
Google Android Oreo
Connectivity
802.11ac Wi-Fi, Bluetooth 5, USB-C
Navigation
GPS/AGPS+GLONASS+BDS, NFC,ANT+
SIM Size
Nano SIM
Colors
Black
Launch Countries
U.S., U.K., E.U.,etc
Price
~€749
Other interesting features worth mentioning are 24-bit/192 kHz audio processing, as well as Nokia Ozo spatial audio capture support (the phone has three microphones, so it supports 360° audio capture).
Imaging Capabilities
The dual rear camera of the Nokia 8 Sirocco has a 12 MP wide (1.4um, f/1.75) sensor and a 13 MP telephoto (1.0um, f/2.6) sensor, both with Zeiss optics, and paired with a dual-tone LED flash. The same dual-sensor camera is used by the new Nokia 7 Plus smartphone and the manufacturer claims that it can capture better images than the dual 13 MP (f/2.0, 1.12µm) camera of the Nokia 8. Nokia's camera software features a Pro Camera mode that allows to manually control white balance, focusing, ISO, shutter speed, and exposure compensation, etc.

The front camera of the N8S features a 5 MP (f/2.0, 1.4 µm) sensor capable of 1080p video recording. This is compared to the front camera of the Nokia 8 comprises a 13 MP (f/2.0, 1.12 µm) sensor that can stream 4K video, so the N8S got downgraded here. Nokia does not disclose reasons for this switch, but I doubt that people doing a lot of live streaming will get the Nokia 8 Sirocco anyway. On the other hand, it is a little bit odd design decision to integrate spacial audio capture technology and omit a top-quality front-facing camera.
First Impressions & Gallery
After the announcement conference on Sunday, HMD let attendees try its new smartphones out. I am not keen on drawing solid conclusions based on five minutes with anything, so I will limit myself to first impressions and pictures here.
When they say a picture is worth a thousand of words they might be right, but this is not the case with the Nokia 8 Sirocco. It does look good on photographs, but the key thing here is not about how it looks, but rather how it feels. All the flagship mobile phones from Apple, Samsung and LG nowadays are round and smooth. The N8S is a bit different. Its diamond-cut edges provide a rather comfortable grip, which is much appreciated on a 7.5-mm thick handset. Obviously, this grip is a differentiator, so when you hold the N8S, you can easily recognize it.
Since the Nokia 8 Sirocco features a stainless-steel frame, it is naturally a bit heavier than 5.5" phones made of aluminum. When you hold the N8S in your hand, this weight gives a feeling of a solid and expensive device, but this additional weight may not play well when the phone is put into a shirt pocket. Anyway, Nokia has not even published the official weight of the N8S, so the only thing that can be said for sure is that it weighs more than aluminum rivals, but not significantly more.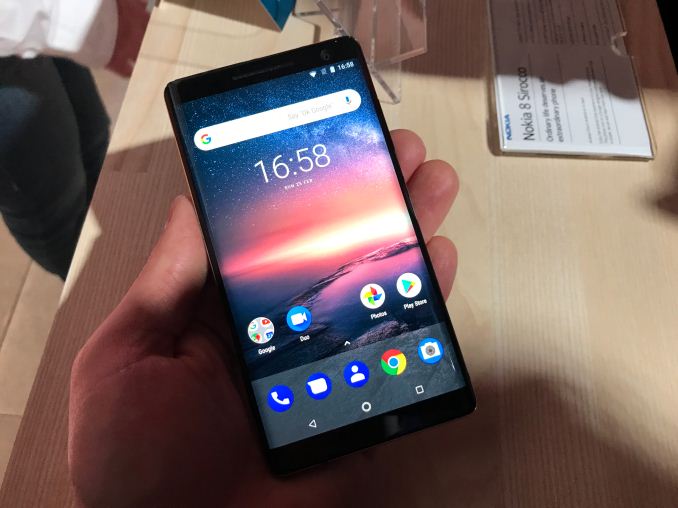 When it comes to software, the Nokia 8 Sirocco is a part of the Android One initiative, so Nokia did not add any of its touch to the GUI and therefore the N8S feels just like other smartphones featuring the interface. As for performance, the N8S is based on the SD835, one of the highest-performing SoCs today, so everything should run quite predictably.
HMD plans to ship the Nokia 8 Sirocco this April for the price of €749, a new high for the new Nokia. Back in the day Nokia would charge €1000 or even more for its dream phone, but HMD decided to price its flagship at a more affordable level. Perhaps, the company wants to sell more of its high-end products and facilitate a positive buzz about the N8S from owners. Or maybe HMD wants to avoid direct competition with other flagships and concentrate primarily on volumes.
Historical Flashback
Back in the day, Nokia had multiple product lineups aimed at dvarious market segments and therefore featuring different capabilities, design and prices. There was the 3-series for the young, the 5-series "for everyone", the 6-series for business users, the 7-series to showcase the latest and greatest technologies in stylish chassis and unorthodox form-factors, and the 9-series for hardcore road warriors as well as enthusiasts. There was also the 8-series 'dream phones' that were aimed at people who valued style above everything else. The Nokia 8-series has a long and interesting history (that is well beyond the scope of this news story), but headline features of these handsets were ultra-compact sizes, avant-garde form-factors, unconventional materials and impeccable style created by the company's industrial design team led by Frank Nuovo.
The 8-series phones were not perfect though: their battery life was miniscule and their capabilities were outdated when compared to Nokia's 6- and 7-series products, but their style ensured that they were dream phones from the late 1990s to the late 2000s. The lack of technological innovations and a number of other factors led to demise of the Nokia 8-series after the smartphone era kicked off in the late 2000s. The Nokia 8800 Sirocco Edition (pictured below) was the last "dream" 8-series model, and arguably its successors were never admired the way it was.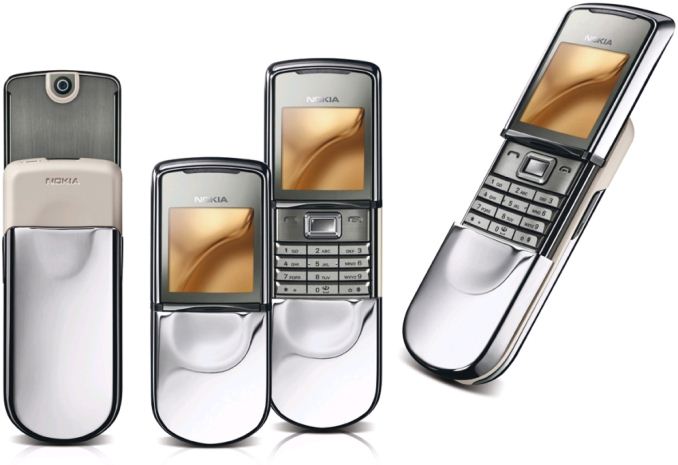 However, the concept of dream phones survived, it just changed: large high-quality displays, high-performance SoCs and advanced software became the key new differentiators of dream phones (think Apple's iPhone X and Samsung's Galaxy Note). Meanwhile, the old ones like compact designs and good materials still work — people prefer solid metallic devices to plastic ones and low z-height is often listed as a premium feature.
HMD's Nokia clearly remembers the brands heritage, but it also understands today's realities, so when the company decided to design a new dream phone, it had to wed modern technologies with fine materials and style, not squeeze something outdated into a beautiful chassis covered with gold or, say, titanium.
Related Reading