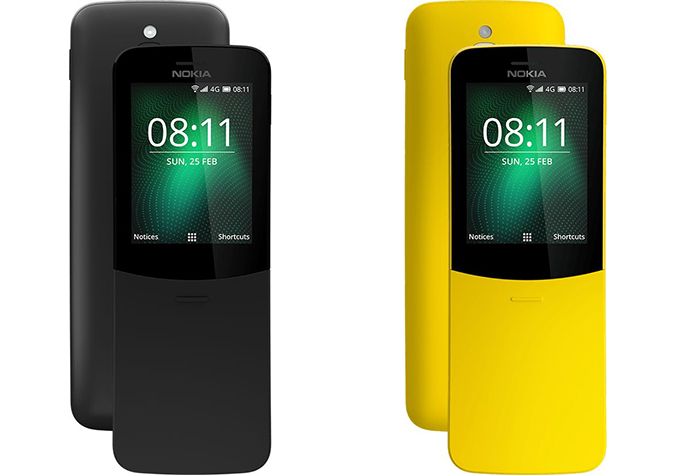 At MWC 2018, the depth of the Nokia nostalgia revival was strong. The owners of the Nokia band, a company called HMD Global, has revived an old Nokia favorite, as part ot its 'Originals' family of re-imagined Nokia-branded devices. The new Nokia 8110 4G slider resembles Neo's slider handset from the 1990s, but with a difference in feel and design to match the modern era. As well as black, it also comes available in yellow, and is curved. Welcome back to the Banana Phone.
Before we proceed to the Nokia 8110 4G's background and hands-on, let us summarize what the Nokia 8110 4G is and what it is not. The reloaded Nokia 8110 4G is an entry-level smartphone, designed to come in at the low end of the market. It is powered by Qualcomm's Snapdragon 205 (two ARM Cortex-A7 cores, Adreno 304 graphics, etc.) outfitted with 512 MB of RAM and 4 GB of NAND flash storage (expandable using microSD cards). The smartphone has a 2.4" display with a 240×320 resolution, basic imaging capabilities enabled by a 2 MP cam with a flash, and runs an operating system based on the KaiOS (a successor of Mozilla's Firefox OS). The OS supports HTML5 applications and modern technologies like 4G/LTE, NFC, and others.
Do not expect KaiOS to compete against Android in the mass market segment, but just like its ancestor, KaiOS is aimed at the cheapest smartphones typically designed for emerging markets. So despite the fact that the Nokia 8110 4G is a smartphone that imitates a high-end feature phone from the mid-1990s, it costs like an entry-level smartphone today, feeding a little off of nostalgia.
Some History
Nokia released its first 8-series mobile phone designed to demonstrate social status of its owner in late '96. The phone was among the first to use the slider form-factor, which was chosen because it resembled 'stylish' clamshell phones of the 1990s, and yet was significantly different than Motorola's StarTAC and MicroTAC. The Nokia 8110 also had a slight curve, designed to wrap around a face, which was very unusual for the time and clearly became a distinctive feature. The price of the phone was rather high for the time, especially considering its minuscule feature set. Meanwhile, because of its extravagant design, the 8110 quickly received its nickname: the 'banana phone'. Later on, a manufacturer of aftermarket enclosures for mobile phones even released a bright yellow case for the 8110 with Chiquita logotype for those who wanted an eye-catching "banana phone."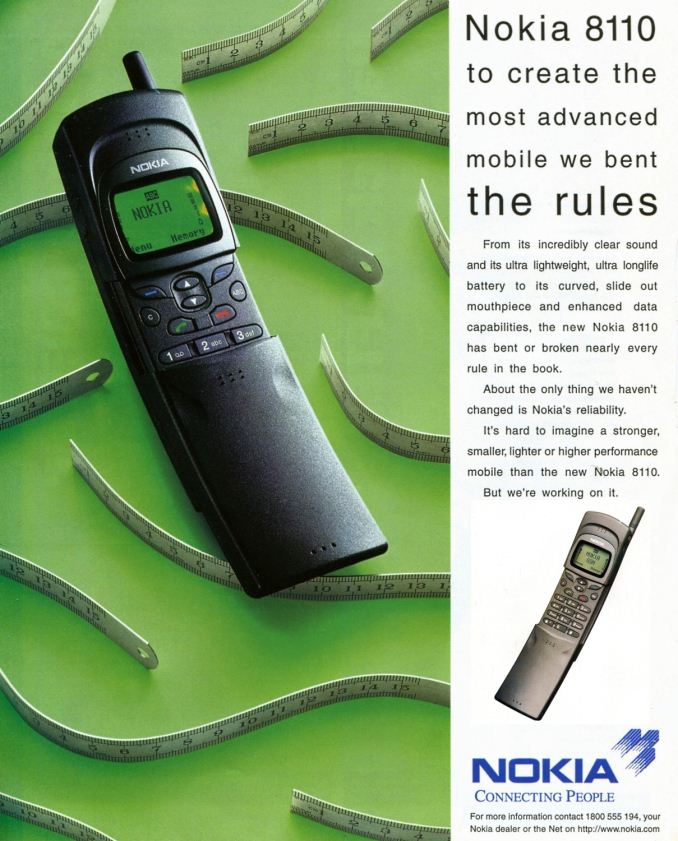 The original Nokia 8110 advertising. Source: DeviantArt.
The original Nokia 8110 was rather heavily advertised in various high-profile and lifestyle magazines, making it impossible to miss. Back then, GSM networks were only starting to roll out in many countries, which is why Nokia co-advertised the 8110 with Radiolinja - the world's first GSM operator (many do not remember this brand, which is now called Elisa). In fact, like many others, I first saw the Nokia 8110 on an advertisement sometime in 1997. Despite being one the world's first mobile phones in slider form-factor, the original Nokia actually did not impress me much. In the end, this was just another plastic phone with an antenna, and while its dimensions were smaller when compared to most other GSM handsets of the time, but they were not remarkably small, especially when compared to its successors. It was two years later when a modified Nokia 8110 caught my eye — this is when it was used by characters in The Matrix movie released in 1999.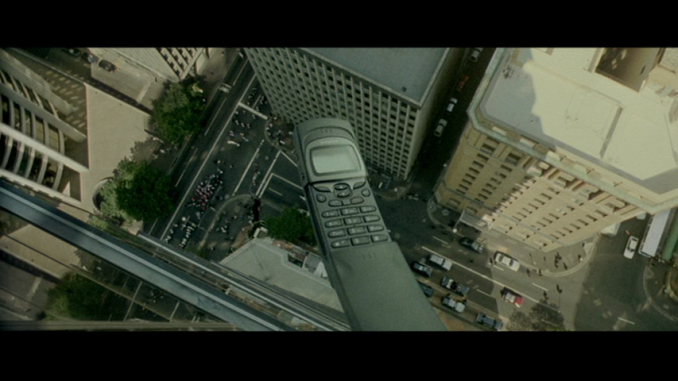 The Nokia 8110 from The Matrix. Source: Matrix.Wikia.com.
By late 1999, Nokia already offered its smaller and more advanced 8-series handsets, such as the 8210 (a plastic candy bar, co-released with Kenzo and featuring removable covers of different colors), the chrome-plated 8810 (this was one of the world's first phone with and internal antenna and chrome plating), and the 8850/8890 with metal plating. As a result, while the Nokia 8110 product placement in The Matrix attracted attention to the brand, but it hardly drove sales of the original 8110 as more sophisticated and elegant devices were already available. For those that really wanted technology, Nokia offered the 7110 with a scrolling wheel and a spring mechanism that would automatically open the cover (this mechanism was featured on the 8110 from The Matrix).
Nonetheless, in the march to revive a brand with device recognition, HMD Global has decided to re-release the Nokia 8110. There were a number of reasons for this decision, but the main ones probably were: a widespread recognition of the device because it was featured in The Matrix (and a number of other movies), its distinctive nickname, an inexpensive case made of polycarbonate, and an extravagant form-factor that is barely used today.
Design and First Impressions
The two key things about the re-released 'Originals' line are the nostalgia and the attention-grabbing design. While last year's Nokia 3310 re-design was not particularly advanced, for some it was what the doctor ordered for people tired of smartphones and unwilling to buy expensive refurbished mobile phones from the late 1990s or the early 2000s. The new Nokia 8110 4G naturally continues this tradition.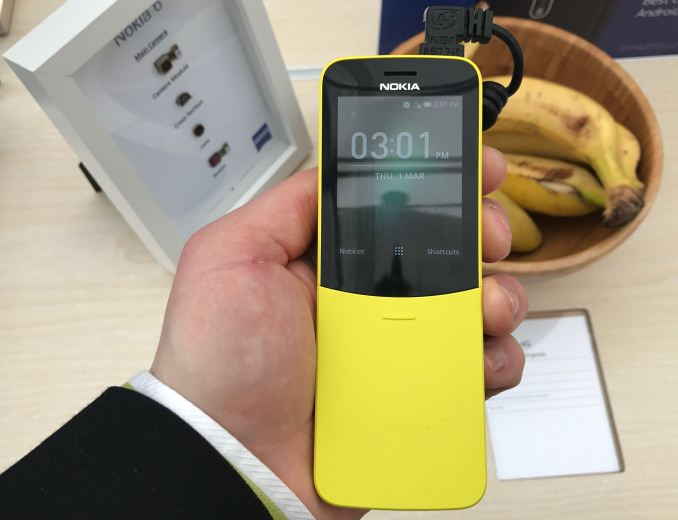 Not our bananas. Even HMD/Nokia gets it.
The new Nokia 8110 4G phones from Nokia will come in full black or full yellow enclosures, made of polycarbonate. The handsets are rather well built, as they do not look or feel cheap, but the overall impression is that they are not as solid as Nokia's past plastic models (such as the Nokia 8210, 8310, 6310, etc.). Of course, nowadays we are used to mobile phones made of aluminum or glass, so any plastic handsets feel like entry-level models. However, with sliders and plastic smartphones, they tend to bend and wear out over time. In case of the Nokia 8110 4G, the plastic cover for the keyboard feels quite loose on samples. Over time they may get even more slack, but this depends on usage model and other factors. This was probably one of the reasons why Nokia moved on to chrome and metal-plated plastic with its 8-series sliders back in the late 90s and early 2000s. The Nokia 8800-series moved on to stainless steel, which was then used for numerous 8-series and E-series products.
When you charge well above average for a handset, you need to ensure that it looks and feels like a solid device. While a metallic enclosure is by definition more expensive than a plastic one, the price is important for the 'Originals' phones — they have to be affordable. The 8110 G will cost about €80 ($98) without taxes, and there are doubts it was possible to squeeze a metal or metal-plated enclosure into its BOM. At this time it is unclear why Nokia decided not to go with a higher price, elevate its BOM cost and use a slightly better kind of plastic along with a spring mechanism.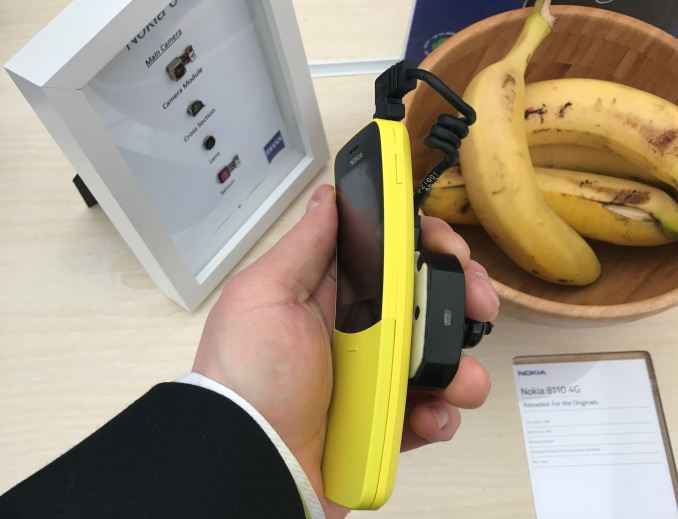 It is obvious that aside from looks, this 2018 mobile phone has nothing to do with the 1996 handset internally. However, two things strike the eye when you compare the old witht he new: the new uses an internal antenna and a relatively large 2.4" color screen with a 240×320 resolution. Back in the nineties, widespread use of the ceramic antennas found in today's mobile phones did not make business sense: they had high prices and often mediocre performance at times. Nokia used them primarily for expensive devices at first, but it eventually started to use them for more affordable 3-series and 5-series phones. Such antennae allowed handset makers to move away from external antennas, making mobile phones more compact, and comfortable to use (sometimes at a cost of antenna performance and/or battery life). Today, it is hard to imagine a mobile phone with an external antenna, and this new re-design does not have one.
A color TFT LCD is another much appreciated thing on the handset, yet it is clear that it completely changes the overall design and impressions about the phone. Furthermore, the resolution of the display and PPI are not high by today's standards and naturally these affect general impression — instead of nostalgia about the old times, the Nokia 8110 4G gives a feeling of a low-cost smartphone in an unorthodox form-factor. The same could potentially be said with some of the other re-released designs last year.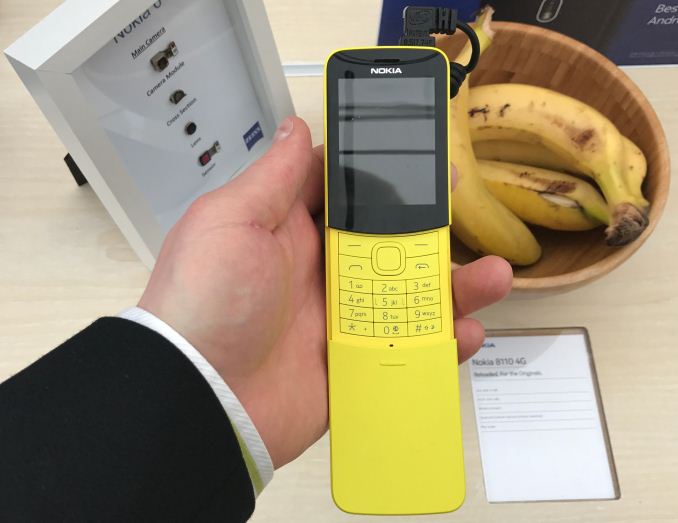 Moving on to the keyboard - the keys are rather big, but since they are very tight and completely flat, they are not as comfortable to use as on previous-gen sliders from Nokia. Keeping in mind that few people nowadays dial numbers manually, but choose them from menus or even use voice dialing, keys are hardly a big problem. Then again, if we compare the keys to the 'old' Nokias, this comparison will not bode well for the new one.
Software & Features
As noted above, the Nokia 8110 4G relies on an inexpensive hardware platform for affordable smartphones. It is impossible to impress anyone with the Snapdragon 205 featuring two ARM Cortex-A7 cores today, but the 8110 4G is not meant to set performance records. What it has to do is to bring back good memories. Yet, it sort of fails there as well.
Nokia's mobile phones from the 1990s got popular primarily because of two reasons: they featured an attractive ergonomic design, and the very simple software had a distinctive style. The Nokia 8110 4G runs KaiOS, developed specifically for entry-level smartphones, many of which use a keyboard. The OS can use contextual soft buttons and a 4-way navigation button, just like Nokia phones back in the day, and it is simple to use. However, KaiOS does not offer the original Nokia feel and style. In fact, it looks almost exactly the same as KaiOS on cheap smartphones down to the font size, but with some customizations to the UI. The latter works, and is quite snappy, but that is a promise of KaiOS in general.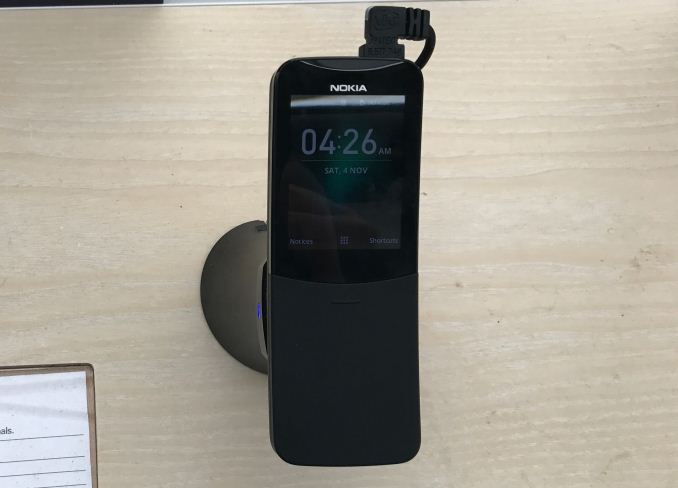 Another advantage that Nokia advertises about KaiOS is its relatively high energy efficiency: the new Nokia 8110 4G features up to 25 days standby time and up to 7 hours of talk time on a 1500 mAh battery.
The Nokia 8110 4G comes preloaded with various programs for the modern age, such as a basic Internet browser, Facebook, Twitter, Google Assistant, Google Maps, etc. Given the display and the keyboard-based navigation, such apps are not particularly comfortable to use. Basically, they just need to be there for a 'just in case' scenario. Of course, there is also a new version of Nokia's Snake game that looks better than ever, but keep in mind that due to miniature display, this title will be among a few games that will actually work well on this phone.
The Nokia 8110 4G
Specifications
SoC
Qualcomm Snapdragon 205
2x ARM Cortex-A7 @ 1.10 GHz
Adreno 304
Hexagon 536
RAM
512 MB RAM
Storage
4 GB + microSD
Display
2.45" QVGA curved display
Network
SKU 1 (Europe)
2G: 900, 1800
3G: WB-CDMA 1, 5, 8
4G: FDD-LTE 1, 3, 5, 7, 8, 20,

SKU2 (APAC, MEA,SSA)
2G: 900, 1800
3G: WB-CDMA 1, 5, 8, 39
4G: FDD-LTE 1, 3, 5, 7, 8, 20 TDD-LTE 39, 40, 41 (38)
LTE Speeds
Download: 150 Mbps
Upload: 50 Mbps
Dimensions
133.45 × 49.3 × 14.9 mm
Weight
117 grams
Ingress Protection
IP52: Partly protected against dust,
protected against drops of water
Rear Camera
2 MP sensor with a LED flash
Battery
1500 mAh
OS
Smart Feature OS powered by KaiOS
Connectivity
802.11n Wi-Fi, Bluetooth 4.1,
microUSB 2.0, headphone jack
Navigation
GPS, AGPS
SIM Size
Nano SIM + Micro SIM
Colors
Black, Yellow
Launch Countries
US, UK, EU, etc
Price
~€80 without taxes
Some Thoughts
The original Nokia's 8-series mobile phones have always been on an intersection between art, experience and technology. HMD's 'Originals' are different: they have to resemble their ancestors, inspire nostalgia causing owners to re-live their past emotions, and be good enough for millions of people who still remember the original model.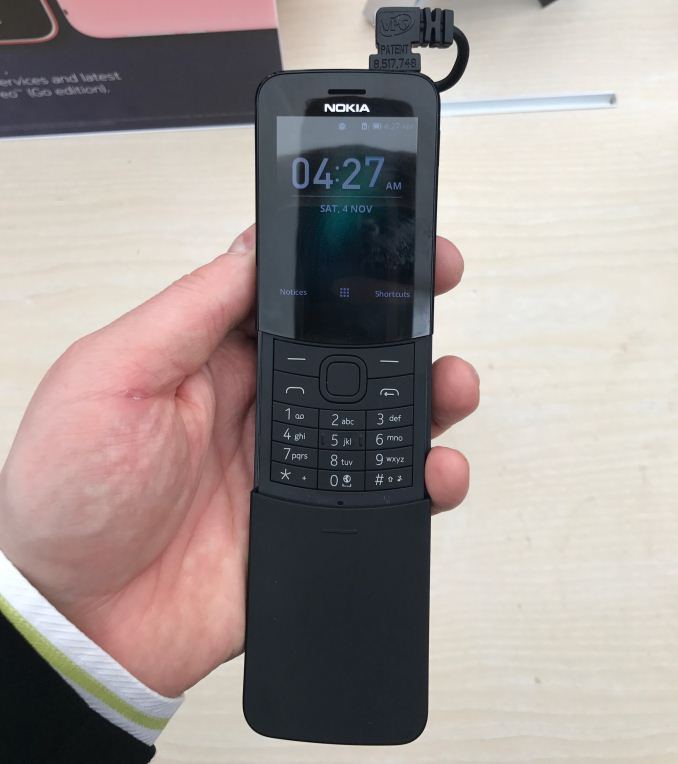 When HMD launched a re-imagined Nokia 3310 last year, it only had to offer a slightly revamped feature phone that would resemble the original one. Despite this, we felt the 2017 Nokia 3310 did not really look like the original one, and it did not feel like the original one. It was also more breakable, one of the key aspects of the original. But to a degree, it preserved the spirit of its ancestor.
Things are a bit different with the Nokia 8110 4G. With this one, HMD had to replicate not only design, but the experience with the world's first status slider phone. The new handset does not look exactly like the original one, but it has preserved the form-factor and the distinctive bended shape. The keyboard is different (and not ideal), and the software does not look the same, but this is not necessarily bad as it is a different phone with a completely different feature set and even usage model of handsets has changed in 20 years. It is disappointing that the sliding cover did not feel particularly solid, but it is still an eye catcher, especially in yellow.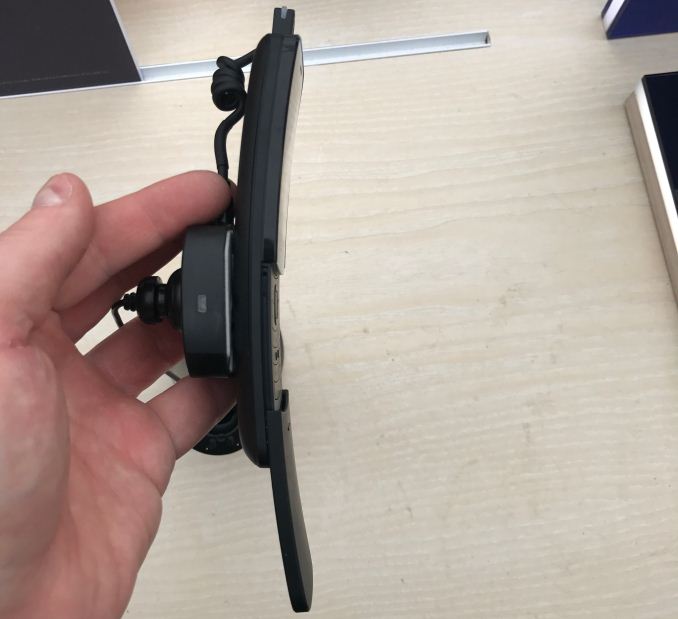 But does it make you feel nostalgic? If yes, then €80/$100 is not a too high price for a good mood for a couple of weeks. If not, you can get a a more powerful inexpensive Android-based phone for ~$100 ~ $120 in the U.S. as a secondary one. Pulling out a $400 mid-range smartphone in a crowd won't be noticed by anyone. But this? It will turn heads.
Related Reading
Source: Nokia