AnandTech Storage Bench - Heavy
Our Heavy storage benchmark is proportionally more write-heavy than The Destroyer, but much shorter overall. The total writes in the Heavy test aren't enough to fill the drive, so performance never drops down to steady state. This test is far more representative of a power user's day to day usage, and is heavily influenced by the drive's peak performance. The Heavy workload test details can be found here. This test is run twice, once on a freshly erased drive and once after filling the drive with sequential writes.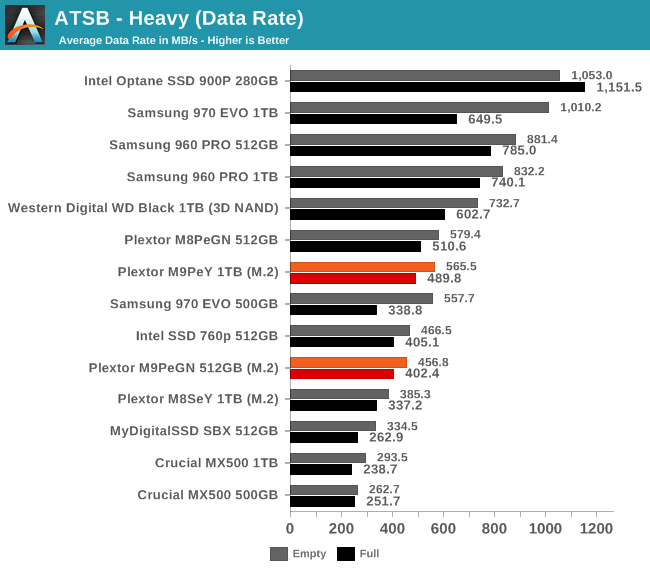 The Plextor M9Pe offers fairly low average data rates on the Heavy test, by the standards of contemporary high-end SSDs. However, it doesn't lose too much performance when full, which allows the 512GB model to score a win over the 500GB Samsung 970 EVO.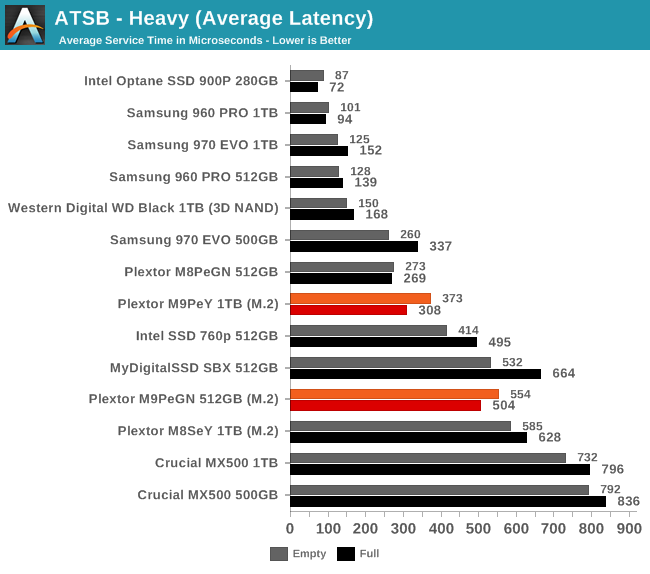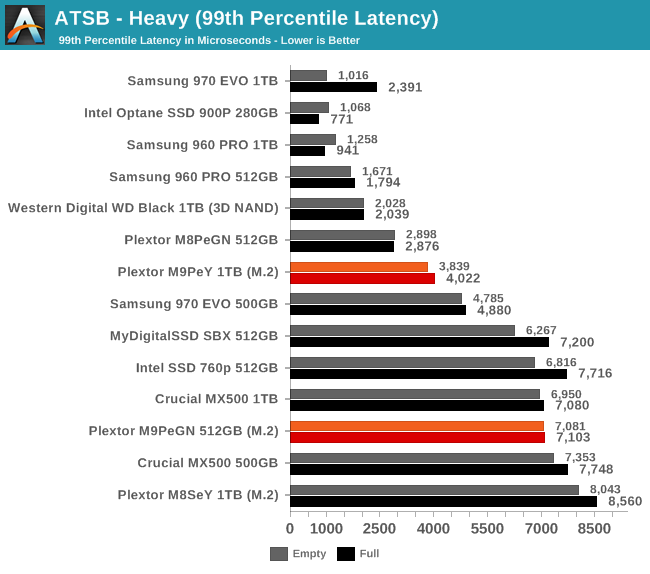 The average latency scores from the M9Pe place it at the bottom of the NVMe segment, but still ahead of the SATA drives. The 99th percentile scores of the 1TB model are worse than the other 1TB NVMe drives but not too bad overall, while the 512GB M9Pe is nearly tied with the Crucial MX500 SATA drive.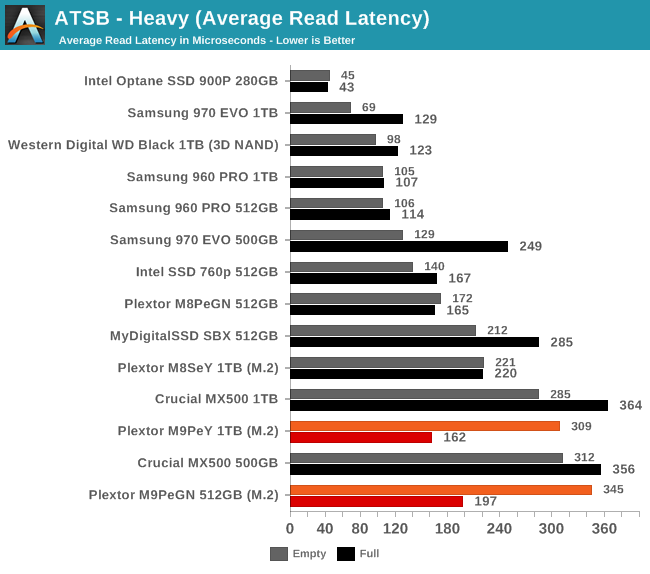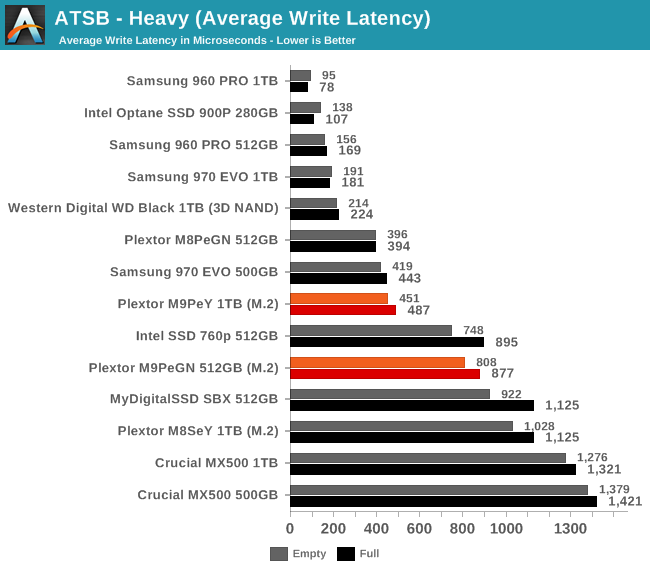 The average read latency scores from the Plextor M9Pe show an unusual inversion, with better performance when the drive is full. Anomalies like this are often an artifact of the drive lying about when it's done with a secure erase operation, leading to the empty-drive test run starting too soon. Even discounting those results, the M9Pe doesn't look competitive. The average write latency scores look more sensible, but are also bad news for the M9Pe's aspirations to high-end status.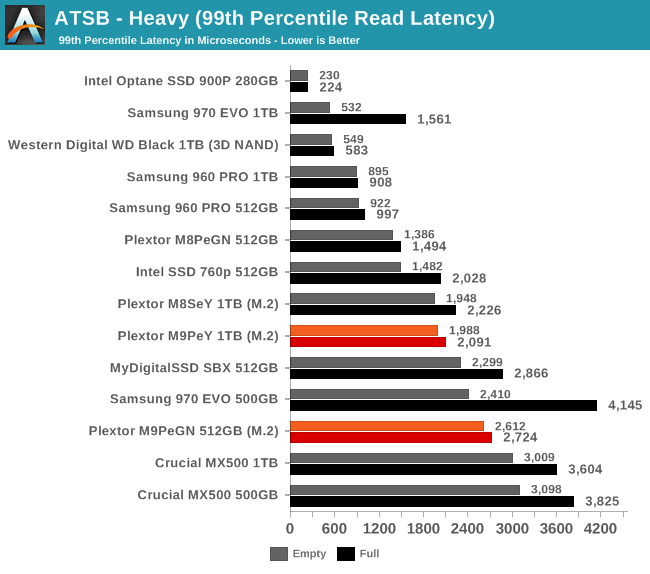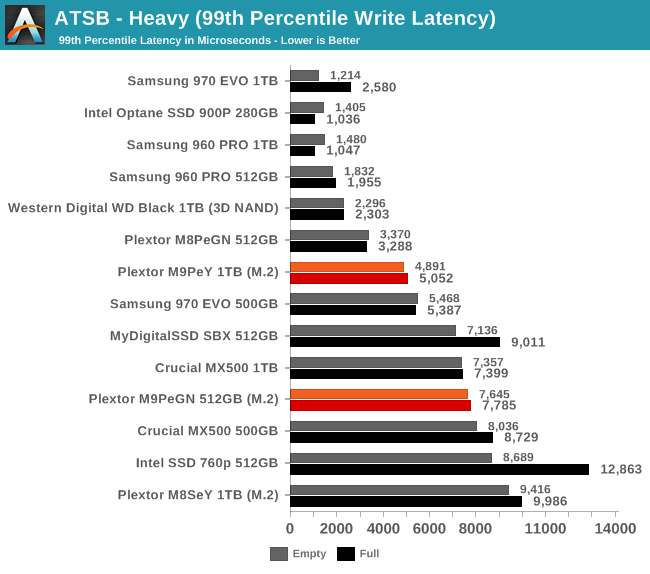 None of the 99th percentile read or write latency scores from the Plextor M9Pe are actually good by the standards of a current-generation high-end SSD, but the M9Pe does avoid the problems that befall some of the drives when they're full.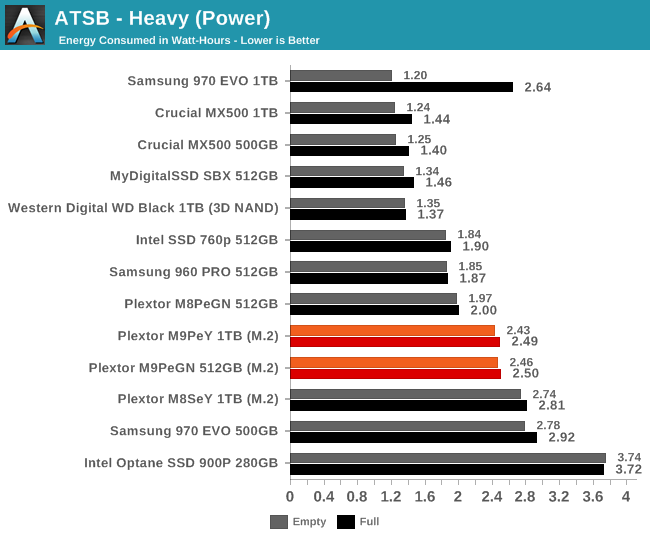 Energy usage from the M9Pe again falls between the results from its MLC and TLC based predecessors, and aren't great overall. The 500GB Samsung 970 EVO also requires a lot of energy, while its larger counterpart does quite well when its SLC cache isn't filled.