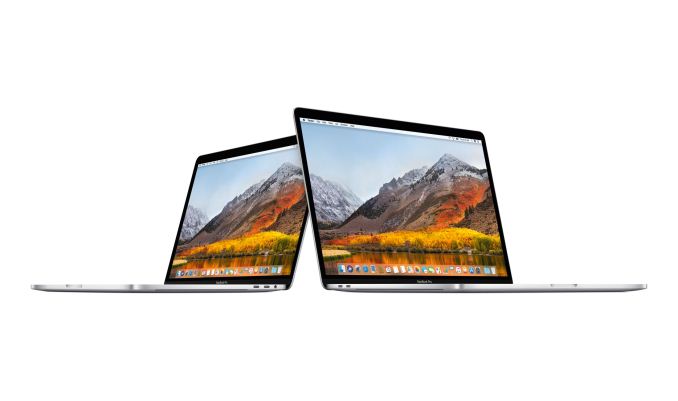 A surprising no-show at this year's Apple World Wide Developer's Conference was any kind of hardware refresh for Apple's Mac products. While WWDC is first and foremost a software development show, it's also been a convenient event for Apple to announce lower-key refreshes of their existing hardware platforms, as the press and developers are already there and paying attention. So with the MacBook Pro family all but guaranteed to receive a refresh thanks to Intel's Coffee Lake launch, we had been expecting to see new MacBook Pros around then.
Instead Apple has gone in a slightly different direction (more on that in a sec) but the end result is the same. Today, roughly a month after WWDC, Apple is announcing a more substantial refresh of both the MacBook Pro 13-inch and MacBook Pro 15-inch. The combination of Intel's Coffee Lake processors and some of Apple's own innovations such as their T2 controller make this a potentially potent performance upgrade for Apple's professional-grade workhorses. However there are no external changes to these laptops – their dimensions, weights, and ports are remaining identical – so they very much fit into the existing 4th generation MacBook Pro lineup.
Starting off at the top, Apple is updating most – but not all – of the MacBook Pros. Specifically, only the Touch Bar-equipped models are being updated. That means that the non-touch 13-inch MBP, the cheapest models of the MBP family, remain unchanged with their Kaby Lake-era hardware. So this means only the higher-end models are getting the benefits of more CPU cores, True Tone, etc. Depending on where you stand on Apple's Touch Bar, this may ruffle a few feathers, as it creates a much more distinctive gap between the two 13-inch models than existing previously.
MacBook Pro 15-Inch (Base Model)
Model
2018 15-Inch
2017 15-Inch
2016 15-Inch
CPU
2.2GHz
Core i7-8750H
6 CPU Cores
(Coffee Lake)
2.8GHz
Core i7-7700HQ
4 CPU Cores
(Kaby Lake)
2.6GHz
Core i7-6700HQ
4 CPU Cores
(Skylake)
GPU
Intel UHD Graphics 630 + AMD Radeon Pro 555X (4GB)
Intel HD Graphics 630 + AMD Radeon Pro 555 (2GB)
Intel HD Graphics 530 + AMD Radeon Pro 450 (2GB)
Display
15" 2880 x 1800 IPS LCD
DCI-P3 Gamut
True Tone
15" 2880 x 1800 IPS LCD
DCI-P3 Gamut
Memory
16GB DDR4-2400
16GB LPDDR3-2133
SSD
256GB PCIe SSD
Touch Bar
Yes
I/O
4x Thunderbolt 3 (supports DP1.2 & USB 3.1 Gen 2 modes),
3.5mm Audio
Battery Capacity
83.6 Wh
76 Wh
Battery Life
10 Hours
Dimensions
1.55 cm x 34.93 cm x 24.07 cm
Weight
4.02 lbs (1.83 kg)
Price
$2399
$2399
$2399
The big news across all of these new models, of course, is the increased CPU core count thanks to the inclusion of Intel's Coffee Lake-H CPUs. Earlier this year Intel updated the 45 Watt class CPUs to include 6-core models, and now Apple is finally integrating these into the latest MBPs. For Apple this is the first core count bump since the start of the Retina MBP generation in 2012, as quad-core 45W CPUs have been a staple Intel product – and staple of the 15-inch MBP – since then.
Apple has stated that they will be offering both Core i9 and Core i7 processors for the 15-inch MBP. The i7 will be the 8750H, meanwhile Intel only offers a single i9, the 8950HK. Notably, besides offering 2 more cores than their last-generation equivalents, the new processors also have higher turbo clockspeeds, offering around 13-17% increased peak frequencies.
As a result, Apple is touting a performance boost of up to 70%. This is almost certainly a best-case scenario here, in part because these processors can't run all 6 CPU cores at high turbo frequencies for very long, but Apple's cooling design will play a huge factor there. But even if they have to pull back from their highest turbo states, for day-to-day usage the additional cores should make quite an impact on software that can suitably use so many threads, which in the case of professional-grade software is a lot more likely.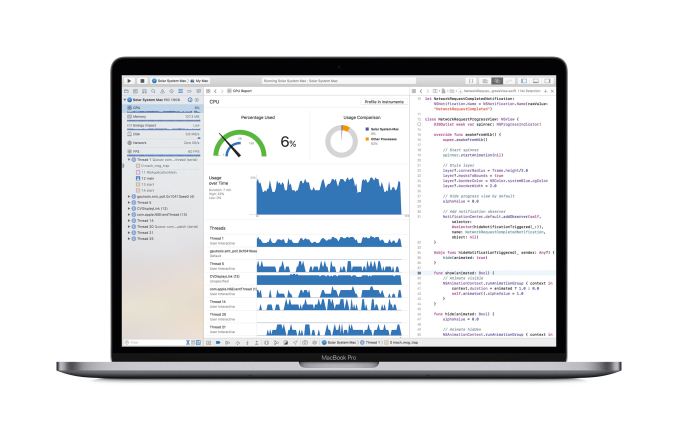 Apple is also using the 15-inch MBP refresh to rectify one of the biggest complaints about that model MBP, which is RAM capacity. All of the 4th generation MBPs have been limited to a maximum of 16GB of RAM; this is due to Intel CPU limitations where Intel doesn't support the current generation of low power RAM (LPDDR4) that Apple favors, and the LPDDR3 that Intel does support only goes up to 16GB. However it is possible to pair more than 16GB of memory with these Intel processors – so long as you give up the use of low power RAM – and this is the route Apple is taking.
For the 15-inch MBP, Apple has switched to standard power DDR4 memory, which Intel supports and which is available in larger capacities. As a result Apple can now offer up to 32GB of RAM on the 15-inch laptop, with Apple offering a mix of 16GB and 32GB capacities at different price points. The switch to DDR4 does come with a power cost – one I'm sure Apple was rue to pay – but as the Intel situation ties their hands, I'm glad they've made the right choice and favored memory capacity in their flagship laptop. Do note however that it won't come cheap; the 32GB option is another $400 over the base configuration.
Due to this combination of CPU changes and memory changes, Apple has boosted the capacity of the 15-inch MBP's battery to compensate for the increased power consumption. The 15-inch's battery is roughly 7 Watt-hours larger, which now puts it at 83.6 Wh. Apple has rather consistently targeted a 10 hour runtime here, and that remains unchanged for the latest model. The bigger question then is how they've been able to add another 7 Wh of capacity to the machine without increasing its weight at all.
Apple has also made a couple of other changes to the 15-inch MBP under the hood, although not as significant as the CPU and memory changes. Apple has once again stuck with AMD's Polaris 11-based Radeon 55x and 56x series discrete GPUs; however all dGPUs now ship with 4GB of dedicated graphics memory, rather than the 2GB that was previously standard. Models with 4GB of graphics memory were upgrade options before, so this specifically resolves one of the weaknesses of the base 15-inch model.
MacBook Pro 13-Inch w/Touch Bar (Base Model)
Model
2018 13-Inch
2017 13-Inch
2016 13-Inch
CPU
2.3GHz
Core i5-8259U
4 CPU Cores
(Coffee Lake)
3.1GHz
Core i5-7267U
2 CPU Cores
(Kaby Lake)
2.9GHz
Core i5-6267U
2 CPU Cores
(Skylake)
GPU
Intel Iris Plus 655
(128MB eDRAM)
Intel Iris Plus 650
(64MB eDRAM)
Intel Iris 550
(64MB eDRAM)
Display
13" 2560 x 1600 IPS LCD
DCI-P3 Gamut
True Tone
13" 2560 x 1600 IPS LCD
DCI-P3 Gamut
Memory
8GB LPDDR3-2133
SSD
256GB PCIe SSD
Touch Bar
Yes
I/O
4x Thunderbolt 3 (supports DP1.2 & USB 3.1 Gen 2 modes),
3.5mm Audio
Battery Capacity
58 Wh
49 Wh
Battery Life
10 Hours
Dimensions
1.49 cm x 30.41 cm x 21.24 cm
Weight
3.02 lbs (1.37 kg)
Price
$1799
$1799
$1799
Meanwhile for the 13-inch MBP, Apple has rolled out similar changes, but on a smaller scale. The more portable of Apple's MBPs is getting what's effectively the greatest CPU update of them all, moving from dual-core Kaby Lake processors to quad-core Coffee Lakes. This is going to put the performance of the 13-inch model relatively close to what was the 2017 15-inch model, though the smaller size and lower TDP means that the 13-inch laptop is still a little more constrained.
Apple is once again using Intel's 28W U-series processors here. Apple is one of a handful of vendors to use these specific chips, in large part because of their minimum graphics performance requirements. These chips come with Intel's more powerful Iris Plus 655 integrated GPU (GT3e), which offers around twice the performance of the iGPUs found in Intel's more standard SKUs. Further separating the two, this latest generation of chips from Intel has also doubled the eDRAM used for the iGPU from 64MB to 128MB. So GPU performance, while still ultimately limited by the form factor, should be a step up from last year's 13-inch models.
As for CPU performance, Apple is touting a 2x performance improvement here for obvious reasons. Along with the doubled CPU core count, these new chips also tend to boost better than their 2017 Kaby Lake counterparts – the top-end i7-8559U goes to 4.5GHz. So performance should be improved in all scenarios, even in those that can't take advantage of the additional cores.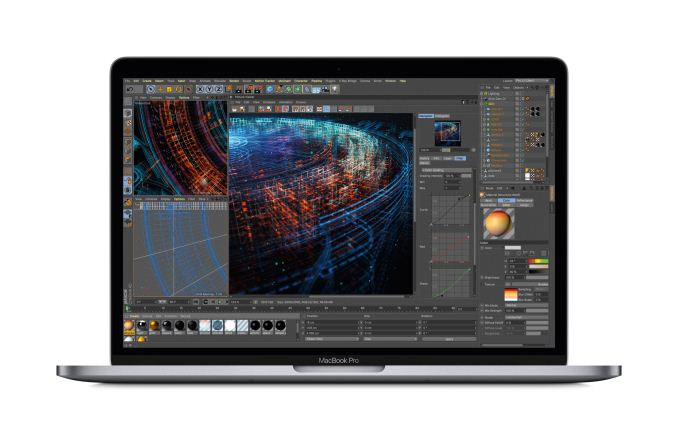 As for RAM capacity, this is where the 13-inch and 15-inch MBPs will be diverging. The 13-inch model is not getting DDR4, and instead Apple is sticking with LPDDR3. This means the 13-inch model remains limited to a maximum of 16GB of RAM. However it also means that Apple doesn't need to pay a power penalty here.
Which is a good thing, since in practice the doubled CPU core count will drive up power consumption anyhow. As a result, the 13-inch MBP is also getting a larger battery. And in fact the capacity increase is even greater than with the 15-inch MBP. Here we'll see the 13-inch pick up another 9 Wh, moving to 58 Wh of capacity.
Meanwhile both the 15-inch and 13-inch MBPs are now also integrating Apple's T2 controller chip, replacing the T1 found in earlier models. The T2 was actually introduced back in the 2017 iMac Pro, but this is the first time it's made it into a less niche device.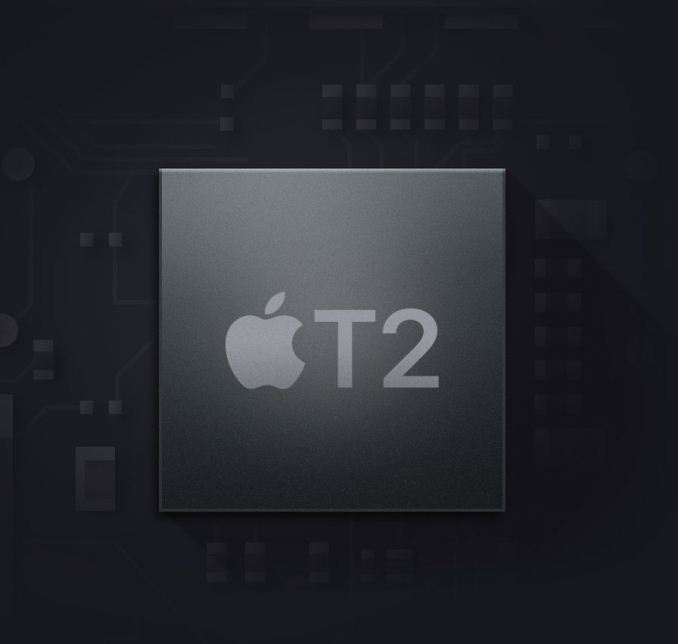 With the T2, Apple is now tasking the co-processor with several tasks. Along with driving the Touch Bar and offering a secure enclave for the fingerprint reader, as was the case in the T1, the T2 also picks up multiple system management and storage related duties. Specifically, the T2 serves as the MBP's system management controller, controlling most peripherals while also providing secure boot capabilities.
The T2 is also Apple's SSD controller, so this means that the MBP is getting a SSD upgrade. Apple is now offering up to 4TB of SSD storage on the 15-inch MBP and 2TB on the 13-inch model. And judging from some of the numbers the 4TB iMac Pro has put up with the same controller, the 15-inch MBP stands to have chart-topping SSD performance. As an aside the move to the T2 means that said storage is now always encrypted.
Moving on, Apple is also introducing support for their True Tone display technology in these latest MBP models. Already a staple of the higher-end iPads, True Tone is Apple's adaptive white point mechanism for the display, allowing the white point to be shifted to match the surrounding light. True Tone is a bit hit & miss – there are times where it's appropriate and there are times where the white point should be fixed – but overall it's received a positive reception on the iPad, and it was only a matter of time until it appeared in MacBooks. While not explicitly stated, I suspect this is another function being run on the T2 given its nature as a controller and the fact that the T2 is also responsible for listening for Siri cues as well, including newly added support for Hey Siri.
Finally, both sizes of the MBP are getting a slightly refined version of Apple's keyboard. To get the obvious question out of the way, no, Apple has not backtracked on their use of the Butterfly switch mechanism on the MBP family, even after their recently announced extended service program for keyboards on existing MBPs. Apple continues to promote the butterfly mechanism as their best and most stable keyboard mechanism to date – and admittedly they aren't wrong on the latter point – so even with its other drawbacks they are sticking to it. Which is to say that if you didn't like the keyboard on the 2016 or 2017 MBPs, the 2018 likely isn't going to change your mind.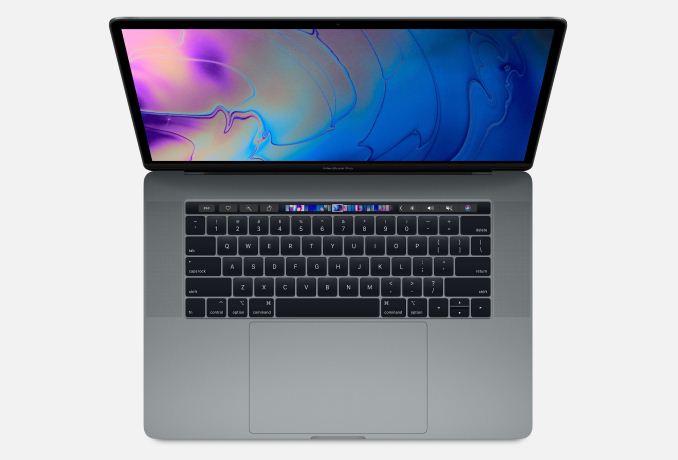 Which isn't to say that Apple has left the keyboard unchanged. The 2018 models include what Apple is calling their 3rd generation butterfly mechanism. Apple has said nothing about whether this version is meant to be more robust than the last version – though I will be a bit surprised if they haven't quietly tried – however officially the change is that the 3rd generation mechanism is designed to be quieter. And with my very limited hands-on time with the new model, it definitely did seem a bit quieter than the keyboard of the 12-inch MacBook that I normally use. However I must also admit that I've never considered noise to be an issue with this keyboard, so to see Apple tackling the issue came a bit out of left field.
Ultimately though because the keyboard mechanism hasn't changed, Apple hasn't needed to change the size of either MacBook Pro. Indeed across all 3 iterations of both lines, the physical dimensions and weight have remained identical. Which given the larger batteries in these 2018 models is moderately impressive. This means that the 15-inch MBP remains 1.83 kg (4.02 lb) and 1.55 cm thick, while the 13-inch is 1.37 kg (3.02 lb) and 1.49cm thick. This means that the new models will continue to work with all cases, peripherals, and other accessories that are built around the specific size of the MacBook Pro. The flip side to this is that it means that all of the design compromises Apple made to achieve this weight and thickness – soldered-down components, butterfly keyboards, etc – remain in place. This is just a refresh, after all, and is not a wholly new generation.
Wrapping things up for the new MacBook Pros, Apple will begin selling the updated models today. We're told that they'll be available immediately on Apple's online store, while Apple's brick & mortar stores will begin receiving the new model later this week. Pricing will remain unchanged from the previous generation – the 13-inch MBP will start at $1,799, while the 15-inch MBP will start at $2,399. Both of these new models also qualify for Apple's annual back-to-school promotion, which is kicking off today. So students and other elligible buyers will also receive a set of Apple's Beats headphones with the laptops.