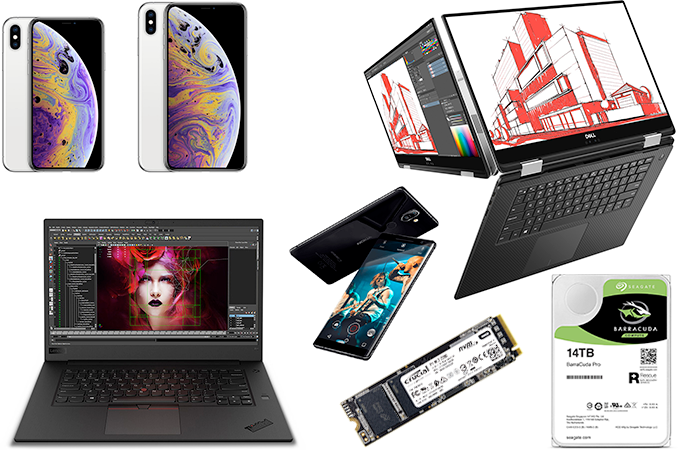 Foreword by Ian Cutress
As part of our Holiday Season series of best picks, sometimes the items that impress aren't in those lists. Out of all the people on our team, Anton as our news editor has the widest remit, so I asked him to come up with a list of the products the most impressed him through 2018. It's a super fun list, as Anton goes through his interesting laptops, smartphones, displays, and SSDs. There's even spinning rust on this list.
Impressive Products from 2018: Anton's List
One of the annoying things of 2017 was that manufacturers released a number of minor speed-bump refreshes of their offerings, mainly because revolutionary -performance components were not ready for prime time. By contrast, in 2018, we've seen CPU, SoC, display panel and some other hardware updates that have enabled truly generational updates and noted improvements to change our perception of what to expect from devices. So, without further ado, I'm going to talk about products that impressed me the most this year.
Laptops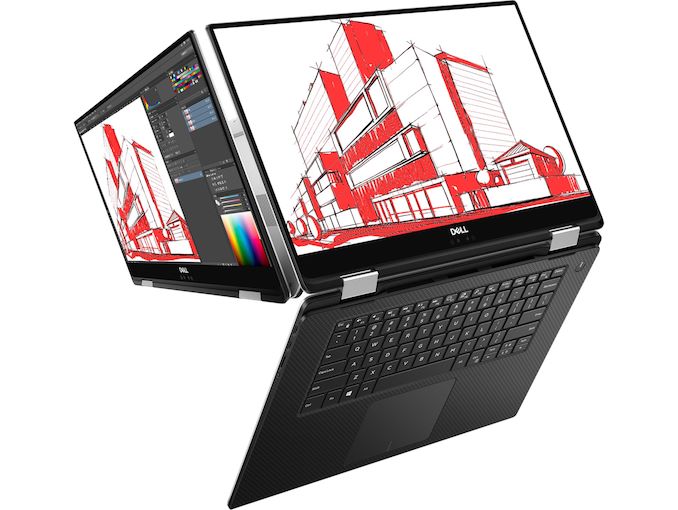 I am going to start with laptops. Early in the year Intel launched its Kaby Lake-G processors with on-package AMD Radeon Vega RX/Radeon Pro WX graphics chips, enabling laptop producers to make machines with GPUs thinner and lighter. One of the most impressive machines featuring Intel's Kaby Lake-G CPUs are Dell's XPS 15 2-in-1 9575 as well as Precision 2-in-1 5530 convertible laptops that offer a 4K 15.6-inch LCD, a quad-core processor, and a discrete GPU in a chassis that is 16 mm thick and weighs only about 2 kilograms (4.36 pounds).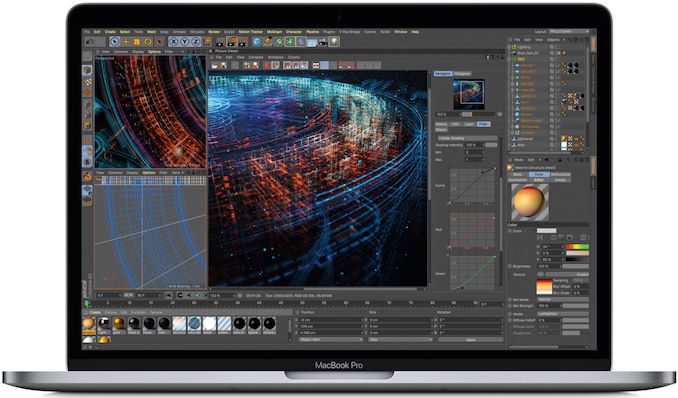 Besides Kaby Lake-G, Intel also released its quad-core Coffee Lake processors with high-end Iris Plus Graphics 655 iGPU featuring 48 EUs and 128 MB of eDRAM. While not offering as high performance as the aforementioned Radeon Vega RX, these CFL chips enabled Apple to build a 13.3-inch MacBook Pro with decent graphics and four x86 cores. While a quad-core CPU inside a 13/14-incher is nothing new, the combination of CPU and GPU prowess, a very fast SSD, and a great 500-nits display certainly made this year's 13.3-inch MBP a very attractive contender for a mobile professional (especially keeping in mind that now it supports secure boot courtesy of the T2 chip).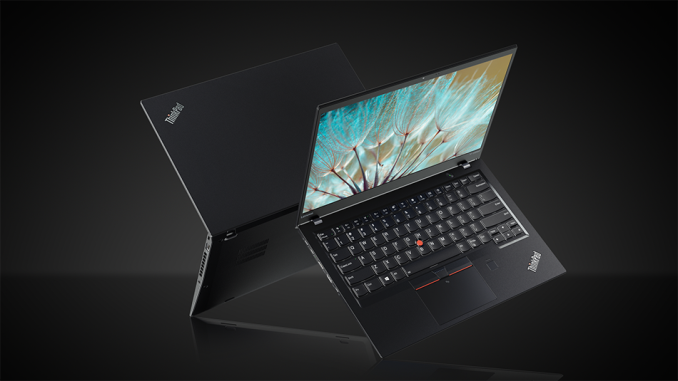 Having mentioned Dell's XPS 15 2-in-1 and Apple's 13.3-inch MBPs, I cannot omit Lenovo's 6th Gen ThinkPad X1 Carbon with its 14-inch Dolby Vision HDR-supporting display and a quad-core CPU. These machines unfortunately do not feature high-performance graphics, but you can forgive that because of their ultra-light weight of around 1.13 kilograms (2.49 pounds).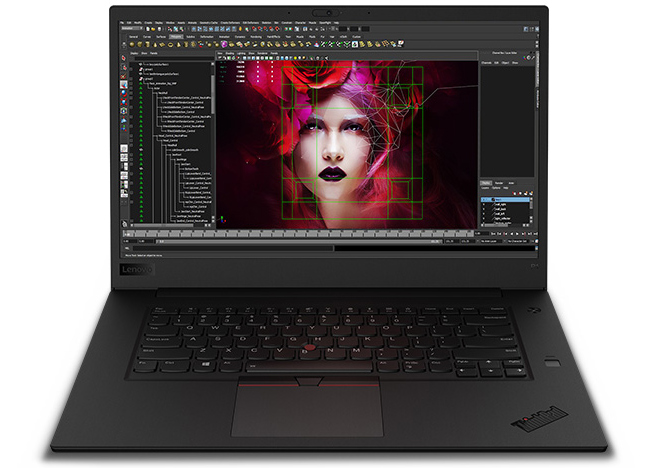 Later in the year Lenovo also launched its ultra-thin 15.6-inch ThinkPad P1 and ThinkPad X1 Extreme machines with six-core CPUs and discrete GPUs that weigh only around 1.7 kilograms. Without any doubts, these machines are at least as attractive as those featuring KBL-G CPUs.
Smartphones
Moving on to smartphones. This year was largely a mixed-bag from my point of view. Let me explain why. When it comes to me, any handset begins with its design and usability (in that order). Design is obviously a subjective thing, yet Nokia's 7, 8, and E7-series from 2000s are my all-time favorites followed by Apple's iPhone 4. Usability involves a combination of software and hardware that enables me to perform my tasks rapidly, without glitches, and with a battery life that lasts at least a day. I am practical too, so rigidity and resistance against dust and water are important as well. So, when choosing between a phone with a "good-enough" SoC performance and a stylish rigid design and a handset with a pack-leading SoC with "good-enough" looks and questionable rigidity, I will always prefer the former.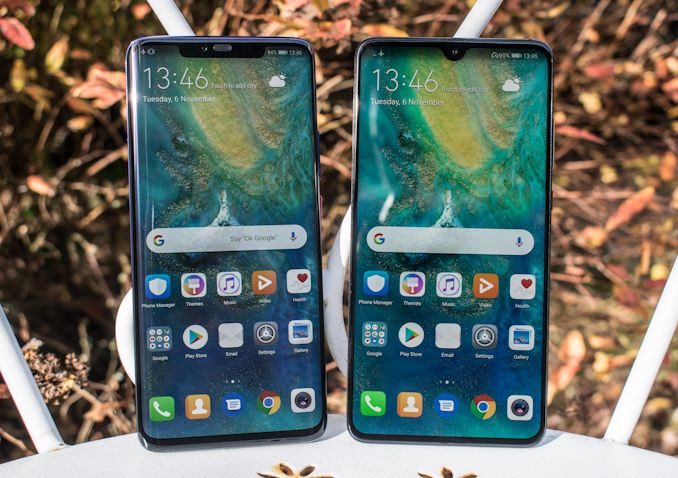 Now, back to 2018. When it comes to smartphones released this year, their trendiest feature is a circa ~6-inch high-res/high-PPI screen with an 18:9 or a 19:9 aspect ratio, a testament that the display industry can now produce such large OLED or IPS panels (many of which are DCI-P3-graded) in mass quantities. Without any doubts, smartphones running Qualcomm's Snapdragon 845 and outfitted with 6-inch displays look and perform very impressively. Meanwhile, they are rather huge and rather thick. Furthermore, their chassis made of aluminum and glass does not impress me when it comes to rigidity. In fact, the vast majority of Android-based phones do not boast with any official dust and water resistance ratings.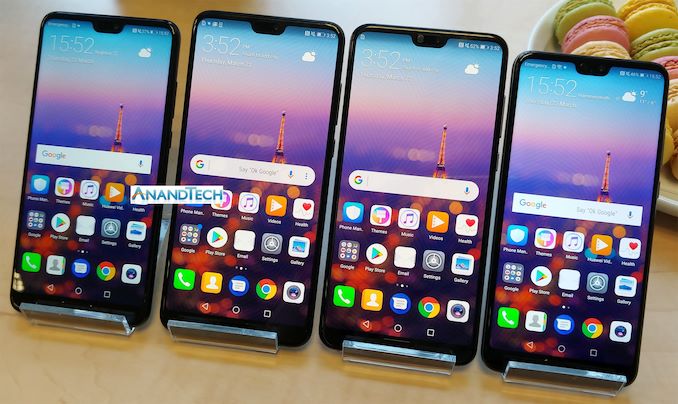 When it comes to trendy smartphones launched this year, Huawei certainly deserves a praise for its Mate 20 Pro, Mate 20, P20, and P20 Pro devices. These are very different handsets aimed at very diverse audiences, but they certainly follow the trends very closely and feature the company's renowned cameras. Meanwhile, only the Mate 20 Pro features an IP68-rated dust and water resistance. As far as the price goes, the Huawei P20 costs $524, which seems like a rather sweet deal, considering all of its advantages.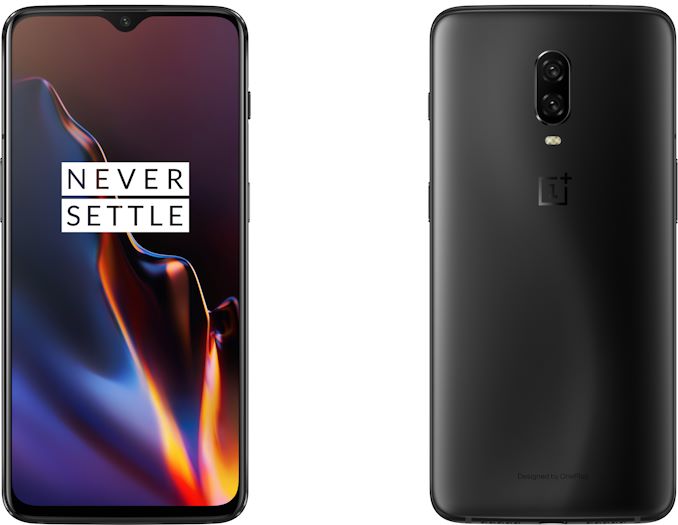 OnePlus definitely made a splash with its OnePlus 6 and OnePlus 6T smartphones too. The company is among the first to install a high-end 6.28/6.41-inch AMOLED display and Qualcomm's Snapdragon 845 into a moderately-priced device, for which it deserves a kudos. At the same time, these handsets are large, use an aluminum with glass chassis, and feature no official IP rating (OnePlus instead likes to talk about how it approaches water protection, except for actually getting a certificate, as it states the IP ratings are complex and not suited for smartphones).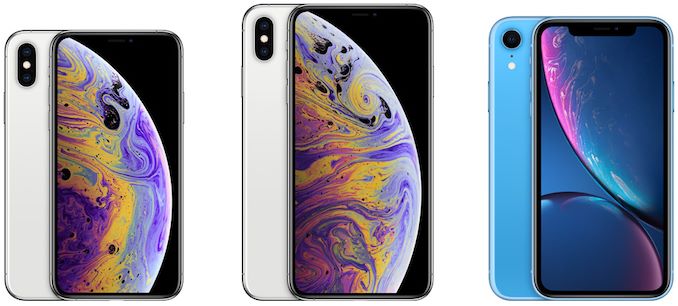 Apple this year closely followed market trends and equipped its iPhone Xs, Xs Max, and Xr smartphones with 5.8, 6.5, and 6.1-inch displays, respectively. All of these smartphones run the company's latest A12 Bionic SoC (which is the highest-performing mobile SoC today), they are splash, water, and dust resistant.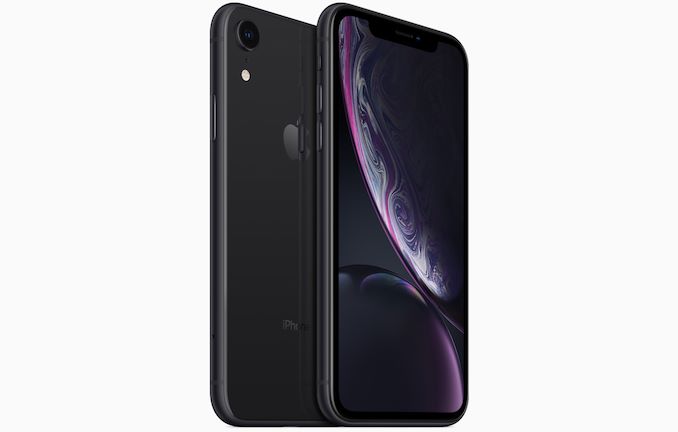 One thing to note is that while the iPhone Xs Max and iPhone Xr are way too large from my point of view (they just follow the trends), the size of the iPhone Xs seems more or less right (still larger than the iPhone 7), yet its high price is something that clearly makes it considerably less attractive.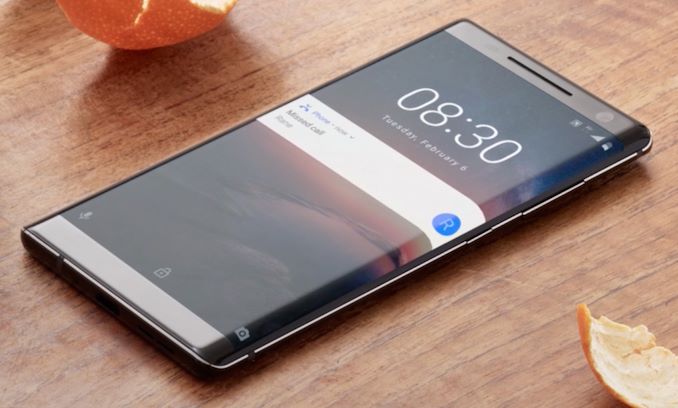 Having mentioned dimensions, materials, dust/water-resistance and prices of this year's smartphones, I cannot help but to mention one more smartphone that was released this year: the Nokia 8 Sirocco. This handset is somewhat off the trends: it comes with a 5.5-inch 16:9 pOLED display, it is based on the previous-gen Qualcomm Snapdragon 835 application processor, and it has a mediocre (at best) selfie camera. At the same time, it is made of stainless steel, it is IP67 dust/water-resistant, it is pleasant to use (despite the fact that its width is far from ideal). The sweetest part? It costs only $550.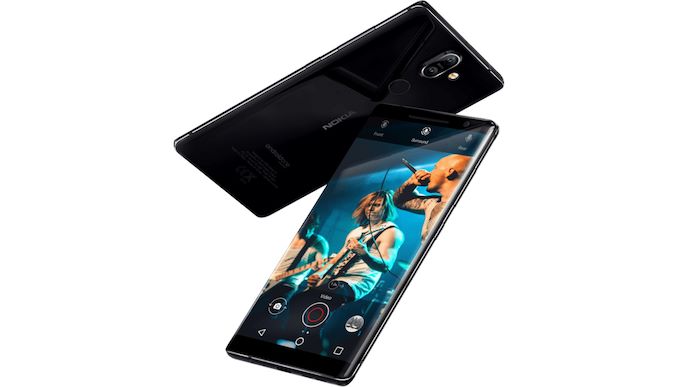 Displays
As noted above, the display panel industry enabled smartphone makers to significantly improve size and quality of their products' screens. The very same industry worked quite well for manufacturers of PC monitors too, who launched a number of rather interesting products.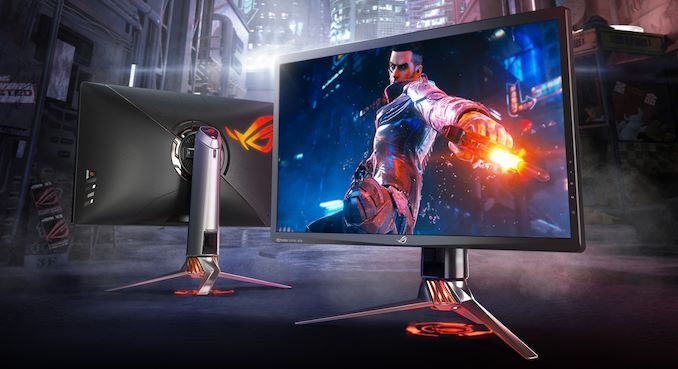 Acer and ASUS this year finally released their 27-inch NVIDIA G-Sync HDR displays featuring a 4K resolution, a 384-zone FALD with quantum dots backlighting, a 1000 nits peak luminance, and a dynamic refresh rate of up to 144 Hz. The Acer Predator X27 and ASUS ROG Swift PG27UQ monitors for gaming with all the bells and whistles cost $1700 ~ $1800 (down from $2000), but if I were a demanding hardcore gamer with deep pockets, that price is certainly not a problem. Beyond gaming, both monitors are DisplayHDR 1000-certified and therefore support HDR10-enabled content playback with brightness peaking at 1000 nits.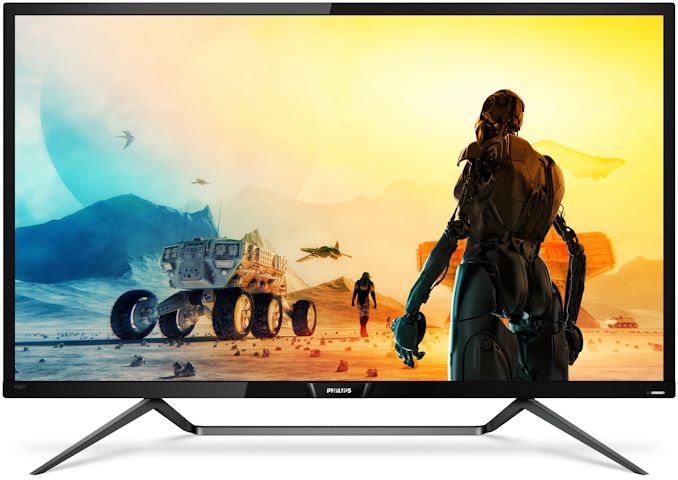 Speaking of DisplayHDR 1000, there is only one more LCD that VESA has certified for this label so far, which is the Philips Momentum 436M6VBPAB. In fact, this is the only large Ultra-HD LCD with the DisplayHDR 1000 and Ultra HD Premium badges. Officially aimed at gamers, this display has a 4K resolution, a quantum dot-outfitted 32-zone backlighting, a 1000-nits brightness, and a 60 Hz refresh rate with FreeSync support. The monitor is a mixed bag though. On the one hand, its connectors (DisplayPort, mDP, HDMI 2.0a, and USB-C) do not let plugging-in two game consoles, yet they are friendly to modern USB-C equipped laptops, which suggests that the LCD will be used not only for gaming, but for productivity applications as well. On the other hand, the Philips Momentum 436M6 uses an MVA panel with a BGR layout instead of RGB (and for some reason TPV/Philips never disclosed this information on their websites) and has had some reported issues with blurriness and dithering (we haven't tested in house) that makes its usage for work a bit less comfortable when compared to typical IPS RGB monitors.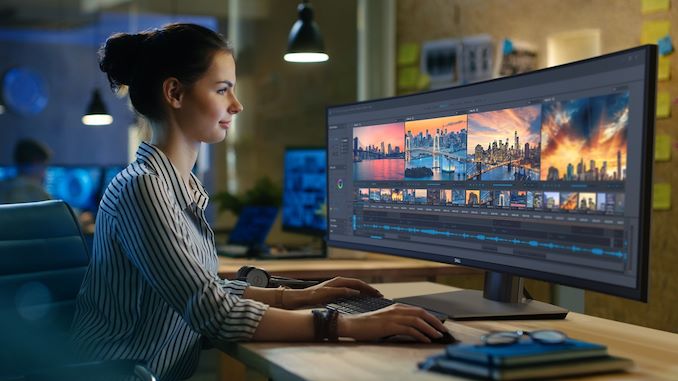 Speaking of displays for work, Dell released its UltraSharp U4919DW monitor in mid-October and has so far slashed its price to $1,349 (at least when buying directly). This curved ultra-wide LCD with a 32:9 aspect ratio is powered by a 49-inch IPS panel featuring a 5120×1440 resolution and can substitute two 27-inch displays for those who need a lot of screen real estate without losing the number of pixels they would have with two QHD monitors.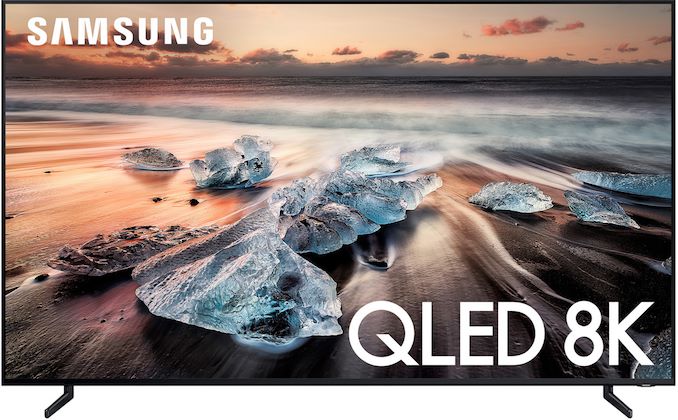 Last but not least, Samsung started sales of its Q900-series 8K televisions that not only feature a 7680×4320 resolution, but also a FALD-like quantum dot-enhanced backlighting that enables a peak brightness of 4000 nits, which is the maximum brightness at which HDR content is mastered today. Besides, these UHDTVs are based on Samsung's Quantum Processor 8K, which is responsible for all decoding, upscaling, and other operations. Besides upscaling of 2K and 4K content to 8K, the SoC can also interpolate content to 240 FPS.
Storage
On the storage side of things, there were two notable developments this year. First, Intel, Micron, and Samsung started to mass produce 3D QLC NAND memory, which promises to reduce pricing of flash-based storage and therefore increase capacities of upcoming SSDs, smartphones, laptops, tablets, and other devices. Second, Seagate released another range-topping HDD for consumers.

Micron's Crucial division was naturally among the first companies to launch a consumer drive featuring 3D QLC memory. In fact, the Crucial P1 1 TB appears to be rather speedy and at $0.22 per GB it looks like very competitively priced as well. (Ed: As Anton was writing this, our review of the Samsung 860 QVO SATA SSD came out, with up to 4TB of QLC at $0.13/GB). Of course, 3D QLC NAND has its twists when it comes to P/E cycles, retention, performance, and endurance. However, low costs can somewhat compensate for these peculiarities.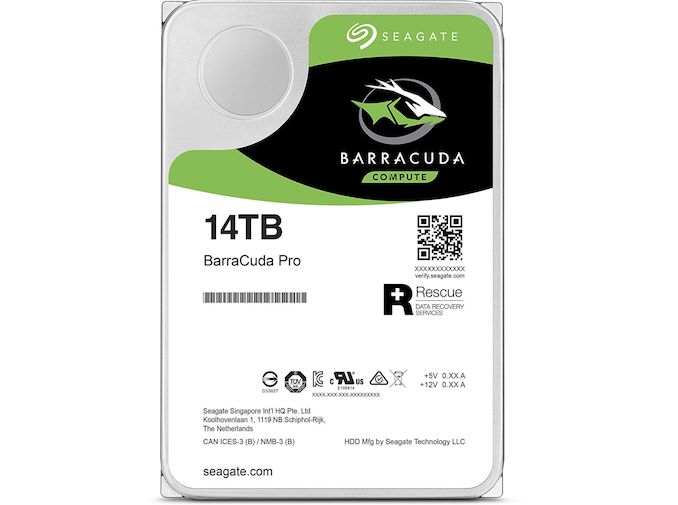 Moving on to mechanical storage. Unlike its competitors, Seagate always adopts its latest technologies not only for datacenters, but also for other market segments, including client PCs. Seagate's BarraCuda Pro 14 TB is the industry's first hard drive for desktops. Of course, this is a very expensive piece of hardware at $630 - $670, but if you need to store a lot of data in a PC that can accommodate only one 3.5-inch HDD (or just maximize your desktop capacity), this drive is your only choice.
In general, this was quite an interesting year with many innovative products hitting the market. It will be extremely interesting to see next-gen devices in 2019 as they promise to refine technologies that went mass production this year and therefore offer lower prices, higher portability, greater reliability, and other improvements that we expect from each product category.