Display Measurement - Typical LG
We mentioned that we have a high suspicion that the V60 and Velvet screen panels are identical, even though there's a different shape cover glass over both. One further difference between the two phones is their software calibration. The V60 comes with LG's classic wide range of display profiles (Auto, Cinema, Sports, Game, Photos, Web, Expert) that we've seen introduced over the last few years, whilst the Velvet has more significantly simplified things down to only three presents as a custom option (Natural, Vivid, Cinema, Custom).
For the V60, LG's most accurate preset which actually targets an sRGB gamut is the "Web" profile and that's what we tested here today. On the Velvet, it unfortunately looks like LG dumbed things down a little too much, as the phone no longer has any profile that's able to target an sRGB gamut, with all of the available presets targeting some larger colour spaces. We've left it on the "Natural" mode as it gave a good enough white-point out of the box.
We move on to the display calibration and fundamental display measurements of the V60 and Velvet screens. As always, we thank X-Rite and SpecraCal, as our measurements are performed with an X-Rite i1Pro 2 spectrophotometer, with the exception of black levels which are measured with an i1Display Pro colorimeter. Data is collected and examined using Portrait Display's CalMAN software.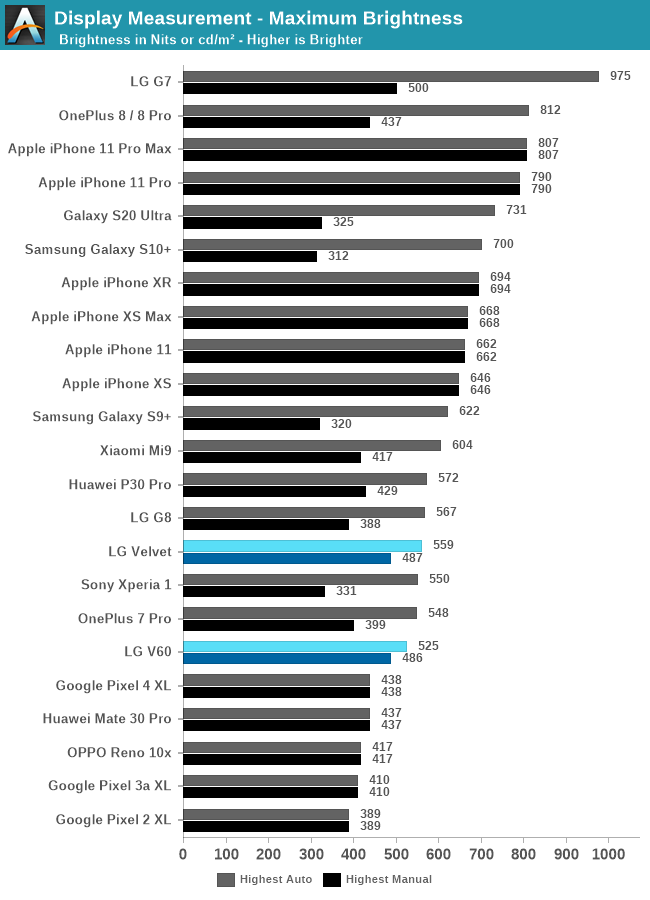 In terms of brightness, the new LG panels here don't fare all too well in terms of their maximum brightness. In manual mode, both phones do get brighter than what we typical see of Android OLED devices at around 485 cd/m², but the auto mode under bright environments doesn't raise this figure much at all, only reaching 525-550 cd/m² on both phones. The auto mode does change the colours and improves contrast for legibility, but can't really compete with the newer generation Samsung AMOLED panels in terms of brightness.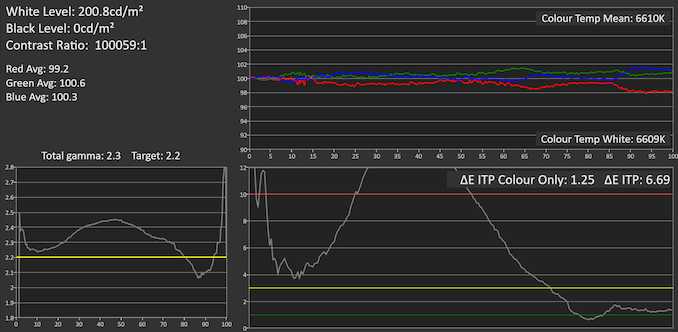 Portrait Displays CalMAN
LG V60
Moving on onto greyscale testing, the LG V60 has some large problems in terms of properly tracking a correct gamma curve. The mid-levels are far too dark, beyond reasonable error rates. The good news is that the colour balance and temperature on the phone is quite good and reaching whites and average colour temperatures of 6600K – a little bit cooler over the 6500K natural sunlight white target, but I prefer this to say Samsung's usual too warm colour tones.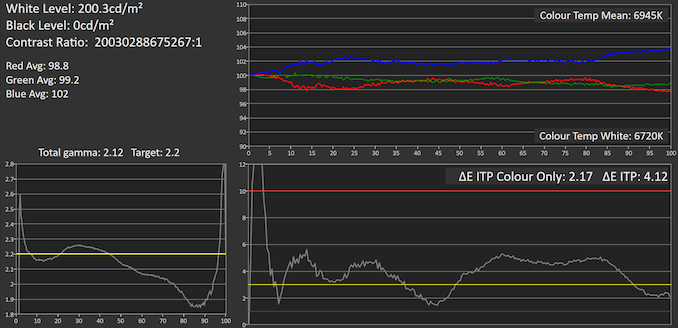 Portrait Displays CalMAN
LG Velvet
The LG Velvet's greyscale results also have issues with the gamma tracking, but this time around it's on the upper levels where it's showcasing too low gamma, resulting in tones being brighter than they should be. The Natural colour profile here is also more noticeably cooler, with an average colour temperature of 6945K. It's possible to fine-tune the colour temperature in the custom settings to alleviate this if it's a bother.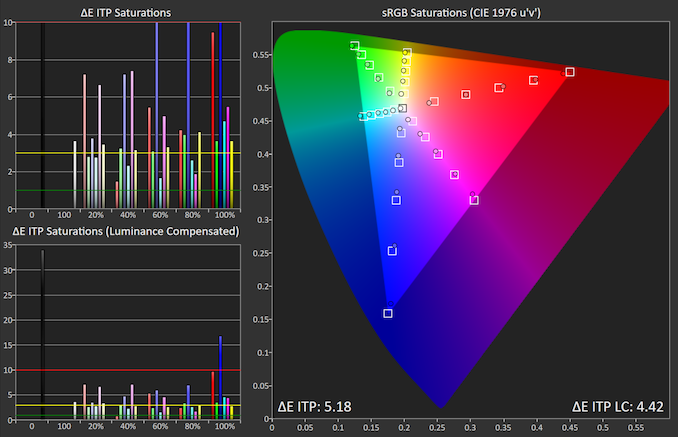 Portrait Displays CalMAN
In the saturations against an sRGB gamut, we see the LG V60 fare quite well when it comes to just the colours themselves. The phone's biggest issue here is the aforementioned handling of the gamma, resulting in the tones being far too dark.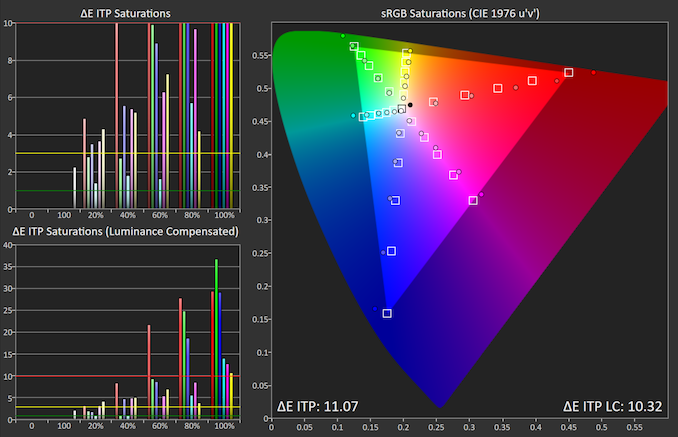 Portrait Displays CalMAN
On the Velvet, as the phone doesn't actually have a native accurate sRGB mode, it means that all the targets here are way off mark as the "Natural" gamut doesn't correspond to any particular colour space. This also isn't a P3 target as the blue hue is significantly different in hue – I don't know precisely what LG is targeting here if they're even targeting any standard at all.
In the GMB test with common test tones and colours, the V60 falls flat on its face as the results are outright disastrous. This isn't too much of a surprise as LG has a long history of making a complete mess of their display colour calibrations in their phones, and the V60 is unfortunately just a continuation of that tradition.
The Velvet, oddly enough, actually fares quite well in the GMB test even though it really shouldn't be given its non-sRGB gamut. The biggest noticeable difference in the comparison palette is that many of the patches are brighter than they should be, which again points out to the lower than should-be gamut calibration.
Overall, both phones are very clearly LG phones and their colour calibrations are amongst the worst in the market right now. The V60 in particular has just atrocious results given that this was supposed to be an accurate "Web" profile targeting the sRGB space. It's really unfortunate what the company did here, but after so many years of seeing repeated disaster after disaster, I've just come to accept that LG phones simply won't ever have accurate colours, as sad as that sounds.