Device Features and Characteristics
Sabrent packs its drives into metal cases, delivering the look and feel of a premium product. Inside the box, we have the main SSD and a box containing the cables - a USB 3.2 Gen 2 Type-C to Type-A one, and a Thunderbolt 3 Type-C to Type-C one. A note with directions to change the caching policy for the drive is also included, as shown in the picture below.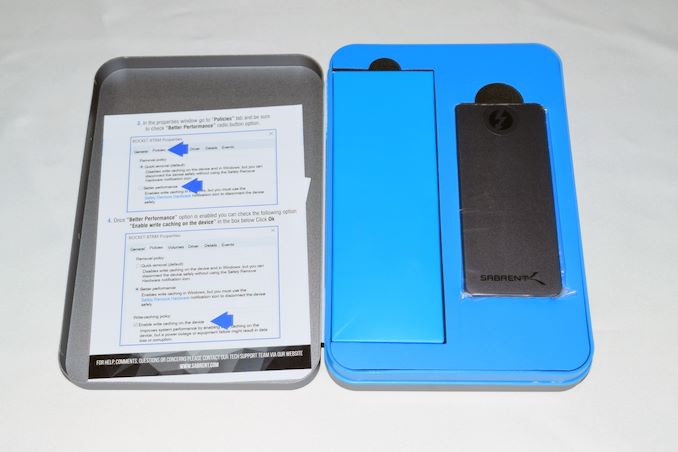 The write-caching policy problem is an issue for all Thunderbolt 3 SSDs in the market, and is not restricted to the Sabrent Rocket XTRM-Q. Despite the provided directions, we evaluate all SSDs (including our DIY Thunderbolt 3 SSD using the TEKQ Rapide enclosure and the WD Black SN750) in the default state with write caching turned off - This ensures we are comparing apples to apples even when the units under consideration use different host interfaces.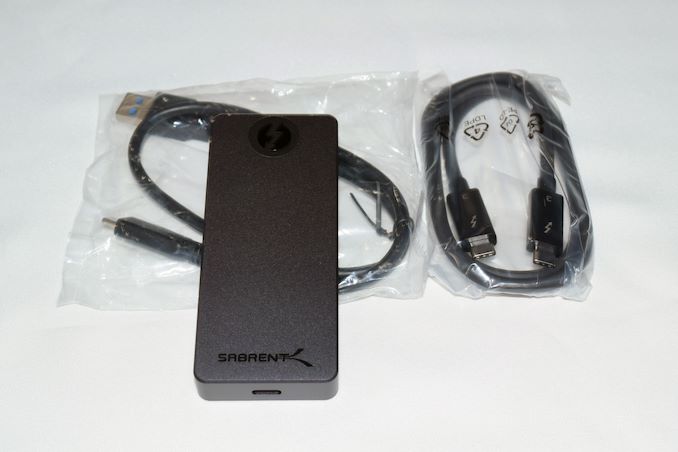 The Sabrent Rocket XTRM-Q is bundled with the longest Thunderbolt 3 cable (70cm) we have seen so far in any Thunderbolt 3 SSD. Sabrent also provides optional shockproof protection in the form of bumpers for the XTRM-Q. At less than 130g, the drives are light but the aluminum enclosure lends solidity.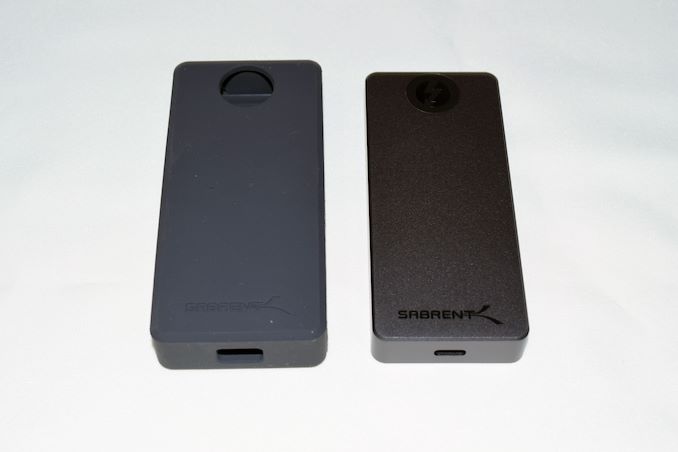 The table below compares the features and characteristics of the various SSDs dealt with in the review today.
Direct-Attached Storage Characteristics
Aspect
Upstream Port
USB 3.2 Gen 2 and Thunderbolt 3 Type-C
USB 3.2 Gen 2 Type-C
Bridge / Controller
Intel JHL7440 + Phison E12S-based Sabrent Rocket Q
ASMedia ASM2362 + Silicon Motion SM2263
Flash
Micron 96L 3D QLC
Micron 96L 3D QLC
Power
Bus Powered
Bus Powered
Physical Dimensions
190 mm x 132 mm x 17.53 mm
110 mm x 53 mm x 11.5 mm
IP Rating
N/A
N/A
Weight
129 grams (without cable)
101 grams (without cable)
Cable
~50cm USB 3.2 Gen 2 Type-C to Type-A
~70cm Thunderbolt 3 (Type-C to Type-C)
23 cm USB 3.2 Gen 1 Type-C to Type-C
Type-C to Type-A adaptor bundled
S.M.A.R.T Passthrough
Yes
Yes
UASP Support
Yes
Yes
TRIM Passthrough
Yes
Yes
Encryption Support
N/A
N/A
The Sabrent Rocket XTRM-Q is available in capacities ranging from 500GB (with a MSRP of $230) to 8TB (with a MSRP of $2000). This high capacity is achieves thanks to the use of Micron's 96L QLC NAND. QLC brings along a host of challenges related to endurance and slow write speeds. SSD vendors solve this by bringing in overprovisioning and SLC caching. Sabrent indicated that the XTRM-Q models come with around 9% over-provisioning out of the box. SLC cache size varies based on the drive capacity, and that is one of the aspects we evaluate further down in this review.