Ordering Impressions
Maingear's website comes up immediately from a web search (searching for "Maingear"); thumbs up there. Their current Reseller Rating is 9.58 for the last six months and 9.81 lifetime, which is fantastic… but it's only for a small number of reviews (28 total). As has been mentioned before, many factors must be taken into consideration besides the raw score, but often the customer feedback is useful to read through. Several of the reviews that had problems with their machines raved that Maingear went above and beyond to correct them, and had great phone support besides. Maingear's forums are referenced often by owners and those researching a Maingear purchase, and there are several involved community members as well as staffers that posted recently. They even posted pictures of a recent office renovation, two of which we snagged below - it's always interesting to see the company behind the website.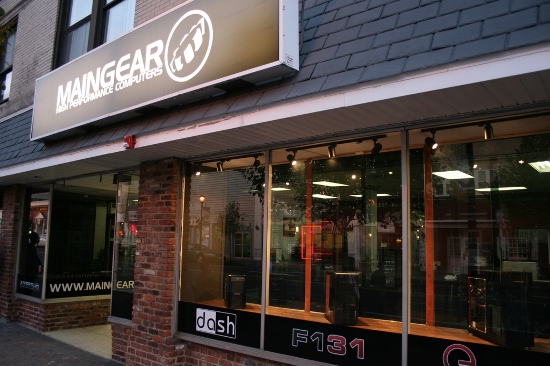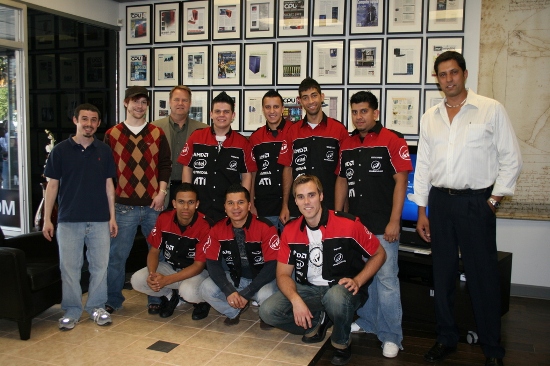 Maingear's website is clean and uncluttered. Their product offering is also straightforward: Four gaming systems (Dash, Prelude, F131, and Ephex), an HD media center (Axess), and three workstations (Endurance RT, Endurance Pro, and Dash WS).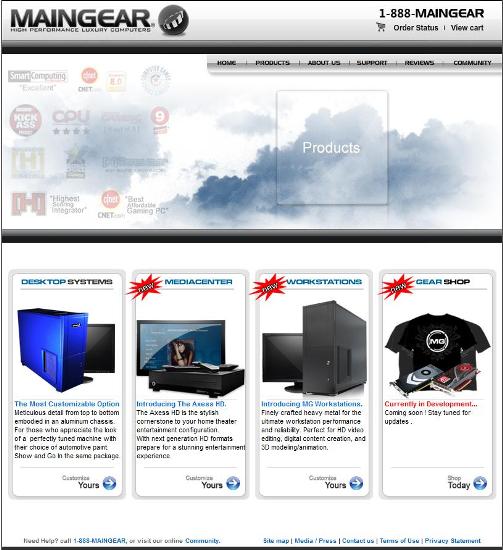 We did notice just a few oddities with the website: The Dash comes standard with a 9-month warranty, and the F131 with a 14-month warranty, but elsewhere Maingear states that "every" system comes with a 1-year warranty minimum. "About our Paint Jobs" returned an Under Construction page, and Customer Testimonials returned an error. However, most of the website was current and easy to navigate.
The F131 starts at just under $1800. A custom paint color will add $299 to that, unless you also want flames, which will weigh in at a whopping $999. The case used is the Silverstone Temjin TJ10, large enough to accommodate just about any system configuration while remaining a one-man lift. Most of the other options are sparse but well chosen; however, we'd like to see a few more choices for speakers (there's only "None" or a 2.1 system for $400), keyboards, and mice to facilitate one-stop shopping without being locked into a single choice.
Extras include T-shirts (which came in our box) and overclocking of both the CPU and GPU, which Maingear calls "Redlining". This is available at no extra charge and truly adds value. As mentioned before, a 1-year warranty is standard, with a 3-year warranty available for an extra $200 ($380 for onsite). In this area they fall a bit behind some other companies that offer 3-year warranties standard. However, their webpage on Assembly we really like - all systems are hand-built by one assembler, who is also the support person should your system encounter problems, and every system has a 72-hour burn-in period.
Their telephone support number was very easy to find front and center on the Support page, which we appreciate. It's not 24/7 but has reasonable hours Mon-Fri. and Saturday. Estimating shipping charges requires creating a full account, which we loathe - please allow customers to see the real shipping charges up front. FedEx Home Delivery was about $50, which is reasonable for a system this size.
A brief list of Pros and Cons regarding the website layout and content is as follows:
Pros
Website easy to find

Simplistic and clean layout

Solid component choices

Prominent support information

"Free" overclocking, including GPU

Fair shipping rates
Cons
Lack of choices on input devices and speakers

Estimating shipping requires creation of a full account