Introduction
Digital Storm was a new name to us when they first called to offer a gaming system for review. They carry a number of different systems, and pride themselves on "performance, support, and value". Today we're looking at a no-holds-barred, top of the line system: an overclocked Core i7-965 with water-cooling and triple-SLI NVIDIA GeForce GTX 285 GPUs. First, we'll look at the company, the website and ordering process, and the system and components; then we'll jump into our performance review of the Core i7-965 system.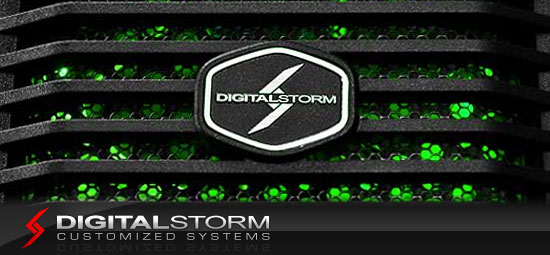 Digital Storm - Overview
We didn't know much about Digital Storm's history, so we asked them for a brief PR blurb, excerpted in part below.
Digital Storm was founded in San Jose, CA in 2001 and has been in the computer gaming industry for nearly 9 years. In that time we have come to be regarded as a system integrator that builds bleeding-edge: fast, stable, and highly customized gaming systems backed up with a passionate staff that stands behind their product. We are also the only computer gaming company with an "A+" rating from the BBB. This rating reflects our company's dedication to taking care of our customers. Our company has adopted a simple theory: put yourself in the customers shoes. Every decision we make reflects this anthem.
Also, as previously stated, their "About Us" page claims they operate by providing performance, support, and value. We'll look at each claim in turn and examine how they rate.