ION: TNG Lives Long and Prospers
And that pretty much wraps up all we know about Next Generation ION. It will do everything that current ION platforms can do, only better. It will support Pine Trail, it will be 50-100% faster, and on netbooks Optimus will dynamically switch the GPU on/off as needed. Given the alternative between spending around $25 on a Broadcom HD chip compared to $50 to add an NVIDIA ION chip, NVIDIA obviously hopes netbook manufacturers will see enough added value to skip the Broadcom HD and go for NG-ION. If you're not happy with Pine Trail, we have to agree with NVIDIA on this one. Flash 10.1 support has been much better on NVIDIA GPUs than on the competition (though the 10.1 Beta 3 adds Crystal HD support), there are a few potentially useful CUDA apps, and light gaming support is an added bonus.
Casual games like Spore, Monkey Island, and World of WarCraft should all run reasonably well […and a little birdie told us StarCraft 2 runs acceptably as well!], but any game that stresses the CPU is going to cause problems. That's no surprise, since Pineview is virtually the same performance as Diamondville; it just uses less power. Hard drive performance has also been a sore spot on Atom, from a combination of the low-end CPU and RAM specs and the use of bottom-of-the-barrel hard drives. We'll have to wait for test hardware to see if things have improved much in respect to storage performance.
NVIDIA continues to promote CUDA applications like Badaboom and vReveal, along with multimedia support headlined by Flash 10.1. If you happen to be a YouTube junky, full screen Flash videos will no longer be a problem on an ION netbook. Besides Flash videos, NVIDIA has worked quite a bit with Boxee to provide a nice multimedia library setup that will run great on ION. NVIDIA also hinted that "something big" was in the works that would make it "foolish to not have a GPU" in your next netbook/laptop, but as usual they couldn't give us specifics right now. Marketing bluster or a real killer app? Hopefully we'll know by the end of the year.
We expect NG-ION netbooks and nettops to start showing up later this month, with prices similar to what we saw with the previous ION solutions. NVIDIA says we'll see 30 or more NG-ION designs by summer 2010. Two of the first netbooks with NG-ION scheduled for release are the Acer Aspire One 532G and the ASUS 1201PN. The 532G is also the first 10.1" ION, with a 1366x768 LCD to make HD videos (and general Windows use) more palatable. We really hope all ION-based netbooks follow suit and use a 1366x768 LCD as a minimum. The 1201PN is the next iteration of the 1201N, so we expect it to use an Atom D510 with ION—and hopefully eke out a bit more battery life, though the D510 will make that difficult as it lacks SpeedStep support. On the nettop side, we should see the Acer Aspire Revo, ASUS EeeBox, and Zotac ZBOX in the near future. There are also all-in-one designs coming with the ASUS EeeTop 2010PNT, Compaq CQ1, and Lenovo C200.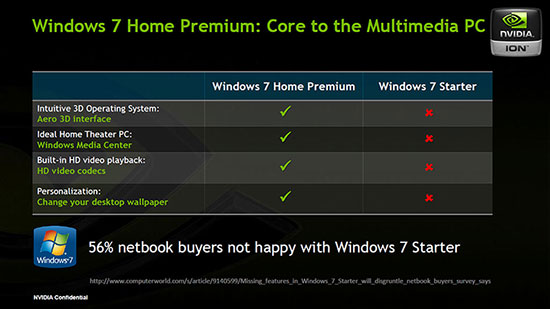 When looking at pricing, something else to keep in mind is Windows 7 Starter vs. Home Premium. We don't particularly care for Starter; it's not horrible, but the Aero UI and other personalization options (i.e. wallpaper) are definitely missed. ION netbooks should include Home Premium instead of Starter, so there's definitely added value in ION beyond the GPU. If you're looking at a $300 Pine Trail netbook with Win7 Starter versus a $400 NG-ION with Win7 Home Premium, we'd recommend the latter—especially if it comes with 2GB RAM instead of the meager 1GB found on most sub-$350 netbooks.
After the Optimus announcement, we could have pretty much guessed what Next Generation ION would entail, but that doesn't make the hardware any less impressive. ION has always been a far superior multimedia solution than regular Atom-based netbooks/nettops, and the new version keeps all of the good features, boosts performance, and adds seamless switching between IGP and GPU as needed. That means better battery life when running common applications, and improved features and performance when you need it. Atom-based systems are still going to feel slow for a lot of tasks, and while CULV laptops are competitive they're also a sizable jump in cost; until we can get CULV with Optimus graphics for under $500 there's a clear market for Next Generation ION.