The 4GB of memory and quad-threaded Intel Core i5 430M processor may be on the high end of bog standard for modern notebooks, but remember that it's still a lot of power for a sub-$800 machine, especially when you factor in the Mobility Radeon HD 5650. A refresh of the configuration of our review unit:
Acer Aspire 5740G-6979 Testbed

Processor
Intel Core i5 430M
(2x2.26GHz, 32nm, 3MB L3, Turbo to 2.53GHz, 35W)
Memory
2x2GB DDR3-1066 (Max 2x4GB)
Graphics
ATI Mobility Radeon HD 5650 1GB GDDR3
(400 SPs, 550/1.5GHz Core/RAM clocks)
Display
15.6" LED Glossy 16:9 768p (1366x768)
Hard Drive(s)
500GB 5400RPM HDD
Optical Drive
8x DVDR SuperMulti
Battery
6-Cell, 12V, 46Wh battery
"Up to 3 Hours"
Operating System
Windows 7 Home Premium 64-bit
Pricing
$748 Online
$799 from NewEgg
While synthetics aren't ideal for gaming performance, for basic computing performance they can still be helpful. We tested the Aspire 5740 in PCMark05 and PCMark Vantage to see how it stacked up to some of the other units we've reviewed. Pay particular attention to the ASUS N61Jv and the Alienware M11x, which are two of the closest competitors in terms of providing reasonable gaming performance for under $1000. We've highlighted their results in the performance benchmarks for ease of comparison.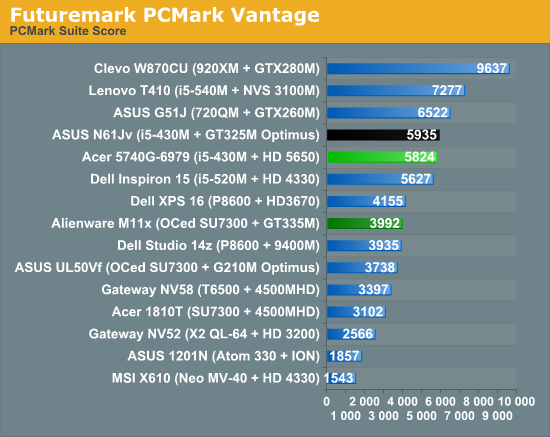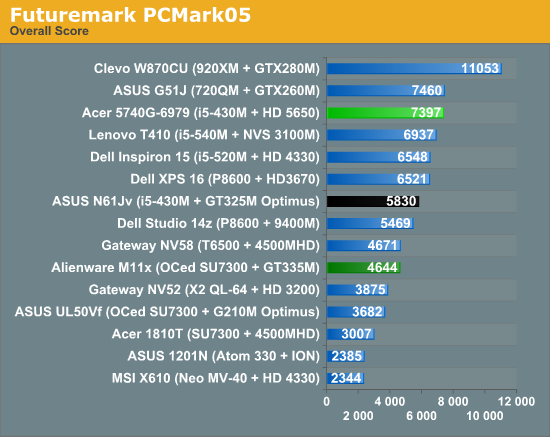 What's interesting to note here is the way the HD 5650 helps the Aspire score substantially higher than the Inspiron 15, a unit equipped with the next fastest processor from Intel. You can also see how much faster Core i5 is relative to Core 2 Duo and overclocked CULV (i.e. the M11x)—around 50% higher performance in PCMark. Another interesting point of reference is the ASUS G51J with a quad-core i7-720QM CPU; despite a default clock speed of just 1.6GHz, Turbo Mode is in full effect and the 720QM stays ahead of the Core i5 competition.
Rounding out our processor performance metrics are Futuremark's Peacekeeper browser benchmark, Cinebench 10, and an x264 encoding routine.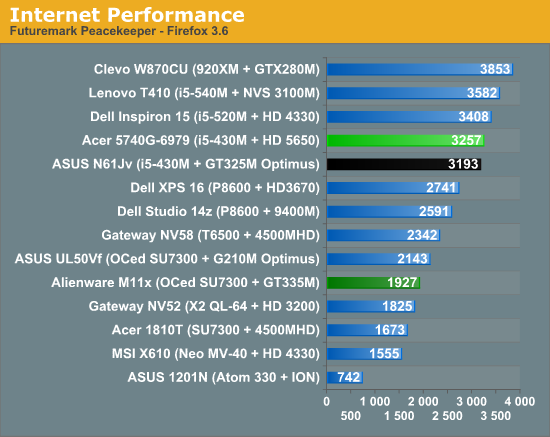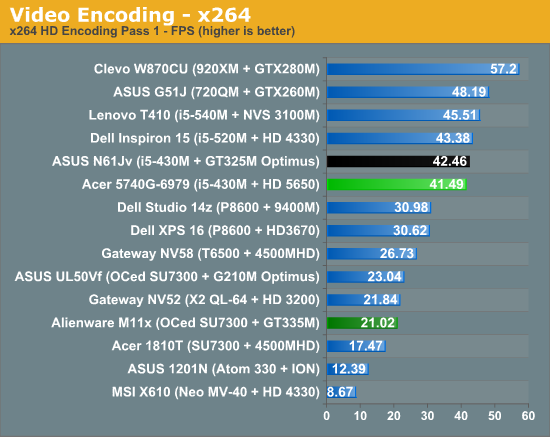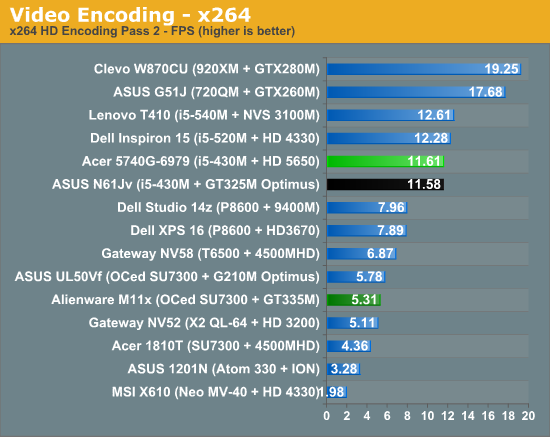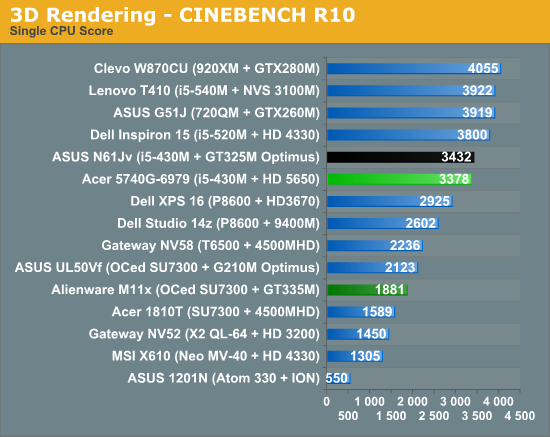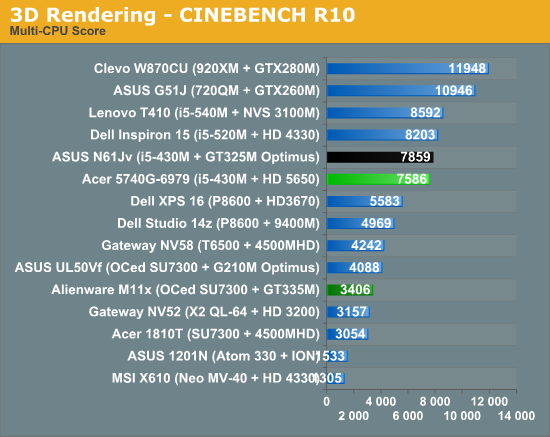 In each case, the Core i5 430M is hot on the heels of the slightly faster i5 520M in the Dell Inspiron 15, trailing by around 5%. The exception is Cinebench where performance is markedly lower. It's possible that the 300MHz gulf between the top turbo speeds of these two chips is manifesting here. Either way, the single-CPU test is 12% slower and the multi-core test is 8% slower. As seen in PCMark, an i7-720QM maintains a comfortable lead over the i5 CPUs as well with its more aggressive Turbo Modes. Only the i5-540M is able to keep up with the 720QM in the single-CPU Cinebench result, while the multithreaded score is substantially higher.