Overclocking
Sandy Bridge brought the motherboard's clock generator onto the 6-series chipset die. In doing so, Intel also locked its operation to 100MHz. While there was a bit of wiggle room, when combined with a locked processor, Intel effectively killed overclocking with most lower end Sandy Bridge chips.
For its more expensive CPUs, Intel offered either partially or fully unlocked (K-series) CPUs. The bus clock was still fixed at 100MHz, but you could overclock your processor by increasing its clock multiplier just like you could in the early days of overclocking.
With Sandy Bridge E, overclocking changes a bit. The clock generator is still mostly impervious to significant bus clock changes, however you're now able to send a multiple of its frequency to the CPU if you so desire. The options available are 100MHz, 125MHz, 166MHz and 250MHz.
Once again, wiggle room at any of these frequencies is limited so don't think we've moved back to the days of bus overclocking. You do get a little more flexibility, particularly with partially unlocked CPUs, but otherwise SNB-E overclocking is hardly any different from its predecessor.
Note that even if you select any of these options, the rest of the system still operates within spec. The multiplied bus clock is only fed to the CPU.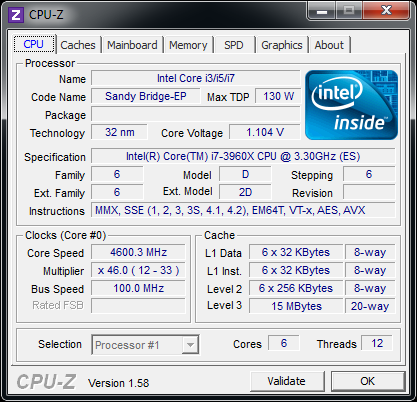 With a bit of effort I had no problems hitting 4.6GHz on my Core i7 3960X review sample. I had to increase core voltage from 1.104V to 1.44V, but the system was stable. While I could get into Windows at 4.8GHz and run a few benchmarks, the system wasn't completely stable.
No Cooler Included
None of the retail or OEM SNB-E parts include an Intel cooler in the bundle, a significant departure from previous CPUs. Presumably the cost of bundling a beefy cooler with these parts would've driven prices higher than Intel would've liked (remember you are getting a much larger die for roughly the same price as the outgoing Core i7 990X). Intel can also rationalize its decision against including any sort of cooler in the retail box by looking at the fact that many enthusiasts at this level opt for aftermarket cooling regardless.
Intel hasn't completely left SNB-E cooling up to 3rd party vendors however. There are two official Intel coolers available for use with SNB-E. The first is a < $20 heatsink that looks a lot like Intel's current coolers but with a couple of modifications (clear fan/shroud, retention screws instead of pegs). Intel states that this cooler is designed for operation within spec, meaning it could possibly limit overclocking attempts.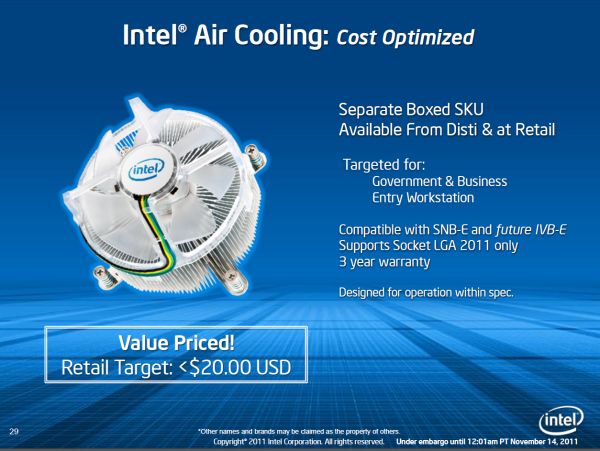 If you want an Intel branded overclocking solution, there's the RTS2011LC: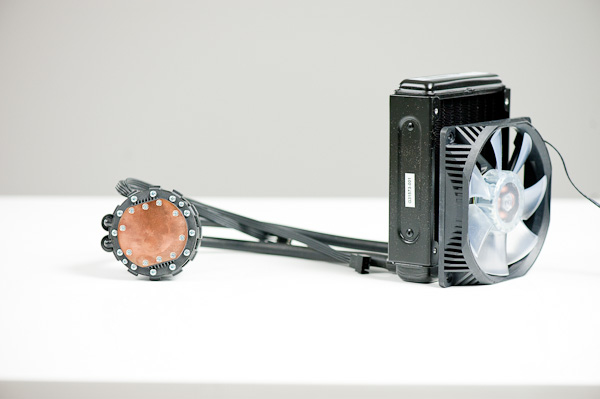 This is a closed loop liquid cooling solution similar to what AMD introduced alongside its Bulldozer CPU and similar to what many 3rd party cooling companies already offer. Intel expects its liquid cooling solution to be priced somewhere in the $85 - $100 range.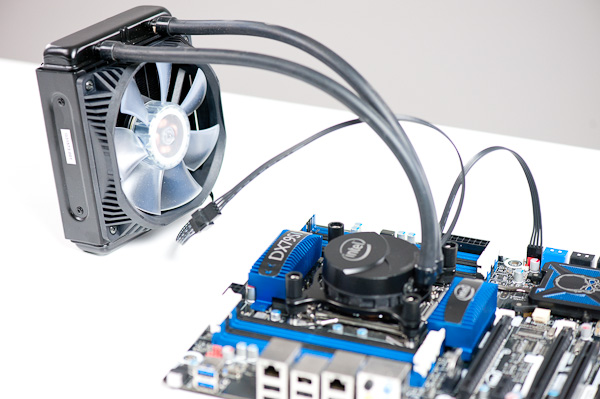 These closed loop liquid coolers are great primarily for getting away from the tower-of-metal heatsinks that have grown in popularity over the past several years. The radiator is a too small to compete with more traditional water cooling systems, but it can be a good gateway drug for the risk averse.