X99 at $300
When it comes to mid-range X99 motherboards, no single one from the $270-$350 range stands out as being completely awesome or stirring the functionality vs. price balance. There are plenty to choose from all manufacturers, and given that X99 self-builders will most likely already have experience with some motherboard manufacturers, chances are they will stick with the same having had a good experience or choose someone else because of a bad experience. For our guide, while we have not reviewed the following, we're taking a look at the two motherboards closest to that mark.
ASRock X99 Extreme6 AC, $300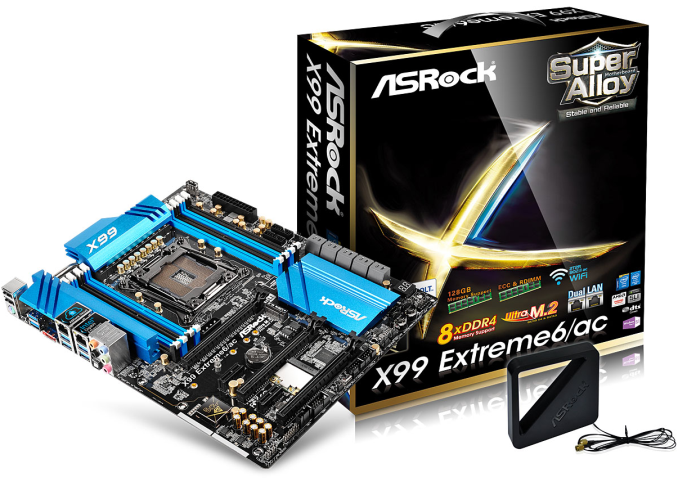 The ASRock X99 Extreme6/AC aims right in the middle of the stack, giving three-way GPU support and the base number of SATA ports. Above the base features, ASRock would seem to have built a motherboard for networking, giving this a dual network port arrangement along with 2T2R 802.11ac WiFi. These go along with ASRock's Super Alloy branding, giving server class power delivery and XXL heatsinks. Audio is also via ASRock's Purity Sound 2, an improved ALC1150 regimen.
GIGABYTE X99-UD5 WiFi, $297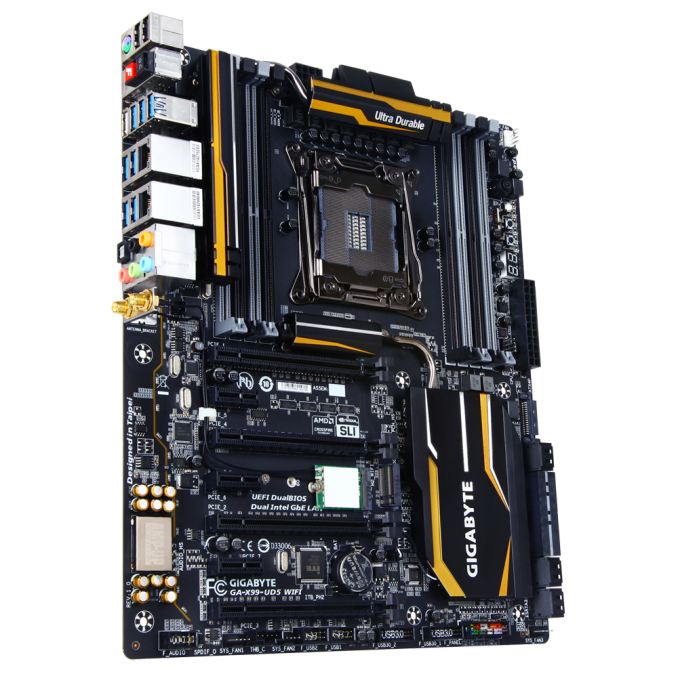 The GIGABYTE X99-UD5 WiFi comes across as very similar, offering similar network connectivity via dual network ports and M.2 based 802.11ac WiFi, however the main difference is the four-way GPU support in exchange for ever-so-slightly smaller heatsinks. While GIGABYTE's BIOS for X99 is still relatively unfocused, their software follows a scrollable application based list allowing for easy updates and additions. The UD5 also comes with a quick overclock button on the rear panel for an easy performance boost.