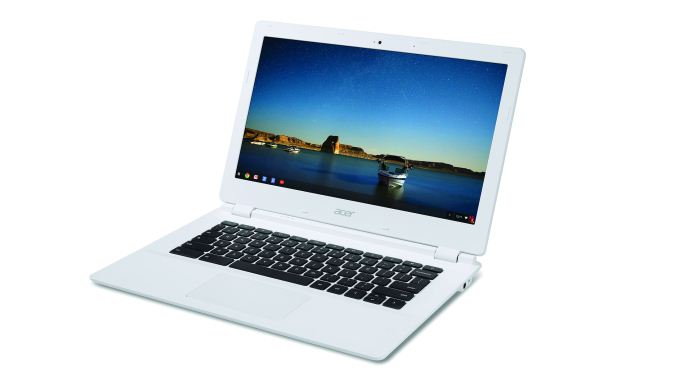 Meet Acer's Chromebook 13
The Google Chromebook has a rather interesting history, starting as an always connected device with all your data stored in the cloud and slowly but steadily transforming into a platform that can function as a full laptop replacement. That's not to say that everything you might want to do on a modern laptop is possible, but if it can do 95% of what most users need that could very well be enough, and there are clear benefits to Chrome OS as well.
Perhaps the strongest point in favor of Chrome OS is that it is a closed ecosystem. Unless you enable developer features, you're effectively locked in to a collection of curated apps, all available through the Chrome Web Store. That being the case, viruses and other malware are pretty much a non-issue, at least in my experience, which removes a potentially huge support headache for users and administrators.
Along with the curated ecosystem, you also store most of your files in the cloud on Google's various services (or in another cloud, e.g. Microsoft's OneDrive), which means if something really goes south on a Chromebook – i.e. if the hardware malfunctions and can't be fixed, or if your Chromebook is stolen – all you need to do is get a replacement Chromebook, log in, and outside of files you may have stored locally you can pick up right where you left off. It's a benefit that can be extremely useful in a variety of other situations as well, like school classrooms where students don't need a personal Chromebook, or offices where Chromebooks can be shared with no real concern for ownership.
Of course storing files in the cloud is something you can do with any laptop or other electronic device, but Chromebooks are basically purpose built for this sort of use. And there are other great benefits as well, like generally improved battery life relative to similarly equipped Windows laptops, a more responsive user interface given the limited hardware resources, and of course cost. That last point is a bit less of a clear win over Windows laptops these days, as Windows 8.1 with Bing has been able to effectively match the price point of Chromebooks.
Brett recently took a look at the HP Stream 11 for example, which costs $199 (and occasionally less); it's definitely a $200 laptop, though, with compromises in many key areas. So let's look at the Acer Chromebook 13 specifications, and we're primarily going to be interested in seeing how it stacks up against other Chromebooks as well as inexpensive Windows laptops.
Acer Chromebook 13 Specifications
Processor
NVIDIA Tegra K1
Quad-core Cortex A15 2.1GHz
192 CUDA core GPU)
Connectivity
1x1 dual-band 802.11ac
Bluetooth 4.0
Memory
2GB DDR3L
Storage
16GB eMMC
Battery
4-cell 15.2V 3220mAh 48Wh
I/O
2 x USB 3.0
HD webcam
HDMI
headphone/mic jack
SD Card reader
Dimensions
12.9" x 9.0" x 0.71" / 328 x 229 x 18 mm
Display
13.3-inch TN 1920x1080
Weight
3.31 lbs. / 1505g
Price
$300 MSRP, $250 Online
The big differentiator with Acer's Chromebook 13 compared to other options is the use of NVIDIA's Tegra K1 SoC. It's a pretty potent SoC in the tablet world, with NVIDIA's SHIELD still placing near the top of most benchmark charts. But when we switch over to the world of laptops and Chromebooks, TK1 has a very different set of competitors. Intel's Bay Trail chips are around, sure, but along with a few ARM-based SoCs there's also one rather interesting competitor: Intel's Haswell-based Celeron 2955U. That's actually the chip used in Acer's previous Chromebook, the C720 variants, and while it's the lowest end Haswell chip Intel makes, as we'll see later it can still pack a punch.
So why would Acer switch from the Celeron 2955U to the TK1? Simply put, performance isn't the only important element with a Chromebook. Battery life is certainly another factor, and while the 2955U isn't necessarily a power hungry chip, the TK1 definitely wins out in pure power use and thermals. That means two things: better battery life, and possibly more importantly is that the Chromebook 13 is entirely fanless. Cost is likely another contributing factor, and while the C720 sold well, it has now been replaced by an updated 11.6" Chromebook with Intel's Celeron N2830/N2840 Bay Trail SoC.
Here's where things get a bit interesting. There are quite a few variants of the Chromebook 13. The lowest end model comes with 2GB RAM and a 1366x768 resolution LCD at $229; there's a model with the same LCD but 4GB RAM but it's too expensive. The option we're reviewing costs $20 more and upgrades the display to a 1920x1080 LCD while staying with 2GB RAM, or if you want both the LCD upgrade and 4GB RAM upgrade plus 32GB of storage, the price ends up being $289 (marked down $91 from MSRP now). The version we received use to be the most sensible option, and at $249 it's not a bad deal, but $40 to double your RAM and storage is certainly a reasonable price.
We'd also be remiss at this stage to not point out the updates that have been made to Acer's Chromebook line in the past month. Acer has now announced the Chromebook 15 along with the C740 and C910 education models. All of those feature Intel's new Broadwell-U processors, so they should be even faster than the C720, and the Chromebook 15 is available with a 1080p IPS display