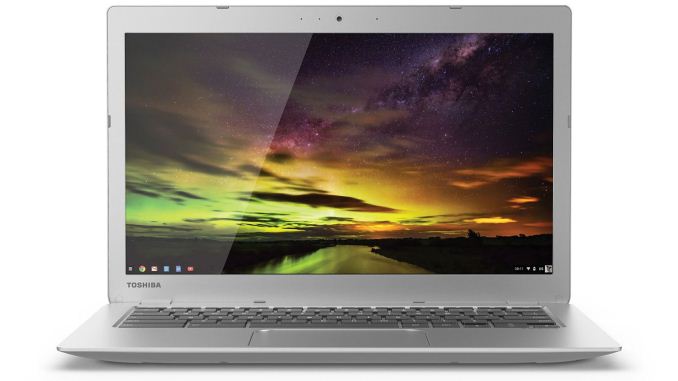 Toshiba Chromebook 2 with 1080p IPS
We often complain about the effects of the race to the bottom – the race to the lowest possible price, regardless of what effect that has on overall quality. For more than a decade we've seen very little in the way improvements in display quality on laptops, with the primary change being the switch from CCFL backlighting to LEDs. In fact, it really wasn't until the tablet market exploded that we started to see true improvements in laptop displays – or if you prefer, it was roughly around the time that Apple first released their MacBook Pro Retina.
Whatever you want to attribute the change to, there has been an increase in demand for good quality laptop displays, and that in turn has driven down the prices on such displays. Huzzah! We're still a long way from putting TN panels behind us, but it's now possible to find good displays in a laptop at price points well below $1000, which is great news. And it's something that needs to continue to happen, as tablets are pretty much a guarantee that you're going to get something better than a TN panel with a 250:1 contrast ratio; with tablet performance creeping ever closer to that of budget laptops, you can definitely make the argument for just getting a tablet with a keyboard...but that's still a tablet with a keyboard rather than a laptop.
Chromebooks basically target that niche where there's a desire for a true laptop experience, though obviously with some other qualifications. We've covered these before, but the biggest is that users need to be willing to leave behind the world of Windows and move to a new OS, but again with the proliferation of tablets, smartphones, Apple's OS X devices, and a greater reliance on Internet and cloud-based services, people in general have become far less attached to their OS. Along with that, you need applications to perform everyday functions, with the Google Chrome App Store filling that role.
Chrome OS and the Chrome App Store also gives users the walled garden experience, ensuring that you won't become a victim of the latest viruses and malware. It's true that you can get a lot of that with iOS and Android, but Windows users at least have generally rejected that approach. And the Windows software developers are opposed to having a fully curated app store as well – look no further than Valve and their Steam OS initiative to see an example of this. For better or worse, Windows has a legacy of openness, and as the largest share of installed PCs it's not something easily changed. At the same time, a lot of money ends up being poured into antivirus and antimalware tools, not to mention the support costs, so many are looking for an alternative. They're saying, "Let Windows be Windows, but give me something easy to use and maintain." For Google, Chrome OS is that something else.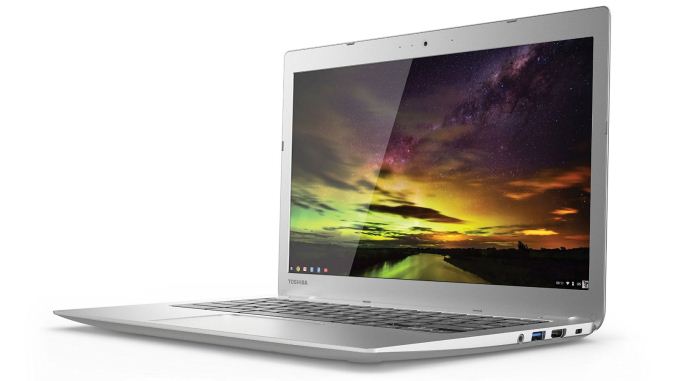 Getting to the Toshiba Chromebook 2, let's hit the spec sheet before we go any further. It's important to note that there are actually three models of the Toshiba Chromebook 2 available, and when we say "Toshiba Chromebook 2" throughout this review we're specifically referring to the model with the 1080p IPS display that we're testing, also called the Toshiba Chromebook CB35-B3340. The Toshiba CB35-A3120 is actually the original Toshiba 13" Chromebook and sports a 1366x768 TN display with a Celeron 2955U, while the CB35-B3330 is the same as the model we're reviewing but with a 1366x768 TN display and 2GB RAM.
Toshiba Chromebook 2 CB35-B3340 Specifications
Processor
Intel Celeron N2840
Dual-core 2.16-2.58GHz
HD Graphics 4 EU GPU
Connectivity
2x2 dual-band 802.11ac (Intel 7260NGW)
Bluetooth 4.0 (Intel 7260NGW)
Memory
4GB DDR3L
Storage
16GB eMMC
Battery
3-cell ~10.8V, 3860mAh, 44Wh
I/O
1 x USB 3.0
1 x USB 2.0
HD webcam
Dual array microphone
HDMI
Headphone/mic jack
SD Card reader
Dimensions
12.6" x 8.4" x 0.76" / 320 x 213 x 19.3 mm
Display
13.3-inch IPS 1920x1080
Weight
2.95 lbs. / 1340g
Price
$330 MSRP, $329 Online
Besides the inclusion of a great display – more on that in a moment – the remaining specs are pretty typical of Chromebooks. The processor of choice this time is Intel's Celeron N2840, a dual-core Bay Trail chip running at 2.16-2.58GHz. The GPU portion of the chip is based on Intel's HD Graphics architecture, the same architecture in Ivy Bridge and Haswell processors, but with only 4 EUs active. By comparison, the Celeron 2955U has 10 EUs, and they're clocked higher as well, making the 2955U graphics potentially 2.5-3X faster. Whether or not that ends up being important is something we'll discuss in our benchmark section.
Other features include two USB ports – one 2.0 and one 3.0 – an SD card reader, and a full size HDMI port. You also get 4GB of DDR3 memory (non-upgradeable) and 16GB of eMMC storage (plus 100GB of Google Drive storage for two years). The battery is a 3-cell 44Wh model rated for up to nine hours of battery life, which is good though not class leading. Compared to Windows laptops, some of the specs might seem a bit limited, but we're talking about a $329 laptop with a good display, which is something you can't currently find in the Windows laptop space. (Windows tablets however….)