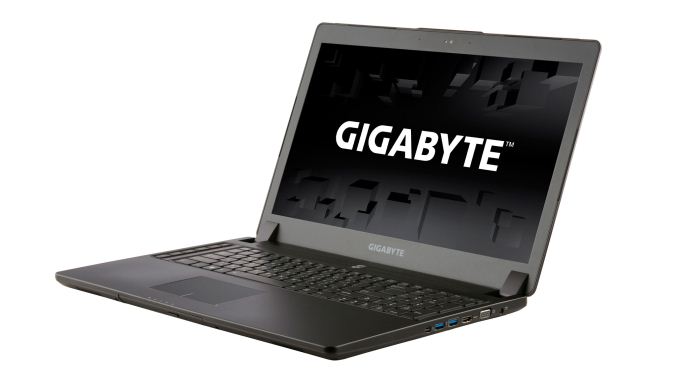 Gigabyte has an interesting line of gaming notebooks these days, including their own brand of P-series laptops as well as the AORUS brand. We're in the process of reviewing the P35X v3, which packs a GTX 980M into a 0.82" thick 15.6" chassis, and now Gigabyte sends word that they have officially launched the big brother P37X with a 17.3" chassis in the North American market. It's actually slightly thicker than the P35X, and the design language is very similar as well. That's either good or bad depending on what you're looking for in a gaming notebook.
On the one hand it's generally slimmer (0.9") and lighter (6.17 lbs.) than competing notebooks from Alienware, ASUS, Clevo, and MSI; however, keeping things cool in a thinner chassis generally means either more noise from the fans, higher temperatures, or both. It's also either a conservative and subdued looking design, or it's boring – I tend to like less bling on my laptops, but others are happier with multi-colored keyboard backlighting and a more aggressive industrial design.
In terms of features, all the core elements are essentially the same as the 15.6" model, but the keyboard adds a column of six dedicated macro keys. The top key switches between five banks of macros, so all told that gives you access to 25 macro sets. Besides the GTX 980M GPU, the system also supports Core i7 processors (Haswell series still), up to two 512GB mSATA drives in RAID 0, and two 2.5" drives are available as well. As with most other 17.3" laptops, the display remains a 1080p panel – there just aren't many other options yet, though we've heard 3K/4K may be coming later this year (hopefully?) for 17.3" panels. At least the display is anti-glare and wide viewing angle (IPS most likely, though AHVA is also a possibility)
Amazon and other retailers are carrying the Gigabyte P37X, and the base model comes with i7-4720HQ, GTX 980M 8GB, 8GB system RAM, and a 1TB HDD (no SSDs in the base model, though you can always add your own) for $1999. If you prefer a slightly upgraded build, the Gigabyte P37X-CF2 also has 8GB RAM and an i7-4720HQ, but it includes a 256GB mSATA SSD and a Blu-ray burner for $2499. So yeah, just buy the base model and pick up a pair of 512GB mSATA MX200 SSDs for $440 instead – and if you really want a Blu-ray burner, that can be arranged for the remaining $60. You'll probably want to upgrade the RAM as well, as 8GB is a bit chintzy on a high-end gaming rig these days.
Despite the odd pricing on the "upgraded" build, it's good to see additional gaming notebook options, and for those that prefer a more subdued aesthetic the Gigabyte line might be exactly what you're after. We'll have the full review of the P35W v3 in the next week or two, so stay tuned.
Source: Gigabyte