Hot Test Results
By the results presented in the following tables, the Rosewill Photon 1050W offers good power quality, especially considering the temperatures that the components reached inside our hotbox. The maximum ripple on the 12V line was 56mV under full load, a fair figure considering that this is a unit rated for operation at 40°C. The 3.3V/5V voltage lines fared better, with the maximum ripple being 22mV/24mV respectively. Voltage regulation is very good, at just 1.2% for the 12V line and about 1.6% for the minor lines.
Main Output
Load (Watts)
212.08 W
528.3 W
788.6 W
1047.54 W
Load (Percent)
20.2%
50.31%
75.1%
99.77%
Line
Amperes
Volts
Amperes
Volts
Amperes
Volts
Amperes
Volts
3.3 V
4.17
3.37
10.44
3.35
15.66
3.33
20.87
3.31
5 V
4.17
5.13
10.44
5.09
15.66
5.07
20.87
5.05
12 V
14.61
12.09
36.53
12.05
54.8
11.99
73.06
11.95
Line
Regulation
(20% to 100% load)
Voltage Ripple (mV)
20% Load
50% Load
75% Load
100% Load
CL1
12V
CL2
3.3V + 5V
3.3V
1.6%
8
12
18
22
12
26
5V
1.55%
10
16
22
24
16
26
12V
1.2%
20
32
44
56
54
20
Once again, we need to mention that this is a PSU rated at 40°C and we perform our testing at temperatures higher than 45°C - we could reduce the ambient temperature of our hotbox testing but we chose not to do so as the results would then not be comparable to those of our previous reviews.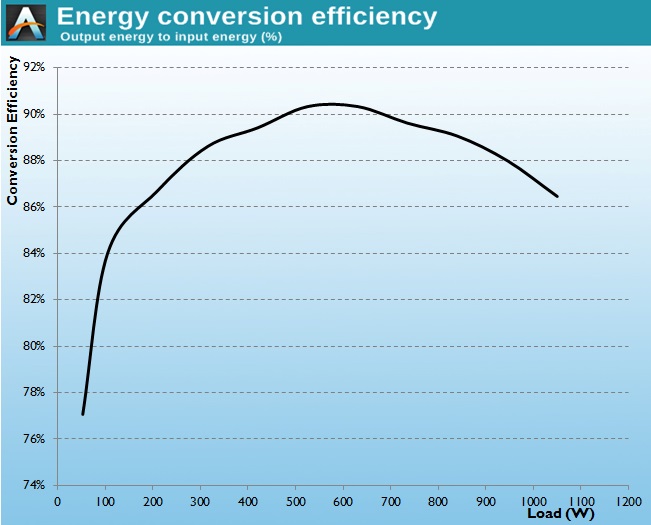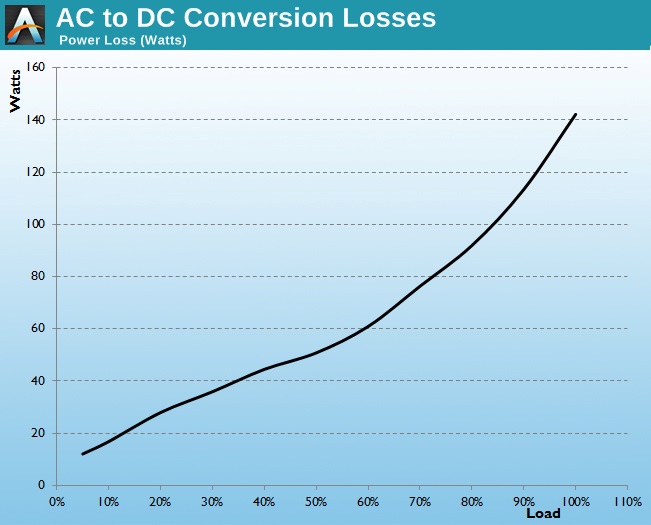 The high ambient temperatures have a significant impact on the electrical performance of the Photon 1050W, reducing its energy conversion efficiency by an average of 2%. The drop is higher as the load increases, reaching a massive 3.7% drop with a load of 1050W. Considering that the ambient temperature is almost 48°C at this point, these actually are overload conditions for the Photon, meaning that its capability to maintain good power quality and keep operating with such a load is a victory all by itself.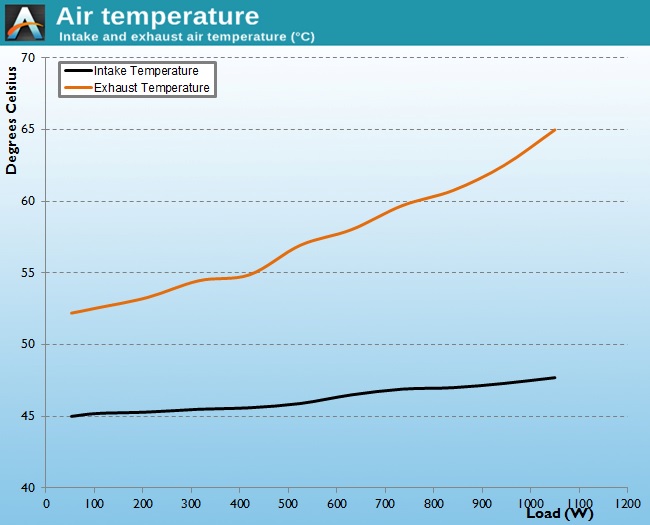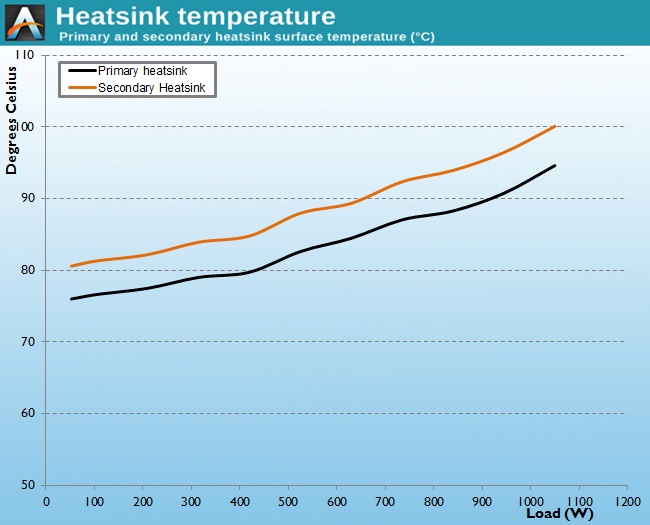 By looking at the internal temperatures of the Photon 1050W, one can easily realize who the culprit behind the dropping efficiency is. This is one of the hottest PSUs we have ever tested. With the temperature of the secondary side heatsink surpassing 100°C under maximum load and the primary side heatsink following closely, it is easy for anyone with basic electronics knowledge to deduct that the exceedingly high temperatures at the very least increase the resistance of the components. The cooling fan is now audible even at low loads, with its speed constantly increasing to keep up with the increasing energy losses. Even though it jumps at maximum speed when the load is about 900 Watts, it cannot stay ahead of the curve with the heavy energy losses.