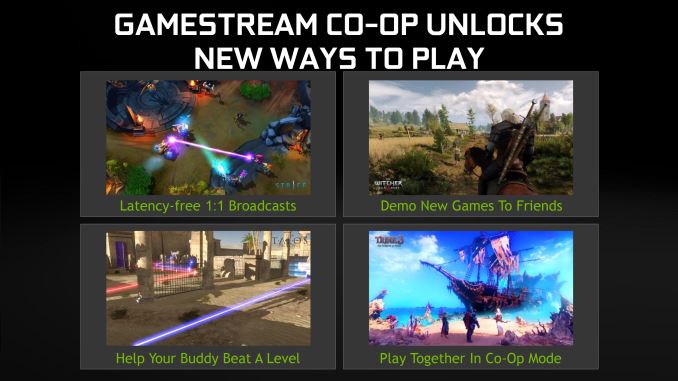 Alongside today's launch of the GeForce GTX 950, NVIDIA is also announcing a new streaming mode for GeForce Experience, the company's multi-feature game streaming and optimization tool. The new feature, dubbed GameStream Co-op, is a case where the feature does exactly what it says on the tin, allowing for players to engage in co-op gaming in supported games via GeForce Experience game streaming.
The feature, designed to allow another player to remotely join into a game, is from a technical level a fairly straightforward extension of NVIDIA's existing GameStream technology. Only rather than taking over primary control of a game via GameStream, the remote client is an additional controller or mirrored controller – a second, remote player. The ultimate idea here is that this makes games that have local co-op but lack network co-op playable over the internet, complete with integrated voice chat to better replicate the couch co-op experience, or it allows co-op with only a single copy of the game instead of copies on each end.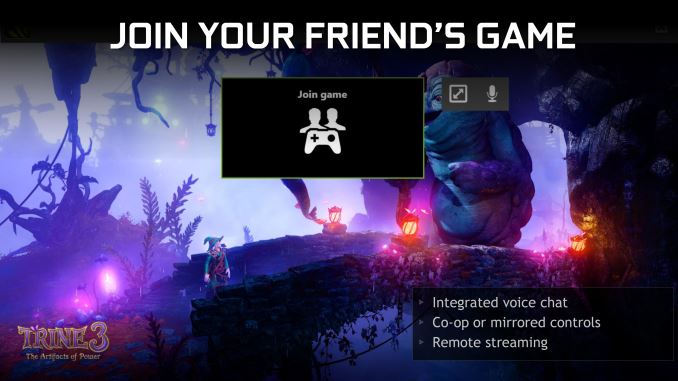 What is especially interesting though is that for the first time in a GameStream feature, the remote endpoint does not need to be an NVIDIA Shield device. Rather, via a new plugin for Google's Chrome browser, the endpoint can be any PC fast enough to decode the H.264 video stream and send back commands (officially NV specs the minimum as a Core i3-2100). Given the limited proliferation of Shield devices this makes GameStream co-op much more widely usable, as it would now be accessible from most Windows 7+ PCs.
From a usability standpoint GameStream Co-Op is going to incur the same kinds of latency penalties as straight-up GameStream, which is to say that it will depend on the game and internet connection. NVIDIA likes to promote GameStream as low-latency – and strictly speaking this is true for the NVENC video encoder – but NVIDIA doesn't control the rest of the network. Some games will handle this better than others, and playing with a friend in the same city will usually be a better experience than in the next country over.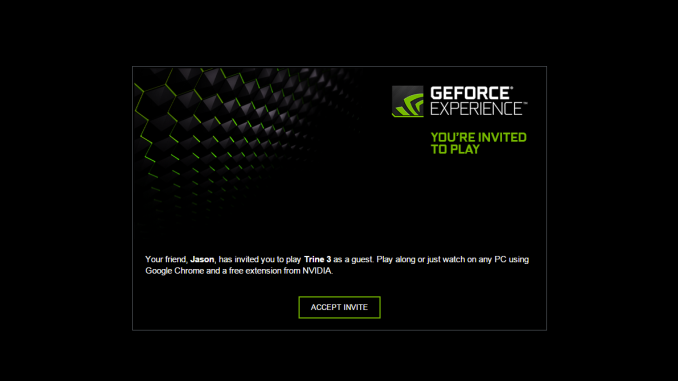 As for the host side, GameStream co-op will work with most devices that currently support GameStream. The one exception for now is that GameStream Co-Op is limited to desktops only, with laptop support coming at a future date (much like GameStream initially). NVIDIA is also recommending a relatively high 7Mbps upload for the feature, in-line with previous GameStream internet requirements.
Moving on, while GameStream Co-Op is being announced today alongside the GTX 950 launch, unlike the GTX 950 it is not available today. A beta will begin in September, with the feature coming out of beta at a later date, similar to previous NVIDIA GeForce Experience feature betas.
Finally, the fact that NVIDIA now allows a degree of GameStream support to non-Shield devices is an interesting development. The company has until now kept GameStream and Shield tied close together, declining requests to allow game streaming to other PCs. Though the announcement of GameStream co-op doesn't truly enable the full GameStream experience to any remote PC, all the pieces are now in place if and when NVIDIA decides to enable it.