WD Blue
At Flash Memory Summit this week (online for the first time), Western Digital is showing off three new SSD products and have outlined the company's areas of strategic focus in a keynote presentation. First up, Western Digital is commercializing NVMe Zoned Namespaces (ZNS) technology with the new Ultrastar DC ZN540 datacenter SSD. We covered ZNS in depth earlier this year after the extension to the NVMe standard was ratified. Western Digital has been one of the strongest proponents of ZNS, so it's no surprise that they're one of the first to launch a zoned SSD product. The ZN540 is based on a similar hardware platform to their existing traditional enterprise/datacenter SSDs like the Ultrastar DC SN640 and SN840. The ZN540 is a 2.5" U.2 SSD using...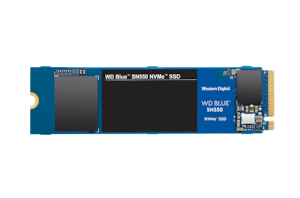 Western Digital is refreshing their NVMe-based WD Blue product line, replacing the WD Blue SN500 with the new WD Blue SN550. The SN550 updates both the controller and NAND...
15
by Billy Tallis on 12/10/2019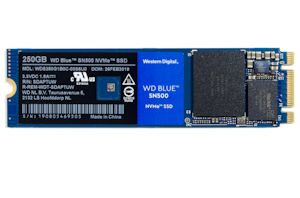 Western Digital's latest generation of WD Blue SSDs jumps from SATA to NVMe, making some sacrifices in the process but still meeting the everyday needs of the typical consumer.
51
by Billy Tallis on 4/19/2019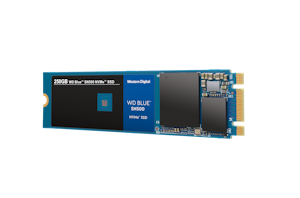 In the process of assimilating SanDisk, Western Digital has been re-using their hard drive branding on consumer SSDs: WD Green, Blue and Black can refer to either mechanical hard...
15
by Billy Tallis on 3/14/2019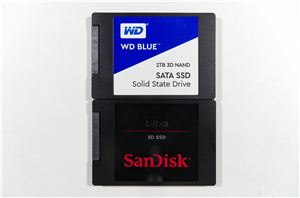 The first 3D NAND SSDs from Western Digital and its SanDisk subsidiary have arrived. The same mainstream SATA SSD with 3D TLC is being sold under two names, but...
52
by Billy Tallis on 9/14/2017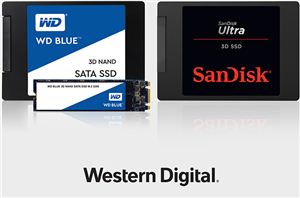 Western Digital on Monday officially launched its first consumer SSDs based on its 64-layer 3D NAND memory. The new drives will be available under the WD Blue 3D NAND...
12
by Anton Shilov on 5/29/2017