California Graphics 3D Emotion PCI Video Card
A truly excellent salesman can sell a pair of glasses to a person with perfect vision, making you think you need something while you didn't need it 5 minutes ago. That's how business works, you don't need a product...you are made to want the product.
The sign of a great company is a company that can breathe life into a product with very little left in it. You're waiting for a Voodoo2, but you don't have the $300 for a card, not including the 2D card you'll have to pick up...the solution? A Voodoo Rush based video card, a combination of the performance of a 3Dfx accelerator with decent 2D acceleration as well...but what makes the California Graphics 3D Emotion more than a cheap alternative to Voodoo2?
---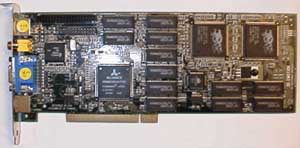 Interface:
PCI 2.1
Chipset:
2D - Alliance ProMotion AT25
3D - 3Dfx Voodoo Rush
RAM:
6MB Single Cycle 30ns EDO DRAM
Data Path:
64/128-bit
RAMDAC:
175MHz
TV Output:
Yes (800 x 600)
Video Playback:
MPEG-1, MPEG-2, Indeo, & Cinepak Supported
Supported Resolutions:
640 x 480 - 1600 x 1200
Supported Refresh Rates:
60 - 200 Hz
---
For most people, 60+ fps in Quake 2 is a dream that will remain unfulfilled until 3Dfx's Voodoo2 cards hit the market. Even then, a great percentage of the gaming population won't strut out to the nearest EB to pick up one of these $300 babies. With a Voodoo2 or even a 3Dfx Voodoo card you'll have to occupy two PCI slots (or one PCI and one AGP slot) in order to have a complete system since the Voodoo and Voodoo2 chipsets don't support any sort of 2D acceleration. The obvious solution? A combo card, with the performance of a Voodoo accelerator combined with 2D acceleration you'll need to run your basic applications.
Looking at the 3D Emotion from California Graphics it is quite obvious that it is a Voodoo Rush based card, the length of the card alone, almost double that of most PCI video cards, accommodates 12 30ns EDO DRAM chips (making the 6MB of Single Cycle EDO) as well as the Alliance Semiconductor 2D chip not to mention the standard 2 - 3Dfx chips on board. For those of you with oddly shaped motherboards, or old AT motherboards you may want to make sure that at least one of your free PCI slots can accept a full length PCI card, as the 3D Emotion puts the term Full Length to good use.

The I/O connectors on the 3D Emotion closely resemble those of the Canopus Total3D 128V, why? Because the 3D Emotion does support Video Output, for displaying your applications or even games for that matter on your TV screen. This feature can make giving presentations a breeze, however even more so, it makes playing Quake 2 on a 17" monitor look cheap...ever played Quake 2 on a 32" screen? You can with the 3D Emotion. As if that weren't enough, the 3D Emotion includes a connector for a pair of cordless 3D glasses, what some consider to be the future of interactive gaming.
For most users that have installed a video card before the 3D Emotion is a piece of cake, however if this is your first video card upgrade the 3D Emotion User's Guide doesn't do a great job of illustrating the installation process with any visual aids, instead it goes into average detail about the process...depends on whether or not you're a visual learner if Installing the 3D Emotion will be a problem.
The test system the 3D Emotion was initially placed in formerly housed a Matrox Millennium PCI graphics card. On purpose, the MGA Millennium PowerDesk Drivers were not removed to see how well the 3D Emotion drivers would install over a previous set of video card drivers. Not to my surprise the card installed flawlessly over the Millennium drivers, and didn't provide any hassles from the start. The disk provided with the 3D Emotion installed the card in Windows 95 (NT drivers are also included) without a hitch, the Display Properties Control Panel was modified to include 3 new tabs: Voodoo Rush + AT25 (an informational tab), Monitor Control, and TV Features. Using this easy to operate Control Panel you can switch between resolutions/color depths on the fly, enable/disable TV features, and much more. It would've been nice if California Graphics had included some S-Video or RCA cables for the TV Output features of the 3D Emotion, however that would've probably increased the cost of the already outstandingly priced 2D/3D solution.
The performance of the 3D Emotion is a little slower than that of an original Voodoo card, however it is still very competitive in today's market. Targeted mainly for home users, the 3D Emotion provides an excellent combination of 2D and 3D acceleration for applications and games with amazing performance regardless of your computer's processor. The 3D Emotion even outperforms the Intergraph Intense 3D (another Voodoo Rush board) under Quake 2 by around 1 - 2 fps. Not bad considering they are using the same chipset.
The 3D Emotion did have some problems coping with PCI bus speeds greater than 33MHz (when using the 75, 83, and 100MHz memory bus speeds) however it could still run the 2D Business and High End Winstone tests using the 75MHz bus speed. Quake 2 however would freeze during the Timedemo test. Using an asynchronous PCI bus however (always set to 33MHz regardless of memory bus speed), the 3D Emotion completed all the tests flawlessly.