LG 29EA93: Introduction, Design and OSD
When migrating away from 4:3 screens for home video, the 16:9 aspect ratio was chosen as a compromise between all the common formats at the time. For many film fans, this meant finally being able to watch movies in their original aspect ratio without putting up with black bars. However many films are shot using aspect ratios even wider than 1.78:1, such as 2.20 for 70mm film or 2.39 for modern cinemascope films. . While the letterboxing of these titles was improved over 4:3 sets on new 16:9 sets, the black bars remained. Now we are starting to see panels that also address this audience, including the LG 29EA93 21:9 LCD monitor.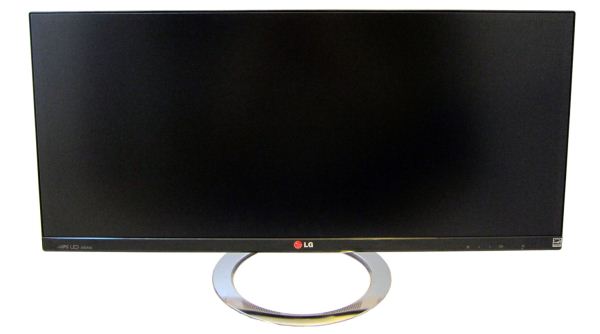 While cinephiles may rejoice, traditional computer users might be wondering if this makes any sense for a desktop display. There is still a lot of resentment over the transition from 16:10 to 16:9 displays, as the loss of vertical space means less room for word processing documents, spreadsheets, and other data, even if it might be slightly more ideal for HDTV. If the layout of many operating systems and programs hasn't adapted yet to properly utilize 16:9, what will using 21:9 be like? Is the LG 29EA93 a one trick pony for those that want to watch scope films, or does it serve a larger purpose as well?
Aside from the wider than usual aspect ratio, the specs on the 29EA93 are pretty standard for a desktop LCD. It uses an IPS panel with white LED backlighting, which allows for an sRGB color gamut. There is a decent selection of inputs, with dual HDMI, DVI, and DisplayPort inputs, including an MHL input on one of the HDMI ports for use with a smartphone, tablet, or Roku stick. What is missing is an analog DSub input, which I almost always still see. Joining the video inputs is a USB 3.0 hub with three ports, and 3.5mm audio input and output ports. Unfortunately a power brick and not an internal PSU provides power, but the LG 29EA93 does have a very slim design because of that. The back is a shiny white plastic that hides fingerprints much better than black, though it will mostly remain out of sight.
Ergonomics on the 29EA93 are a mixed bag, as the width precludes being able to pivot into a portrait orientation. There is a good range of tilt available, but no other height or swivel adjustments. The stand itself is very low, which means the 29EA93 will sit further below eye level than a normal 24" or 27" monitor in the same position would. It is easy enough to raise the 29EA93 up onto something to get it closer to eye-height, but the integrated stand won't do that.
The OSD in the 29EA93 is actually designed reasonably well. Everything is kept horizontal so you can use a single set of arrow keys and not get confused as you move between selections and adjustments. I'd prefer that the power button be spaced further away, as I did manage to hit it occasionally while making adjustments, but overall the control system is decent. There is a good amount of adjustments available when in user mode, including a 2-axis, 6-point CMS (Color Management System) that I will go into later. When not in user mode, many of these adjustments are locked out from the user, other than the Brightness/Backlight control.
Sitting close to the 29EA93, you notice a bit of backlight bleed at the top of the screen, perhaps accented by the lower position of the screen relative to other displays. The extra width of the 29EA93 might benefit here, as on a traditional display this might be more exposed thanks to letterboxing on some films but without those bars, the bleed is less apparent. There is also some bleed in the lower right corner that I could notice when a black background was present, but it was not as visible with a white background or application open. Viewing angles for the IPS panel are quite good, an important factor since you will likely be viewing the 29EA93 at wider angles than usual given the aspect ratio. You get some contrast shifts at the extremes, but colors remain accurate.
LG 29EA93
Video Inputs
2xHDMI, 1xDisplayPort, 1xDVI, 1xMHL (Shared with HDMI1)
Panel Type
IPS
Pixel Pitch
0.263 mm
Colors
16.7 Million
Brightness
300 nits
Contrast Ratio
1000:1
Response Time
5ms GTG
Viewable Size
29"
Resolution
2560x1080
Viewing Angle (H/V)
178/178
Backlight
White LED
Power Consumption (operation)
48 W
Power Consumption (standby)
1.2 W
Screen Treatment
Anti-Glare
Height-Adjustable
No
Tilt
Yes
Pivot
No
Swivel
Yes
VESA Wall Mounting
Yes, 100mm
Dimensions w/ Base (WxHxD)
699.7 X 387 X 208.5 mm
Weight
5.65 kg
Additional Features
USB 3.0 Hub (3 port), Headphone Input/Output, CMS
Limited Warranty
1 Year Parts and Labor
Accessories
MHL to HDMI Cable, USB 3.0 A to B cable, DVI Cable
Price
$699 MSRP (January 2013 Launch)
Technical specifications aside, the bigger question is how well does a wider ratio work with non-film content, and does that match up with more traditional 16:9 or 16:10 displays?