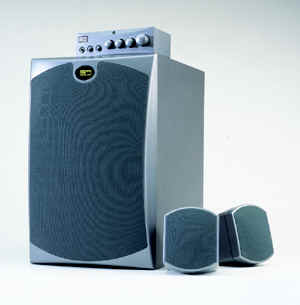 Despite the ever increasing presence of surround sound and 4.1 systems in the computer sound market, 2.1 sounds remain as a strong category of their own. Though they may not fill the bill for everyone seeking to turn their home computer into a home theatre system or the ultimate gaming machine, they do remain as a strong option for those that enjoy listening to music at their computer or are seeking a more economical sound solution.
Though many 2.1 system are offered as cheap OEM sound packages principally designed so that users can hear their computer dinging when they do something wrong, it is possible to find quality speaker manufacturers turning their tools to smaller computer systems. Much is the case for MidiLand, who offers both full surround sound systems (the S4 8200 and S4 7100) and smaller 2.1 sound systems (this model and the S4 3050M).
2.1 systems are designed to work around the size limitations of a speaker driver that will fit on a desktop, as smaller driver cannot reproduce low frequencies well. The systems utilize two stereo speakers combined with a subwoofer to extend the frequency response of the smaller drivers used in many computer speakers. This also allows for a higher powered bass driver, to provide the room filling low frequency energy without blowing out the ears of a listener in a near field situation.
The MidiLand S4 4060M review is a system that includes two satellites, a subwoofer, and an external control unit that can be mounted in an extra full size drive bay or left on the desktop. The control unit has volume, pan, and two tonal controls, in addition to a 1/8" headphone jack, mute button, and button for MidiLand's 3D RSS (Real Surround Sound) processing. The components all feature MidiLand's metallic finish common to models ending in the "M" designation.
Specifications (Courtesy of MidiLand)

RMS Power

Total: 60W
Satellites: 15W
Subwoofer: 30W

Frequency Response

Satellites: 180Hz - 20kHz (+/-3dB)
Subwoofer: 20Hz - 180Hz (+/-3dB)

Input Sensitivity

Not listed

Drivers

Satellites: 2.5 inch
Subwoofer: 6.5 inch

S/N Ratio

> 55dB

Dimensions (WxHxD)

Satellites: 3.3" (W) x 3.9" (H) x 4.2" (D)
Subwoofer: 8.7" (W) x 13.4" (H) x 12.2" (D)
Control Module: 5.8" (W) x 1.7" (H) x 3.1" (D)