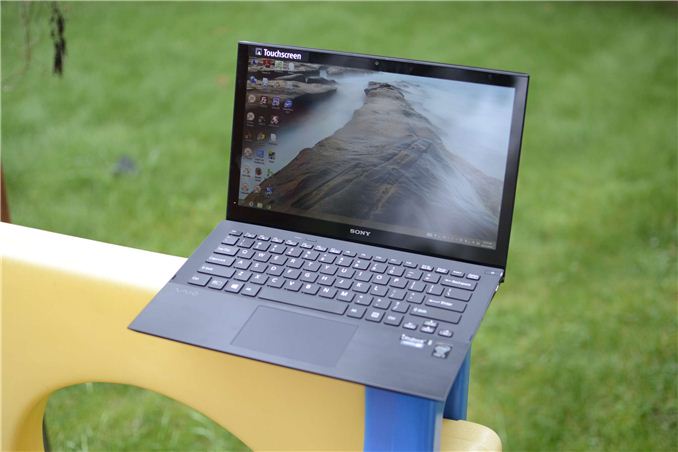 Sony VAIO Pro 13: Exceptionally Portable
As our first non-Apple Haswell Ultrabook, the Sony VAIO Pro 13 has a high bar to clear. We've seen a few Haswell systems that have delivered on the promise of improved battery life, and in some cases we've even seen improved performance. The performance improvements mostly come in the form of faster iGPUs, at least for the GT3 and GT3e processors. Sadly, the GT3 and GT3e are only being used in a few products right now, which leaves us with GT2 mobile offerings. For these parts, Intel's 4th Generation Core CPU line is more about reducing power use while keeping performance more or less the same.
Sony has often been on the forefront of extremely portable laptops, and Anand has some great stories of $2000 laptops back in his college days that were terribly slow but delivered great mobility. Sony's VAIO Pro 13 is the latest example of this, only now performance has reached the point where it's plenty fast for most users. Taking cues from Intel's targeting of mobility with Haswell, the VAIO Pro 13 isn't really any faster than last year's Ivy Bridge Ultrabooks – in fact, on the iGPU side of things the VAIO Pro 13 actually underperforms compared so some Ivy Bridge U-series CPUs. It appears Sony is focusing more of their efforts on managing thermals/noise than they are on squeezing every last bit of performance out of the processor. I don't really fault them for taking such an approach, as the GT2 Haswell ULT solutions are generally going after providing acceptable performance in non-GPU workloads while delivering improved battery life. But we're jumping ahead.
As usual, there are various models and upgrades of the VAIO Pro 13 available. Here's the configuration we received for testing:
Sony VAIO Pro 13 Specifications
Processor
Intel Core i5-4200U
(Dual-core 1.6-2.6GHz, 3MB L3, 22nm, 15W)
Chipset
Haswell ULT
Memory
4GB onboard (DDR3-1600 11-11-11-28 timings)
Graphics
Intel HD Graphics 4400
(20 EUs at 200-1000MHz)
Display
13.3" Glossy IPS 1080p Touchscreen
(Panasonic VVX13F009G00)
Storage
128GB SSD (Samsung PCIe MZHPU128HCGM)
Optical Drive
N/A
Networking
802.11n WiFi (Intel Dual-Band Wireless-N 7260)
(Dual-Band 2x2:2 300Mbps capable)
Bluetooth 4.0 + HS (Intel)
Audio
Realtek HD
Stereo Speakers
Headset combo jack
Battery/Power
3-cell, 37Wh
3-cell, 36Wh Sheet Battery
65W Max AC Adapter
Front Side
N/A
Left Side
Exhaust Vent
AC Power Connection
Right Side
Flash Reader (SD)
Headset jack
2 x USB 3.0
HDMI
Back Side
N/A
Operating System
Windows 8 64-bit
Dimensions
12.68" x 8.5" x 0.60-0.68" (WxDxH)
(322mm x 216mm x 15.2-17.3mm)

1.34" (34.1mm) at rear with sheet battery
Weight
2.34 lbs (1.06kg)

2.97 lbs (1.35kg) with sheet battery
Extras
HD Webcam (Sony Exmor R CMOS sensor)
82-Key Keyboard
Pricing
MSRP: $1250
The CPU is Intel's mainstream i5-4200U; that should deliver better CPU performance than the non-Turbo Core i3-4100U but it's interesting to note however that Intel lists the same tray price of $287 on both CPUs (though that's not what a large OEM like Sony would actually pay). There are quite a few Core i3/i5/i7 U-series processors of course, and many of them are more interesting than the i5-4200U. The i5-4250U gets GT3 graphics, with a tray price that's $55 higher, and the i5-4258U and i5-4288U get GT3 along with a 28W TDP, which would really help with graphics potency. However, the VAIO Pro appears to be hitting some internal limits even with GT2, so without some tweaks to the firmware and/or other aspects the i5-4200U provides a reasonable starting point.
One of the best aspects of the VAIO Pro 13 is the display, which continues the recent trend of Ultrabooks in going with a 1080p IPS panel, with 10-point capacitive multi-touch. Of course the speakers, ports, and chassis are all standard as well. Sony does skimp on the WiFi, going with Intel's Wireless-N 7260 solution, a dual-band 300Mbps chipset with Bluetooth 4.0 support (and let me just say that the marketing people at Intel that decided having Wireless-N 7260, Dual-Band Wireless-N 7260, and Wireless-AC 7260 as model names need a swift kick in the rear).
Sony does have the option of getting the VAIO Pro 13 with Windows 8 Professional if you choose the configurable model, and you can also select Sony's Fresh Start option that skips all the VAIO utilities and other trial software – it's interesting that Sony recognizes that many businesses want that option, but they don't give consumers (or non-Professional users at least) the same chance. The only other areas you can configure your component choices are RAM, SSD storage, and the CPU...and this is where Sony starts to run into trouble.
The base model has 4GB RAM and that's a bit of a concern; it's dual-channel memory, but 4GB is awfully small for a new laptop in 2013. The 128GB base SSD is also a bit small, but it's a start at least; I'm just not sure about why that's considered reasonable in 2013 on a laptop that starts at $1250. Interestingly, the SSD Sony uses is PCIe-based, and that means some of the fastest transfer rates for a single drive you're likely to see. Upgraded models can be configured with 8GB RAM, 256GB and even 512GB SSDs, but prices will jump quite a bit. It's important to note however that the RAM is soldered onto the board, so whatever you get at purchase is what you'll be stuck with, and I'd strongly recommend making the move to 8GB at this point.
Getting to pricing, the base model that we're reviewing has an MSRP of $1250 (there's also a configurable model that omits the touchscreen that starts at $1150), and that jumps to $1500 for the next model up (4GB RAM, 256GB SSD), then $1800 (i7-4500U, 8GB RAM, 256GB SSD), $2300 (i7-4500U, 8GB RAM, 512GB SSD), and even $2600 (the same as the $2300 model but decked out in red). The pricing from Sony's online store is frankly a lot higher than I feel is warranted by the hardware – Sony is adding $250 extra for a $100 SSD upgrade, and another $300 for a $30 RAM upgrade and a $100 CPU upgrade.
The good news is that MSRP isn't always what you'll pay; the Microsoft Store for instance has student discounts on some of the models that will drop the $1800 model to a more palatable (but still expensive) $1619. The $1250 model is also available at the Amazon Marketplace for $1230, but that's hardly a significant savings. Hopefully if you're interested in the VAIO Pro 13, you'll be able to find one on sale. Bottom line then is that the VAIO Pro 13 is going to cost more than other laptops out there. The only question: is it worth it?