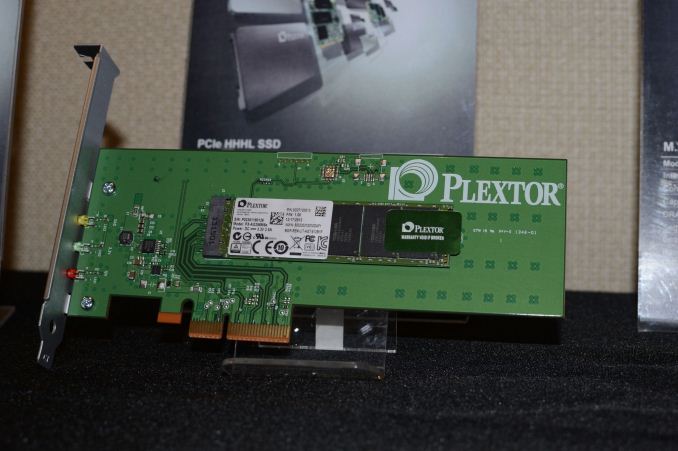 I stopped by Plextor at CES last week for the announcement of their latest SSDs, from their upcoming M6 series. These drives are slated to (eventually) replace the current generation M5 Pro, M5S, and M5M SSDs with slightly faster hardware based on new silicon and with new interfaces. Starting at the bottom in terms of performance and presumably cost, Plextor has their new M6S in 128GB/256GB/512GB capacities. It uses custom firmware with Marvell's 88SS9188 controller and delivers peak transfer rates of up to 520MBps/440MBps read/write on the 512GB model, with the 256GB and 128GB versions dropping max write speeds to 420MBps and 300MBps, respectively. Max read/write IOPS are rated at 94K/80K for the 512GB drive, 90K/80K for the 256GB model, and 88K/75K for the 128GB drive. Availability for all of the drives is scheduled for Spring 2014.
Next up is the M6 Pro, also in capacities of 128GB/256GB/512GB, using the Marvell 88SS9187 controller, which increases maximum performance moderately over the M6S. The 128GB drive is rated at up to 96K/81K IOPS and 545/330MBps read/write performance and comes with 256MB DRAM cache. The 256GB model increases the DRAM cache size to 512MB and boosts read/write performance to 545/455MBps, with 101K/86K IOPS. And at the top of the product stack the 512GB drive has 768MB DRAM cache with read/write speeds of 540/460MBps and 101K/88K IOPS. If we look at the existing M5 Pro drives, we're basically seeing the limits of the SATA 6Gbps interface, as throughput isn't really much higher and IOPS is only about 4K-10K higher at best. Still, the Plextor SSDs have performed well and updated models will be welcome.
If we want to ditch the limitations of SATA, M.2 and PCIe based drives are the way to go, and for that Plextor has several options. The M6e HHHL (Half-Height, Half-Length) PCIe x2 SSD card increases throughput to 770/625MBps on the 512GB model, with up to 105K/100K IOPS (read/write). Lower capacity drives aren't quite as fast on the write performance (580MBps on the 256GB model and 335MBps with a drop to 96K/83K IOPS on the 128GB drive), but all are able to surpass the SATA-based drives.
For laptops, Plextor also has native M.2 and mSATA drives coming out using their latest designs. The M.2 SATA 2280 looks like the same drive mounted on the M6e HHHL card, but it uses a SATA interface and that means slightly lower performance – 520/410MBps and 78K/77K IOPS on the 256GB drive. Interestingly, Plextor only lists 128GB and 256GB capacities right now. The M6M on the other hand is an mSATA drive available in capacities of 64/128/256/512GB, though write performance on the 64GB model obviously suffers. Maximum performance (on the 256/512GB drives) is rated at 520/440MBps and 94K/80K IOPS, which is a moderate bump in performance over the existing M5M SSDs.
Plextor also had some enterprise and industrial drives on display, along with an eMMC chip available in 16/32GB capacities that promises up to 142/47MBps transfer rates and 1200/820 IOPS. And if you're wondering why we want/need faster solutions than the current eMMC devices, that should tell you everything you need to know. I'll have an update on eMMC and UFS from my visit with Samsung later today. As for Plextor, we're looking forward to seeing their new crop of SSDs some time in Q2.