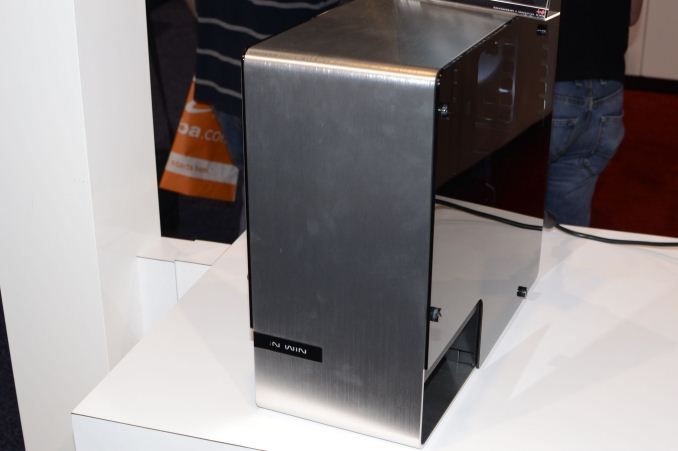 In Win perhaps isn't one of the most well-known of case manufacturers, but they've been around for a while and they have some decent budget cases. They're looking to take a stab at a higher price/quality market with their latest two cases, the 901 and 904, which feature tempered glass side panels with a relatively thick 2mm/4mm machined aluminum frame. You can already find both of these cases on Newegg, with the mini-ITX 901 priced at $190 and the larger mid-tower 904 priced at $280. That puts them firmly into the high-end case market, with the key draw here being the aesthetics. Similar to the Corsair 250D that we just reviewed, the 901 is a larger mini-ITX case with the ability to accept full-size PSUs up to 200mm in length and with two expansion card openings to support high-end GPUs. There's a 5.25" external drive mounting location in the bottom-rear of the case, while the cutout at the bottom-front area has an intake fan and filter with the opening working to improve airflow. The 904 is basically the super-sized version, with support for ATX and mATX motherboards.
Other products on display at In Win included a limited edition Tou case where the entire exterior is composed of tempered glass – cool looking but perhaps not very practical. There were a couple prototype 707 cases as well, with some interesting aesthetics and perhaps a few elements that need to be tweaked before they're ready for mass production (the hinged flap on the top didn't strike me as being particularly useful). In Win also makes power supplies – or at least, they sell PSUs under their brand, which like all PSUs are manufactured according to the specs In Win provides by one of the major PSU ODMs – and they had both a 550W 80 Plus Gold and a 900W Serenity 80 Plus Platinum on display.
Wrapping things up for In Win, I don't have much to say about the smartphone and tablet stands or the headphones, let alone the mouse pads. The K3 Ultra Small Form Factor systems on the other hand might find a use in some businesses. They support Intel NUC motherboards and the core design is similar in most of the K3 devices, but one supports Power Over Ethernet so you can basically get everything you need with one cord (assuming you use a Bluetooth keyboard and mouse). The others use power supplies (one with an internal 65W PSU with the other two using external power bricks), and all include VESA compatibility so they can mount on the back of a display.