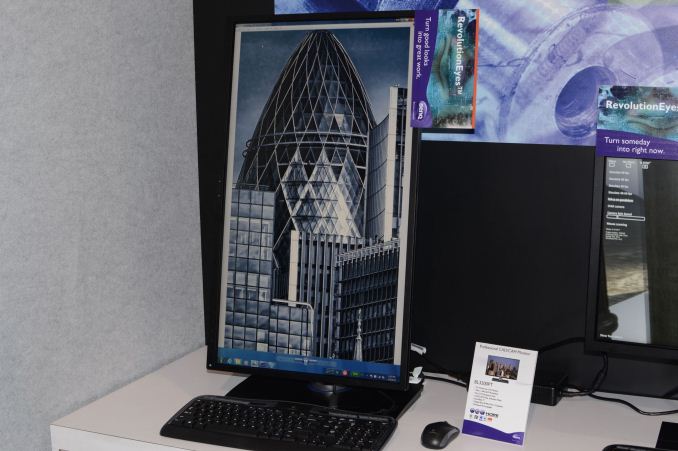 BenQ has been in the display market for many years, and they're one of the few companies still using VA (Vertical Alignment) panels – as opposed to IPS or AHVA, though they have some of these as well. They're also known for projectors, and the new MW824ST projector has a bulb that's rated for up to 10,000 hours (compared to most bulbs that are rated for 2000-5000 hours). That's enough time that you could use the projector for eight hours a day, every single day, and still not need to replace the bulb for almost 3.5 years. Other projectors run the usual gamut from small and portable devices to high-end projectors with native 1080p support.
On the monitor side of things, BenQ had several interesting displays. The RL2455HM is a TN panel that boasts GTG response times of just 1ms; I'm not even sure how important response times are these days, particularly on TN panels, but if you're annoyed by smearing on LCDs this might be an improvement. Personally, I was more impressed with the G-Sync compatible display, and as I commented to NVIDIA, I think getting G-Sync into laptops and notebooks is going to be far more important (considering the lack of GPU performance, running at 30-60 FPS is far more common on laptops than desktops). If you haven't seen G-Sync in action, you're missing out on one of the most impressive visual demonstrations to date.
BenQ also showed their BL3200PT professional 32" 2560x1440 display targeting CAD/CAM users, with ZeroFlicker technology and support for portrait mode – and yes, a 32" portrait mode LCD looks awesome, though perhaps not practical for most users. Finally, the PG2401PT 24" display is for professional that need accurate colors. It has a 99% AdobeRGB gamut, 1920x1200 resolution (hooray for 16:10!), brightness uniformity function, and I believe is available with or without an i1 Display Pro colorimeter for color management.
One thing that wasn't really clear is how much attention BenQ will pay towards delivering accurate colors on their displays without the need for an expensive colorimeter or spectrophotometer. While most LCDs can be calibrated with the right tools to deliver good colors, these days we're at the point where anything more than a budget display ought to ship with an option for accurate colors. Best Buy and other retailers may not use the function, but when you're sitting at your desk, many of us would like to get reasonably accurate colors rather than blown out and oversaturated colors. Hopefully BenQ (and other display manufacturers) will put more of an emphasis on that area going forward.